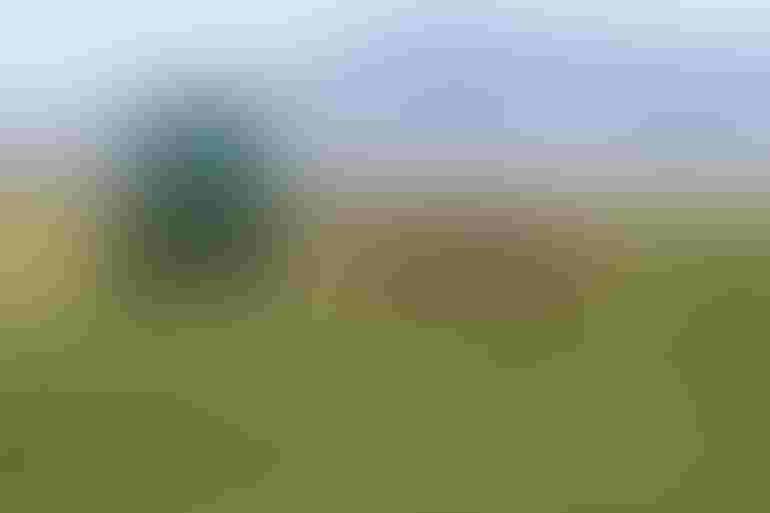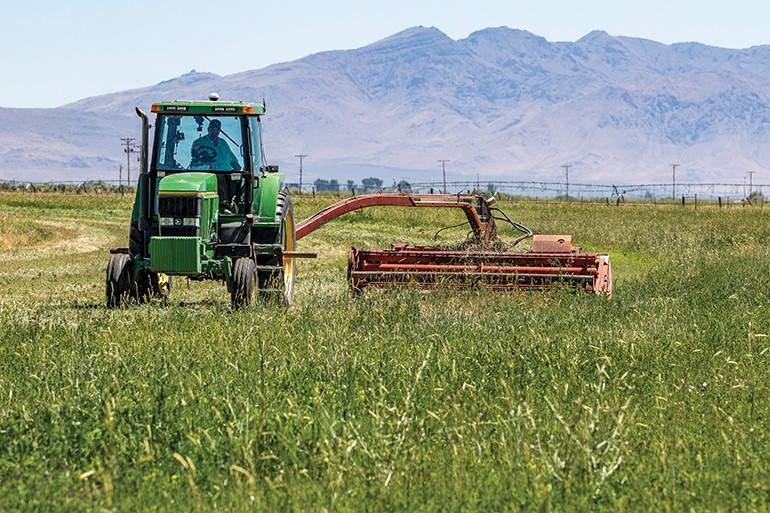 The Wheelman autosteer system allows farmers to use precision technology to do things like plant and harvest hay.
Todd Fitchette
Jeff Hemphill was looking to improve his on-farm efficiencies when he won the Wheelman Pro unit in a drawing earlier this year. Because the autosteer technology couldn't allow him to farm on center pivots he asked the company to take it back.
Instead they fixed it so he could farm in circles.
"To be competitive you need technology out here," said Hemphill, a third-generation farmer of hay and beef in California's Lassen County.
Hemphill won the Wheelman Pro in a drawing while searching out precision technology to improve on-farm efficiencies.
"I told my wife we've got to buy some kind of guidance system this year because the cost of fertilizer is so high. Besides, we also broadcast our seed, and that needed to be more efficient as well," he said.
PRECISION OPERATIONS
The precision benefits of planting and cutting hay became quickly obvious to him as well. No longer does he need a ground spotter when planting fields. Cutting operations are hands-off as well, giving him time to multitask in the cab as he'll spend a good portion of his day on the phone in his role as an elected official with the Lassen County Board of Supervisors.
He can see the benefits to his cow-calf pasture operations.
"Up here we're fortunate enough that if you drag your fields in the fall and break up the manure the flies die in the winter, so that's why we do it," he continued.
The Wheelman technology uses global position, or GPS, through a mobile app. Hemphill operates the system from his existing smart tablet. He estimates he saves five hours each week, year-round, with the precision technology.
The company offers two variants of the Wheelman system: the Pro system, which can be permanently added to a tractor, or the Wheelman Flex system, which allows the steering guidance system to be transferred from one tractor to another.
EASE-OF-USE AND PRICE
Dave Vaughn, president and chief executive officer of AgJunction, owner of the Wheelman system, says his goal for the system is ease-of-use and price. The idea was to create something inexpensive for the small farmer who couldn't afford the $30,000 steering system, Vaughn said.
At about $4,000 for a plug-and-play permanent autosteer system, Hemphill says it's much more cost-effective for small ranching operators like him to install. Working with AgJunction personnel has been easy for Hemphill as well.
When Hemphill advised the company that his newly won system wouldn't work with his pivot irrigation operation, the company responded by writing software that would allow it.
"We've been doing pivots for years," Vaughn says. "We just hadn't brought that level of software onto this new machine, and we were trying to keep it as a software fix versus something we had to change with hardware."
Subscribe to receive top agriculture news
Be informed daily with these free e-newsletters
You May Also Like
---