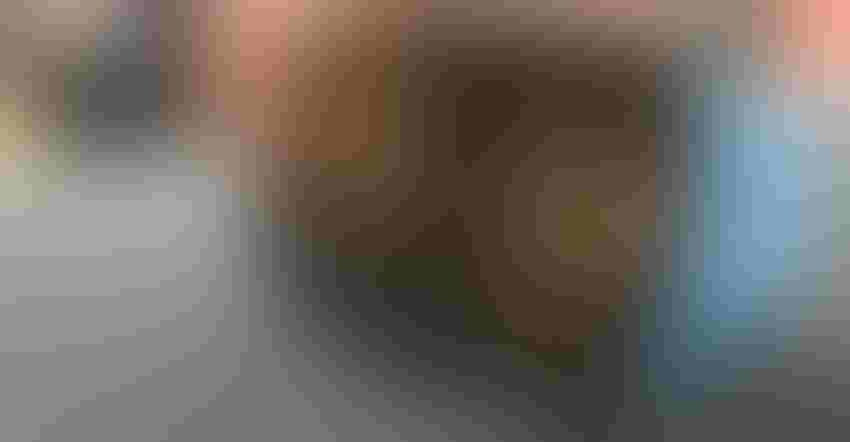 TECH TRAVEL: These virtual reality goggles come with smartphones, so 4-H leaders can take them to different schools in Missouri.
Laura Evans spends part of her time as a University of Missouri Extension 4-H youth development specialist taking kids on a trip to Tanzania to learn about agriculture. She doesn't have them board a plane, but rather put on goggles.
Evans takes students on virtual reality educational field trips through Google Expeditions. These expeditions allow teachers or volunteers like Evans to guide classrooms full of students into farms and markets through 360-degree and 3-D images.
 
UPDATED VIEW-MASTER: The old plastic View-Master with an orange lever to advance the photo reels received an upgrade to include a smartphone with internet access to sights from around the world.
The University of Missouri Extension has two virtual reality kits in the state. They include 20 virtual reality goggles and 20 smartphones along with a router and tablet, allowing the system internet connection, no matter where it is located.
Evans works with schools surrounding the Kansas City, Mo., area. "Many of these children have never been on a farm," she says. One school in Jackson County, Mo., has many children of refugees enrolled. "These children only know their school block and neighborhood," she says. The Google Expeditions allow them to experience technology and see agriculture in many different settings. "The 3-D goggles give students the feel that they are actually on the farm, walking the streets and visiting the market," she adds.
Deeper dive
Students place the goggles equipped with smartphones up to their faces. Then the teacher — in this case, Evans — directs their tour.
Farming in Tanzania visits a local farmer with chickens and pigs. Evans talks about the farm and asks questions. They range from beginner questions, like "What is manure?" to more advanced requests, as in "What is organic matter?"
"I am able to explain how manure is mostly derived from animal feces, and that it is used to fertilize the crops on farms," Evans says.

FARM VISIT: Students can experience farms in other countries by looking through the 3-D goggles. Google Expeditions takes them from farm to fork with a stop at an open-air meat market in Tanzania.
Students peer through the goggles — up, down and all around — to see the streets and skies around the farm. Evans allows them to stand up and "walk" in place to the open meat market. "They are amazed by the butcher in the street and the hanging meat," she says. "There are a lot of comments during that stop."
The experience opens the conversation about agriculture in the U.S. and Missouri. "We talk about the differences in production," she says, noting it is important to know the whole world does not grow livestock and crops like Missouri farmers.
Future of school farm tours
With financial cutbacks, it is hard for many schools to find funds for actual farm visits. "This is one way to show kids agriculture through technology, yet remain interactive," Evans says.
Google Expeditions stimulates children's senses, which Evans says results in understanding.  She points to studies showing children with dyslexia recall better when all five senses are triggered. "For these students, virtual reality makes sense."

FUN LEARNING: Elementary-school-age students enjoy looking around the room through 3-D glasses. They can look up, down and sideways to get a 360-degree look at life in other countries. (Photo by MU Extension)
While the goggles provide a sense of sight and movement, teachers can incorporate sound and touch. Using farm noises like combines running or pigs squealing adds to the experience. Allowing students to touch corn or soybeans provides students with a feel of the farm. The only thing missing — smell. Evans notes that bringing in the smell of bacon when talking about a hog farm would illustrate to the need for hog farms to students.
The total cost of the kit is $5,000. But the Platte County 4-H youth specialist says it's worth it.
"We are able to have that technology and take kids to places they might not be able to explore," she says. "It gives us an opportunity to see parts of world kids may not financially or physically be able to go. Our hope with the VR is to provide the opportunity to virtually travel to different places, spark interest in a career, or even build reality connections in the educational experiences. "
About the Author(s) Editor, Missouri Ruralist
Mindy resides on a small farm just outside of Holstein, Mo, about 80 miles southwest of St. Louis.
After graduating from the University of Missouri-Columbia with a bachelor's degree in agricultural journalism, she worked briefly at a public relations firm in Kansas City. Her husband's career led the couple north to Minnesota.
There, she reported on large-scale production of corn, soybeans, sugar beets, and dairy, as well as, biofuels for The Land. After 10 years, the couple returned to Missouri and she began covering agriculture in the Show-Me State.
"In all my 15 years of writing about agriculture, I have found some of the most progressive thinkers are farmers," she says. "They are constantly searching for ways to do more with less, improve their land and leave their legacy to the next generation."
Mindy and her husband, Stacy, together with their daughters, Elisa and Cassidy, operate Showtime Farms in southern Warren County. The family spends a great deal of time caring for and showing Dorset, Oxford and crossbred sheep.
Subscribe to receive top agriculture news
Be informed daily with these free e-newsletters
You May Also Like
---