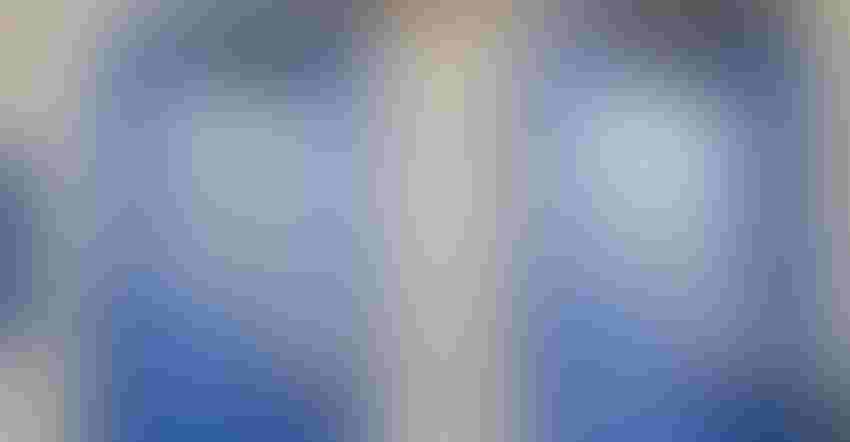 NEW PANELS: Reinke has launched two new main panels. On the left is the Connect, which provides three functions at the panel, but can be outfitted to work with the ReinCloud system. On the right, the Advanced Plus panel has an onboard touch screen, providing simple controls at the panel with a range of functions. It is also cloud-enabled.
Stepping out of the hot sun into the shade of the Reinke exhibit at Sunbelt Ag Expo, visitors got a surprise: a display of three new control products designed to help them maximize their pivots. Mike Mills, southeast territory manager, Reinke, shared that the new tools offer "added features that allow the farmer to control their pivots remotely. It even has a dry-run feature with this system, which customers told us they wanted."
Leading off the new panels is the RPM Advanced Plus, which is a main control panel that combines multiple controls and features a touch screen. The system also has the RC10d system, which means farmers are controlling the panel using the company's ReinCloud interface. This cloud-based system, introduced in 2017, offers farmers access to information through smartphones, tablets and desktop computers.
The Advanced Plus gives growers the option to control pivots more easily by providing enhanced options, without the need to upgrade to the company's Preferred Panel. The new touch screen is easy to program, and it provides users access to the electronic flowmeter input, independent pump control, pressure restart and other features.
That RC10d system makes the panel ReinCloud-Ready and is available with new systems or as a panel replacement or upgrade on existing RPM panels.
In addition to the Advance Plus panel, Reinke also showed off the Connect panel. It is similar but has what Mills calls a "faceless" design, with no touch screen. With that design, at the panel the user can start the pivot forward, in reverse or stop the pivot. But the system can be outfitted with the RC10d and be cloud-linked, providing the user the option of accessing the panel remotely.

COMPETITIVE CONNECTION: The Annex is a new Reinke control panel that can work with competitive electric center-pivot systems. The panel includes ReinCloud connectivity and can be optioned with a range of features.
"[With that remote access] you can control the end gun, have section control with GPS all through that RC10 connection, and you never have to go to the panel," he explained. "You get the ReinCloud investment with a lower-cost panel option."
With these two panel options, Reinke provides producers the pivot controls that work best for their operation, as well as the remote linkages that make pivot management more efficient.
Plays well with others
The third system Reinke launched this fall is the Annex. This is a control system that allows a user to manage an electric-drive, center-pivot unit with the same precision as other RPM panels but add that functionality to any system. "This control is brand-independent," says Mills. "It also uses the RC10d system and the ReinCloud for control."
Essentially, with the Annex a producer is bringing competitive pivots into the same control approach as other Reinke panels, without replacing the existing competitive panel. This goes beyond the RC10i independent tower control, with more functions in the Annex control.
"You can manage GPS and flow monitoring with the Annex," Mills said. "This is a bolt-on system to the competitive pivot that provides control and status monitoring. It's also a smaller panel at a significant savings to the cost of a full panel."
For many growers with existing systems, a full panel replacement may be cost-prohibitive, but bringing systems into a consistent ecosystem becomes more important for more efficient control. The ReinCloud offers a growing set of features, and Mills noted that Reinke continues to enhance that system. These "cloud-linked" control panels offer more options as well.

STRONGER SYSTEM: This new wheel gear from Reinke — the Reinke-UMC 740-U-AD 10/16 Wheel Gear — has a significant range of improvements and an enhanced warranty.
"With the Annex, a grower with older pivots can get more modern features and the full capabilities of the ReinCloud," he said.
The Annex can also be optioned to include the Advanced Plus touch-screen panel for on-site control and management, too.
Upgrading a wheel gear
Reinke is also offering a new upgraded wheel gear. "This new wheel gear carries a longer warranty and is an option for replacement, or for new installations," Mills said. "We've done a lot of work on this system."
The new Reinke-UMC 740-U-AD 10/16 Wheel Gear has a stainless steel diaphragm that offers corrosion-free performance. "Independent tests have shown that this high-performance unit is the new standard in wheel gearbox load capacity and longevity," he added.
For example, this unit features a polished, high-torque worm gear, with dual input shafts, that makes it easier for dealers and growers. There's no need to stock lefts and rights for repairs.
The diaphragm also features a rolling design to minimize pressure buildup during operation. By relieving negative pressure, it prevents water and contaminants from being drawn into the gear case.
The list of improvements in that wheel gear is extensive, and it offers an industry-best 10-year, 16,000-hour warranty. You can learn more about these systems at reinke.com.
About the Author(s)
Subscribe to receive top agriculture news
Be informed daily with these free e-newsletters
You May Also Like
---