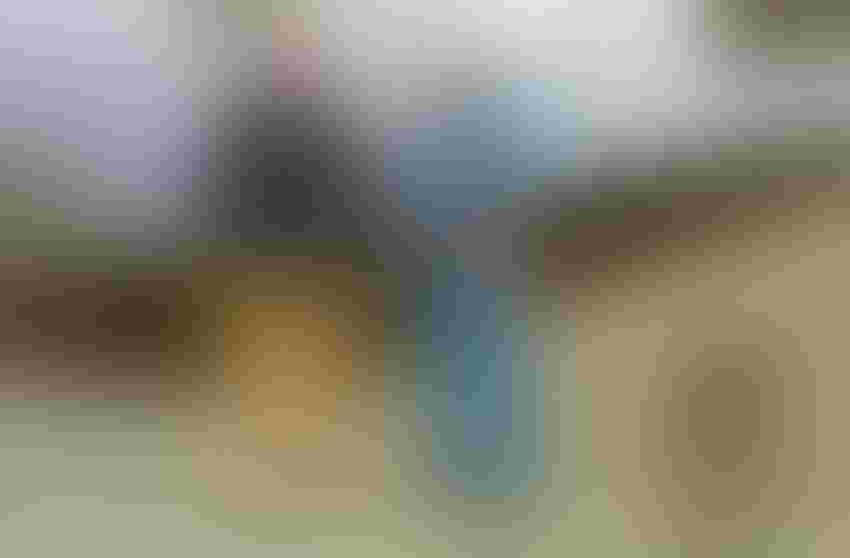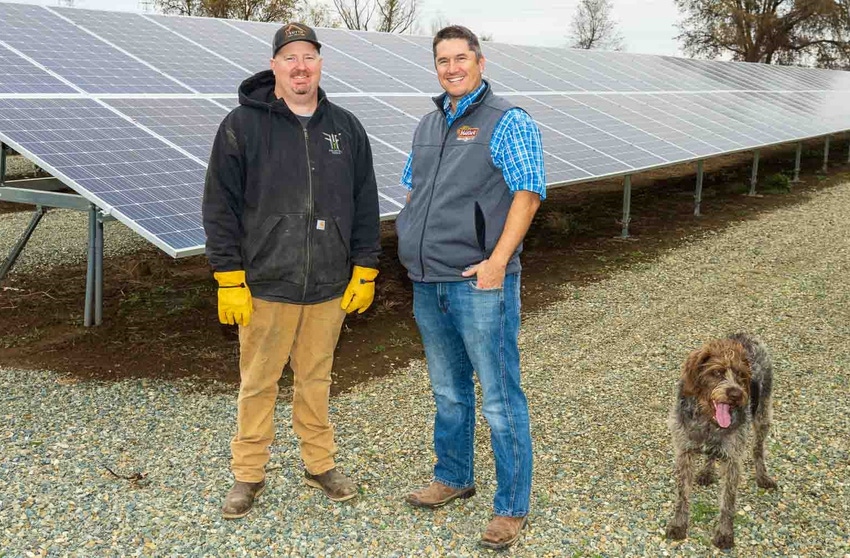 California rice farmer Albert Fruetel, left, expects to save well over $100,000 a year in power costs on his farm through his use of solar energy. The system was installed just over a year ago through the assistance of ACIP Energy Consulting Owner David Vincent.
Todd Fitchette
California farmers and food processors wishing to add new solar to their operations have a short window remaining to get their applications in to fall under the more financially advantageous Net Energy Metering (NEM) 2.0 rules.
The California Public Utilities Commission updated what public utilities must credit solar users under the state's net energy metering rules. Under the new rules, known as NEM 3.0, electric utilities will pay just eight cents per kilowatt hour to customers who push excess power onto the electric grid. This is a 75% reduction from what the utilities are required to pay under NEM 2.0.
Those wishing to add solar have until mid-April to have their applications approved by their public utilities to qualify for the higher returns under NEM 2.0, according to David Vincent, owner of ACIP Energy Consulting.
Changes
Here's how it works: public utilities are required to buy back the power generated from those who generate electricity through solar. Currently that figure is said to be about 90% of the retail power rate. For many, this means they build credits during the day when solar generation is at its highest. Over time, these credits offset usage when solar electricity is not generated, but power is still used.
Similarly, seasonal users like rice driers or tree nut hullers, build credits during the "off-season," then are charged usage during their seasonal operations. An annual "true-up" charge is applied to cover the difference between the power purchased by the public utilities, and power costs incurred by the user.
According to Vincent, solar generating systems are typically designed to create these overages because the public utilities are not required to credit customers the full rate of what they're charged. This changed in mid-December when the California PUC reduced those credits by 75%.
Under the new PUC rules, current solar owners will remain under their existing net metering contracts, meaning they will still receive the larger credits for energy their solar systems push onto the electric grid. These rules will cease in 20 years, meaning those who still have those solar systems then will be transferred to whatever PUC rules are in place at that time for net energy metering.
The credit under NEM 2.0 is about 25 cents per kWh. Under the NEM 3.0 rules, the credit drops to eight cents per kWh. This comes amidst continued requests by the utilities to increase their electricity rates even further.
"The state's going to let them buy power from you for eight cents and sell it back to you for over 30 cents," Vincent said.
Opportunities remain
Those looking to install new solar are encouraged to get their applications into their local utilities by late March if they want to make the April deadline to have those applications approved, Vincent says. He encourages those wishing to do this to have applications submitted by mid- to late-March, in time for the utilities to approve them or return them for clarification and completion.
Vincent offers those services to solar and other renewable energy users through an owner's representative business model. He does not sell the solar panels; he represents those buying the panels with solar and electrical contractors to achieve the best cost and service for the buyer.
Rice farmer benefits
Albert Fruetel owns Fruetel Farms in East Nicholas, Calif., a rice farm north of Sacramento. He used ACIP Energy as his representative with various contractors. Fruetel says he installed solar about a year ago to save money on pumping costs from the deep wells his grandfather installed.
Though Fruetel has access to surface water through a small irrigation district, that tends not to be enough for his rice fields. Those wells greatly aided Fruetel's ability to plant medium grain rice this year as surface water availability was restricted to much of the state's rice industry. Less than half of the state's rice acreage was planted this year because of those drought-based water restrictions.
Fruetel estimates he could save about $120,000 annually in pumping costs with his solar system.
Green disincentives
Vincent chides California regulators for the disincentives they created under the new proposal. By cutting the credits utilities must pay those generating power with their solar panels, the ROI period for these systems grows.
"It's kind of funny that the state is trying to push all this green energy, yet they continue to make it harder for folks to pay for it," he said.
Nevertheless, Vincent expects the next couple months to be quite busy as he expects new customers to try to lock in the NEM 2.0 benefits before that rule sunsets. Those wishing to install solar merely need to have their applications accepted by the utilities by the mid-April deadline. They still have three years to install their systems to gain the benefits of NEM 2.0.
A

CIP Energy

Vincent started ACIP Energy about three years ago after working nearly two decades in the industry. His business model as an owner's rep firm provides customers a one-stop shop of expertise to apply with the public utilities and acquire the appropriate contractors to install renewable energy systems. Vincent's clients include agricultural processors, farm operations, and non-farm businesses.

"We'll have clients come to us who are interested in renewable energy, but don't really have an idea of where to start," he said. "That's where we come in; they come to us to act as their representative."

This work typically starts with an assessment of the clients' needs. How much renewable energy will it take to power their processing plant or facility? Once that information is known, Vincent can move forward with advertised requests for proposals for qualified bidders.

"Depending on the project, we'll invite as many as 20 different contractors to come in and make a bid," he said.

Once the details of the system are known, clients are assisted through the net energy metering process through their public utilities. They can also be helped with finding the appropriate financing through various lenders.

"Our goal is to help folks figure out the best choice for them," he continued.

This tends to give his clients peace of mind that they will receive quality bids based on price and service, rather than deciding on a single sales pitch by a company looking to sell a solar system for the highest price possible.

Information on ACIP Energy can be found online at https://acipenergy.com/.
Subscribe to receive top agriculture news
Be informed daily with these free e-newsletters
You May Also Like
---