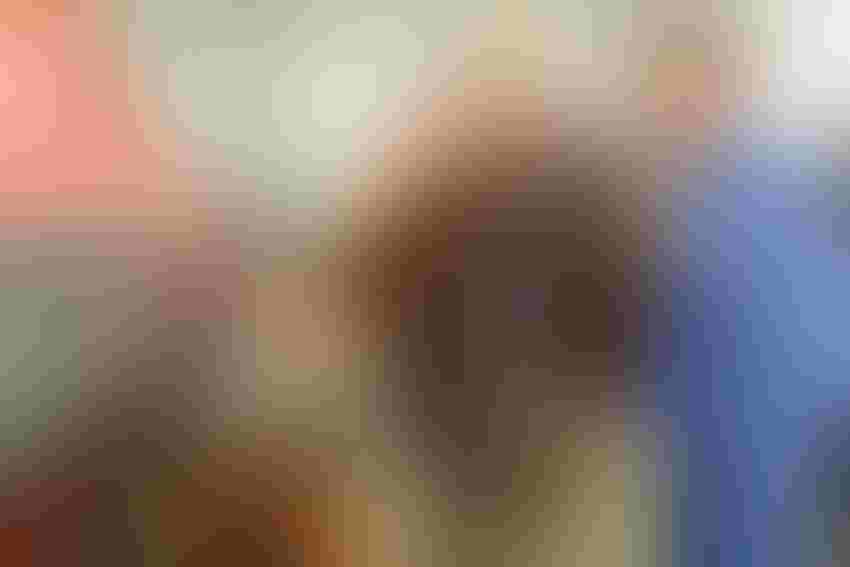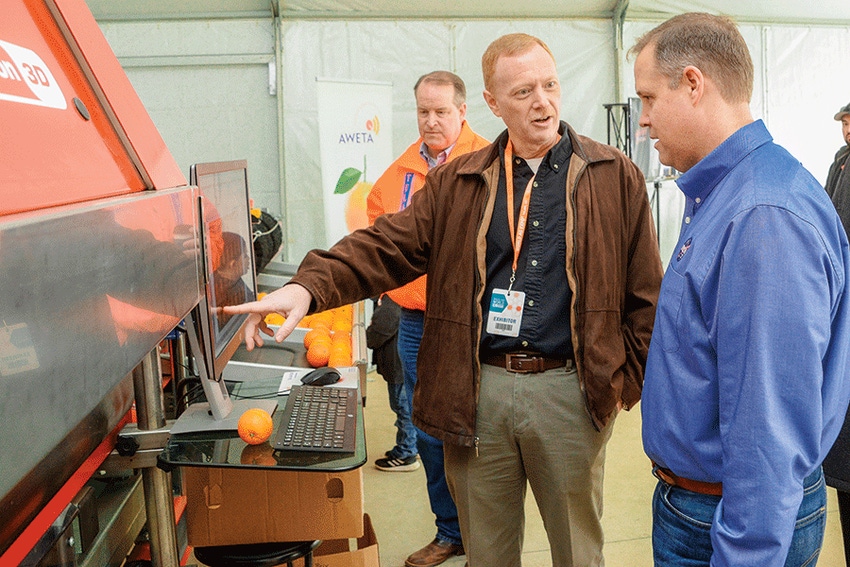 NASA Administrator Jim Bridenstine, right, visits with vendors at the World Ag Expo in Tulare. Here he learns about fruit sorting technology from Aweta Research and Development Engineer Alan Reese.
Space exploration and farming may at first blush seem disconnected, yet according to NASA Administrator Jim Bridenstine, technologies available to commercial growers today are a direct result of mankind's weightless walks and scientific studies in orbit.
Today, those studies include technologies that could have significant impact on how we irrigate crops and manage water.
Bridenstine visited the World Ag Expo at Tulare, Calif., where he spoke with vendors who market the latest technological advancements to global customers.
"People don't realize how important space is to their everyday lives," he said spelling out a series of examples such as the global positioning of satellites that aid banking transactions, cellular telephone service, and technology used by farmers. In a practical way, astronauts on the International Space Station consume vegetables they grow in zero gravity.
Certainly, there would be no ability to track weather on the planet if it weren't for the satellites built by NASA and operated by the National Oceanic and Atmospheric Administration. NASA is already using technology to more accurately determine Sierra snowpack and the water equivalent that will be available to farmers via state and federal water projects, including the Friant Water Authority, which is helping to fund such surveys.
MORE ACCURATE MEASUREMENTS
Airplanes currently fly patterns over the Sierra Nevada, mapping snow cover and measuring the relative reflectivity of that snowpack to determine how fast the snow will melt and how much liquid equivalent will be available to water managers.
Scientists at NASA's Jet Propulsion Laboratory in Pasadena say the measurements are more accurate than they first expected.
Bridenstine shared a video featuring comments from Frank Gehrke, recently-retired scientist with California's Department of Water Resources, who for 30 years conducted manual snow surveys in the Sierra Nevada to determine water content and extrapolate water availability to users across the state. Gehrke called the NASA flights "game changers" for their accuracy and ability to better predict water supplies.
Eventually NASA would like to have technology that can do what the airplanes do, but on a global scale via satellites. The agency currently has technology to measure glaciers and polar ice caps, but these measurements are not as precise as aircraft surveys.
CARBON DIOXIDE IMPACT
NASA is also measuring carbon dioxide in the atmosphere and its impact on the planet. While Bridenstine says humans are putting more carbon dioxide into the earth's atmosphere than ever before, scientists have discovered that not all the carbon dioxide being released by human sources can be found in the atmosphere.
"So, the question then becomes where is it going?" Bridenstine says. Studies reveal a greening of the planet because of this carbon dioxide and what he calls "carbon sinks," or locations that may be sequestering carbon dioxide away from the atmosphere. Instrumentation on the International Space Station is helping to measure this and perhaps one day will provide useful information to farmers.
Other work being studied by the space agency with agricultural applications includes evapotranspiration and plant stress — the ability some day to record the earliest stages of plant stress to make irrigation practices even more efficient and eliminate nutrient leaching into groundwater.
Among current technologies used by farmers: It was NASA-developed software that corrected for GPS signal errors that increased location accuracy in self-driving tractors. NASA is also credited with developing models that commercial software companies now use to predict corn and ethanol production; and, the development of algorithms used in drone imaging to assess crop health.
About the Author(s)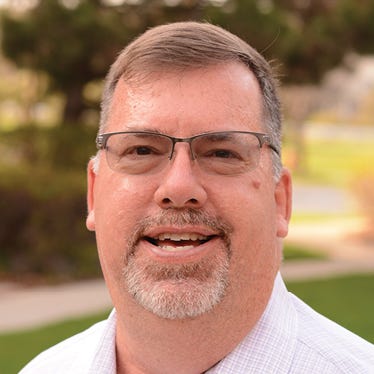 Associate Editor, Western Farm Press
Todd Fitchette, associate editor with Western Farm Press, spent much of his journalism career covering agriculture in California and the western United States. Aside from reporting about issues related to farm production, environmental regulations and legislative matters, he has extensive experience covering the dairy industry, western water issues and politics. His journalistic experience includes local daily and weekly newspapers, where he was recognized early in his career as an award-winning news photographer.
Fitchette is US Army veteran and a graduate of California State University, Chico. 
Subscribe to receive top agriculture news
Be informed daily with these free e-newsletters
You May Also Like
---