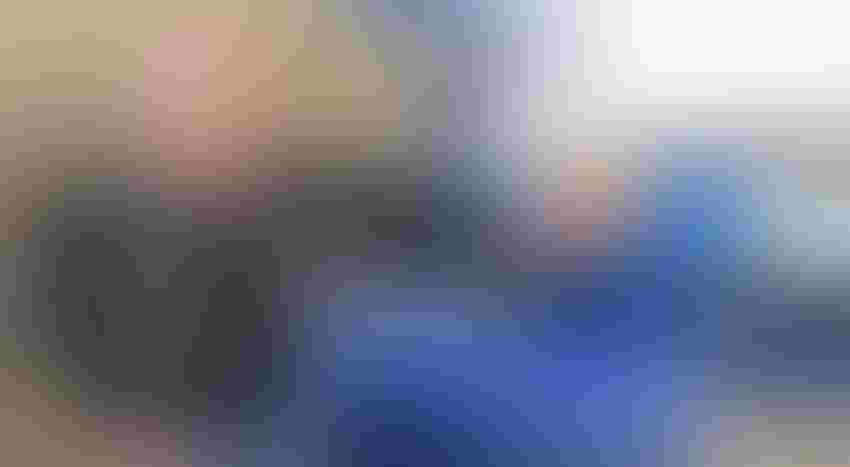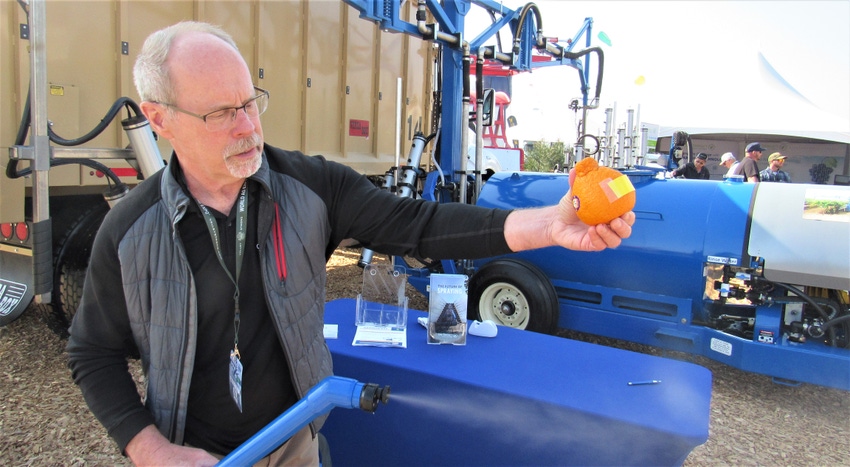 Willie Hartman, owner and founder of Oregon-based OnTarget Spray Solutions, demonstrates how water charged with static electricity is drawn to an orange in his hand.
Tim Hearden
Innovators are a bit like magnets and a little like static electricity. They're naturally drawn to each other, and when they connect there's a little spark.
Monarch Tractor – one of the new darlings in the automated-tractor space – demonstrated that recently at a booth at the World Ag Expo. Fresh off its receipt of an innovation award at CES, the startup teamed with OnTarget, which uses electrostatic technology to provide super-precise sprays, to show growers how much they can accomplish with a tiny carbon footprint.
"We just saw an opportunity to partner because we are low-horsepower and Monarch does not require high horsepower," said Ellen Kamp, a public affairs specialist for OnTarget. "We are an electrostatic sprayer, so … we give our droplets a positive charge, and the grounded plant attracts each drop.
"We run the whole gamut of crop production, from cane berries to citrus, and cannabis is our newest crop," she told Farm Progress. "It's pretty miraculous."
The Livermore, Calif.-based Monarch is coming off a banner year in which it recently scored $61 million in funding from a group of investors led by Astanor Ventures, one of the world's leading sustainable food venture firms.
Related: Monarch Tractor brings tech to farms, vineyards
Unveiled in 2020, Monarch bills itself as the first to offer a "trifecta" of electrification, automation and data analysis that empowers sustainable farming, increases efficiency and safety, and maximizes grower profitability. The firm was recognized at CES in Las Vegas in January, receiving a 2022 Innovator Award in the Robotics category for its driver-optional flagship MK-V tractor.
The award speaks to how agriculture is making "what's best for the planet also what's best for economics," said Carlo Mondavi, Monarch's chief farming officer.
"I certainly believe this is the future of farming," Mondavi told Farm Progress. "We're revolutionizing the industry by bringing the agricultural industry up in terms of technology. If you think about what's happening in aerospace and auto, we're doing that with agriculture."
Teaming with OnTarget
To emphasize the point, Monarch displayed its tractor in three other technology companies' booths during the World Ag Expo – sprayer company OnTarget, electric vehicle charging firm Calco, and CNH Industrial, Mondavi said.
The farm show – the West's biggest – began Tuesday, Feb. 8 and concludes today, Feb. 10, at the International Agri-Center in Tulare, Calif. Tickets are $15.
The Mt. Angel, Ore.-based OnTarget provides its unique watering system to farmers in 10 countries and more than 10 different crop segments, according to a brochure.
Related: Upstart startup: Big investments propel Monarch
Company founder Willie Hartman began his career selling greenhouses and equipment and was instantly drawn to the power of electrostatic technology. It took 25 years of research and development to perfect the technology for water application, Kamp said.
In demonstrations in the WAE booth, Hartman had people hold out their arm underneath a stream of water from a nozzle. With a normal spray, the water passed over it, but when he turned on the charge, their arm got wet. However, it wasn't scorched, and neither are the plants that act as natural grounders, company officials said.
What the technology does do is cut sprayers' use of diesel fuel by more than half, as its precision requires much less energy, Kamp explained.
"OnTarget's exciting because you can reduce your diesel with electrostatic water," Mondavi said. "Some of these big 400-gallon sprayers need only about 20 horsepower."
The fuel savings might make the sprayers a desirable implement behind a Monarch tractor, which uses no diesel, the companies' representatives said.
"It's all about efficiencies, " Mondavi said.
Subscribe to receive top agriculture news
Be informed daily with these free e-newsletters
You May Also Like
---