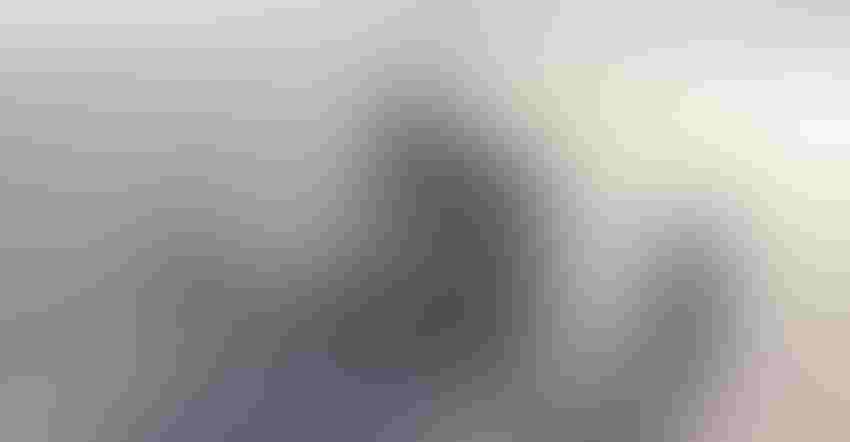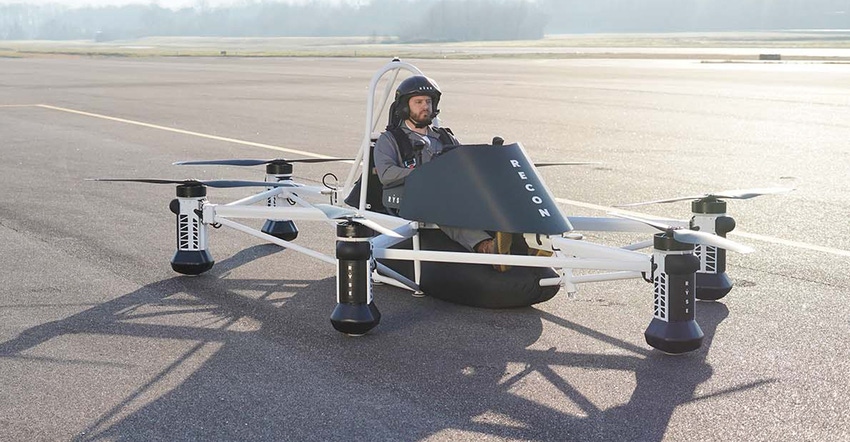 MANNED DRONE: This machine is billed as an eVTOL, similar to an ultralight, but it has six motors driving rotors, much like a helicopter-style drone.
Ryse Aero Technologies
Heads turned when the Ryse Recon took off for a short demo flight at the Farm Progress Show this summer. Mike Wilson, editor of Farm Futures, turned his head to watch live. Willie Vogt, Farm Progress editorial director, clued Mike in. Wilson reported it was a sight to behold.
The Ryse Recon is technically an eVTOL flying machine — with electric vertical takeoff and landing — similar to an ultralight. However, it functions like a drone, with six engines driving six rotors, and takes off vertically, or straight up. The company claims a top air speed of 63 mph and flight time of 23 minutes. Payload is 250 pounds.
Why did it fly at the Farm Progress Show? The company says the target is industries like agriculture, which are not densely populated but where simple, affordable transportation from, say, one hard-to-get-to field to another is needed.
Expect a hefty price tag when it makes a commercial debut, which is scheduled for 2023. Visit ryseaerotech.com, and read Ryse Aero Technologies lets farmers to take to the sky.  
Cat goes electric?
Never thought you would see "Caterpillar" and "electric" in the same sentence? If man can fly in a drone, why not power a construction machine electrically?
Caterpillar displayed four electric prototype machines at a major equipment show in Germany. They included a mini- and medium-sized excavator, medium-wheel loader, and the 906 compact wheel loader, with the most immediate appeal to farmers. The conventional Cat 906 is popular in agriculture today. These electric models feature battery prototypes and an AC onboard charger, with an off-board DC fast charger expected to be an option.
Meanwhile, Caterpillar also announced several state-of-the-art technology upgrades, which make existing products anything but your father's bulldozer. They include a stable blade tilt and lift, blade load monitor, improved AutoCarry feature, and low slip traction control. Check it out at caterpillar.com. Read Caterpillar upgrades dozers, launches electric machines.
New products from Sound Ag
Sound Agriculture's goal as it transforms from a startup to a solid player in the ag market is to provide more products that enhance yield or cut fertilizer bills. Its first two products to market were Source Corn and Source Soybean. When Source Corn was introduced, spokespersons said the product could replace a portion of a field's fertilizer needs by fixing nitrogen. It also liberated phosphorus in the soil for better uptake by plants.
For 2023, Sound Agriculture is introducing an improved formulation for its soybean product and is expanding the product line to other crops, including cotton, wheat, alfalfa and grass hay. The company says it will pour like a liquid for easier tank-mixing and cleaning of jugs.
Source Soybean gives way to Source SC, featuring not only a new name but also a new formulation. The new product is a solid concentrate, compatible with fungicides, herbicides and plant growth regulators.  The Source Corn product remains unchanged in name, formulation and use rate. Learn more at sound.ag. Read Crop nutrient startup to enter new markets.
N-fixing biological goes European
Nitrogen-fixing biologicals for crops other than legumes once seemed like a pipe dream, but now they're popping up and expanding their coverage. Azotic's Encera systemic nitrogen-fixing biological received registration from the Danish Agricultural Agency. The company reports that mutual recognition in one member state allows registration into nearly all European Union countries.
Azotic launched Envita in North America in 2019. Encera will be the European product, applied in a liquid formulation in-furrow or as a foliar product for corn, potatoes, cereals and legumes. The company says Encera enables cells throughout the plant to fix nitrogen and fill the gap between crop-available and crop-accessible nitrogen. Dry formulations and seed treatment options are in the pipeline under development. Visit azotic.com.  
About the Author(s)
Subscribe to receive top agriculture news
Be informed daily with these free e-newsletters
You May Also Like
---