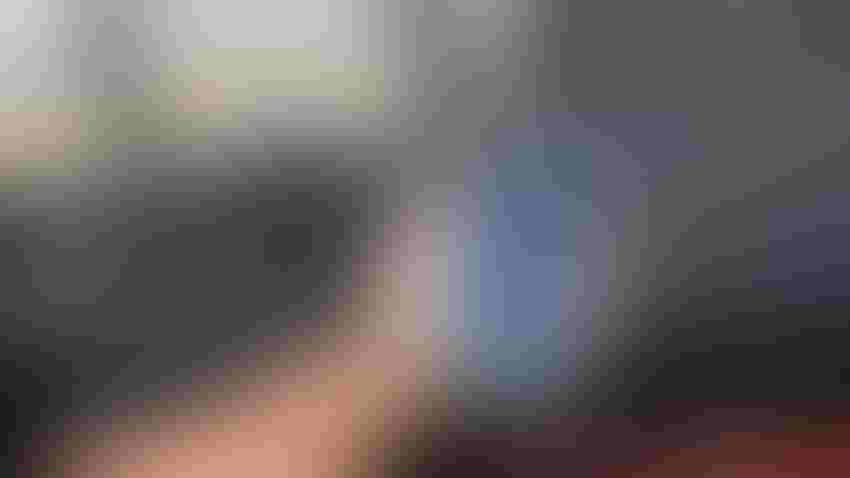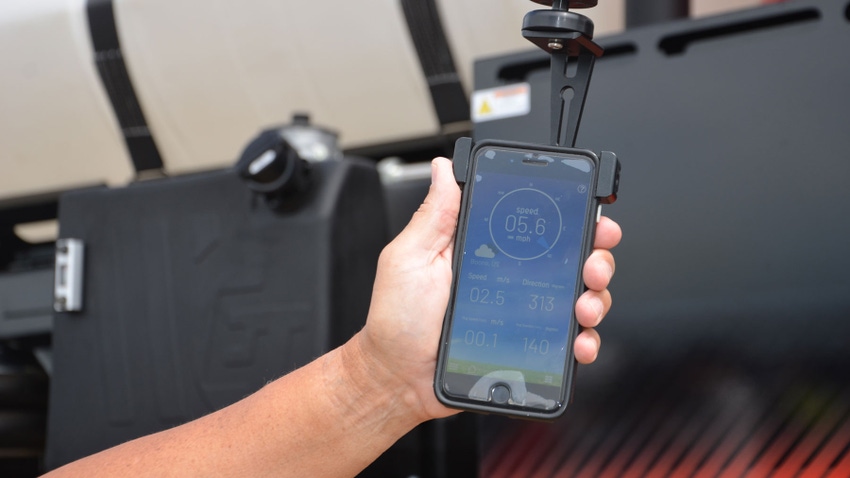 NO MORE GUESSING: You won't be raising a finger in the air to guess wind speed and direction if you have the WatchDog portable wind sensor, available now.
Tom J. Bechman
Have you ever wet your finger and stuck it in the air to guess wind speed and direction? Or are you high-tech? Do you rely on an app that tells you the wind speed, although it doesn't measure it at your exact location? That's probably better than guessing, but it may not hold up if a lawsuit comes down to wind speed and direction on the day you sprayed a field six months earlier.
Mike Thurow, president and CEO of Spectrum Technologies, Aurora, Ill., recently introduced the WatchDog portable wind sensor, capable of accurately measuring wind speed and direction. It's designed so you can mount it on your sprayer at boom height to capture conditions right where spray was applied, or hold it by hand to check wind conditions. The ultrasonic sensor sends wind speed and direction to any smartphone via Bluetooth. Once saved and emailed, it becomes part of your permanent pesticide records, Thurow says.
At press time, lead time from order to delivery was three weeks. Price is around $350. Visit specmeters.com.
Agriculture in space
The EOS SAT-1, the first imaging satellite build by Dragonfly Aerospace and the first entry for what will be the world's first ag-focused satellite constellation, successfully entered orbit on Jan. 3 after being launched from Cape Canaveral by SpaceX. Dragonfly Aerospace is a company in South Africa. Spokespersons say the goal is to launch six more satellites by 2025.
The customer is EOS Data Analytics, which hopes to use information gathered by the satellite to provide data for agriculture and forestry. The emphasis is on providing images that translate into monitoring progress on developing efficient, sustainable practices. Learn about the satellite at dragonflyaerospace.com.
New names in crop protection
Here are new products that could play a role in your crop production enterprise:
Luna Flex. From Bayer, this fungicide will help control diseases on 225 crops in 35 Eastern states in the U.S. Aimed at fruit and vegetable crops, it contains fluopyram and difenoconazole. One major market will be prevention of diseases in apples. See lunaflex.com.
Ace 3.8L ST. This seed treatment just registered by U.S. EPA contains ipconazole, the same active ingredient in Rancona 3.8 FS. Ace 3.8L ST will be produced and marketed by Albaugh LLC, Ankeny, Iowa. It can be used on multiple crops, including corn, soybeans and cereals. See albaughllc.com.
Dicamba HD 5 and Dicamba DMA Salt 5. Albaugh LLC also introduces these two products recently registered by U.S. EPA. Dicamba HD 5 is a low-volatility, 5-pound-per-gallon formulation of dicamba DGA. Dicamba DMA Salt 5 is a 5-pound-per-gallon formulation of dicamba DMA salt. Both are concentrated, water-soluble herbicides. They are not approved for application to dicamba-resistant soybean and cotton varieties at this time.
Fighting mycotoxins
The Food and Drug Administration recently approved the first mycotoxin-degrading ingredient to help livestock producers fight negative effects of mycotoxins in poultry and swine feed. The product, FUMzyme, contains fumonisin esterase, a purified enzyme that can irreversibly degrade the fumonisin mycotoxin into metabolites that aren't toxic to animals. It's produced by DSM Animal Nutrition and Health.
Biofix Plus with FUMzyme and Biofix Select with FUMzyme are now available for swine and poultry. Visit dsm.com.
Subscribe to receive top agriculture news
Be informed daily with these free e-newsletters
You May Also Like
---