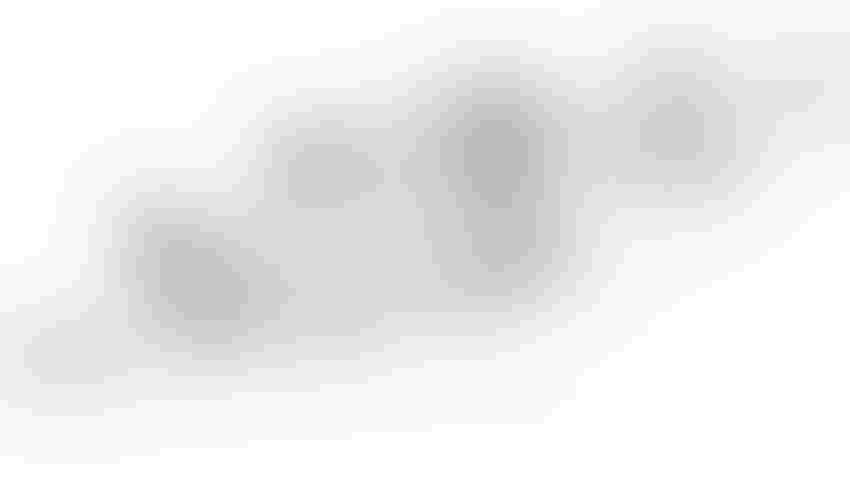 2 DECADES OF TECH: This timeline indicates some of the major new technologies Precision Planting introduced in agriculture over the past 20 years.
Courtesy of Precision Planting
The image above is of innovative products one company produced over the past two decades placed on a timeline. What drove this company to invest in technology and churn out so many products? Why is it diversifying into technology for other equipment and practices besides planters? Where is technology headed in agriculture?
Sitting down with two leaders from Precision Planting sheds light on how one ag company views their mission and the future. It also provides insight into what might be in store for agriculture as an industry.
Bryce Baker, marketing manager for Precision Planting, and Ken Sauder, region manager, share their views:
Where did Precision Planting get its start?
Sauder: The Keeton Seed Firmer was the first product. Farmers began realizing they could do a better job placing seed with their planters.
Baker: We developed and began marketing test stands for planter units in the early 1990s. Many farmers brought their finger-pickup planter units for testing. Soon, they realized what their planters were capable of doing when properly maintained. Getting planters tuned up beforehand was half the equation. The other half was monitoring performance in the field.
When the 20/20 SeedSense monitor arrived in 2008, it showed even more farmers why it was important to monitor singulation. It showed everyone where problems were with planter performance. We began offering solutions, like air bags and AirForce instead of springs to improve consistency.
What are a couple of the biggest advancements Precision Planting introduced?
Baker: DeltaForce would have to be one. We went from AirForce to controlling downforce hydraulically and automatically. vDrive and electric drives for planter row units would be on my list. They allowed us to get away from planting errors related to chain drives and worn shafts.
Sauder: What we've always been about is customer success. What is holding the farmer back from taking the next step forward? We have always tried to look ahead and develop the next product that will allow a farmer to do what he needs to do to move forward.
Are there other technologies that stand out?
Sauder: Conceal and FurrowJet really represent big advancements in ways to apply starter fertilizer with the planter. Before, there was pop-up with the seed or standard 2-by-2-inch placement. Conceal and FurrowJet utilize technology to improve fertilizer placement.
Baker: Overall, we believe we've helped drive planter technology to where it is today. Other companies now recognize it's important to address issues we addressed earlier.
Sauder: "We believe in better" is what we're all about. We make equipment that can make a farmer's planter work better. It's part of our retrofit strategy. By adding our equipment to a piece of equipment they already own, farmers get better results. What they add allows them to get top operating performance out of their machine.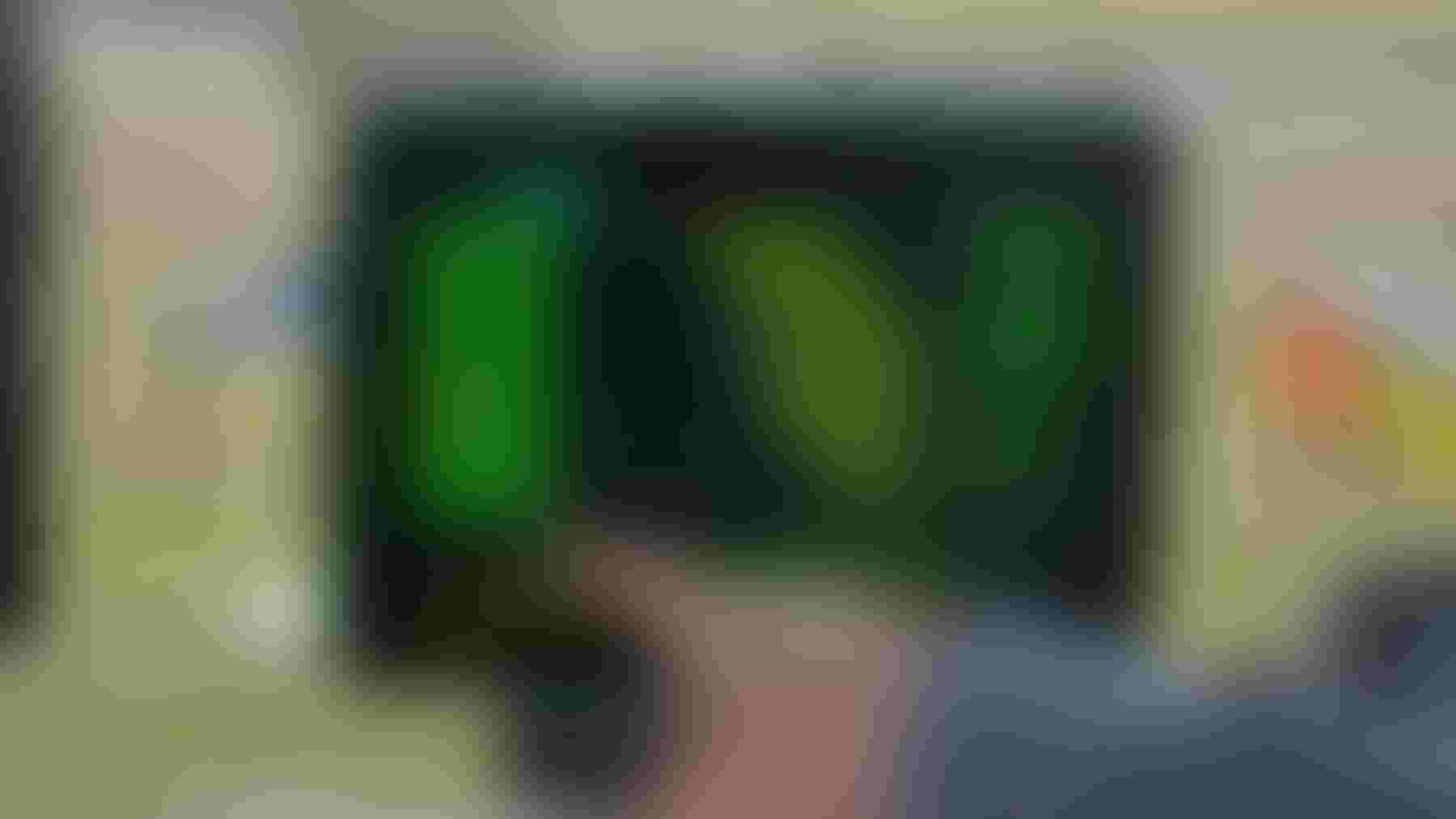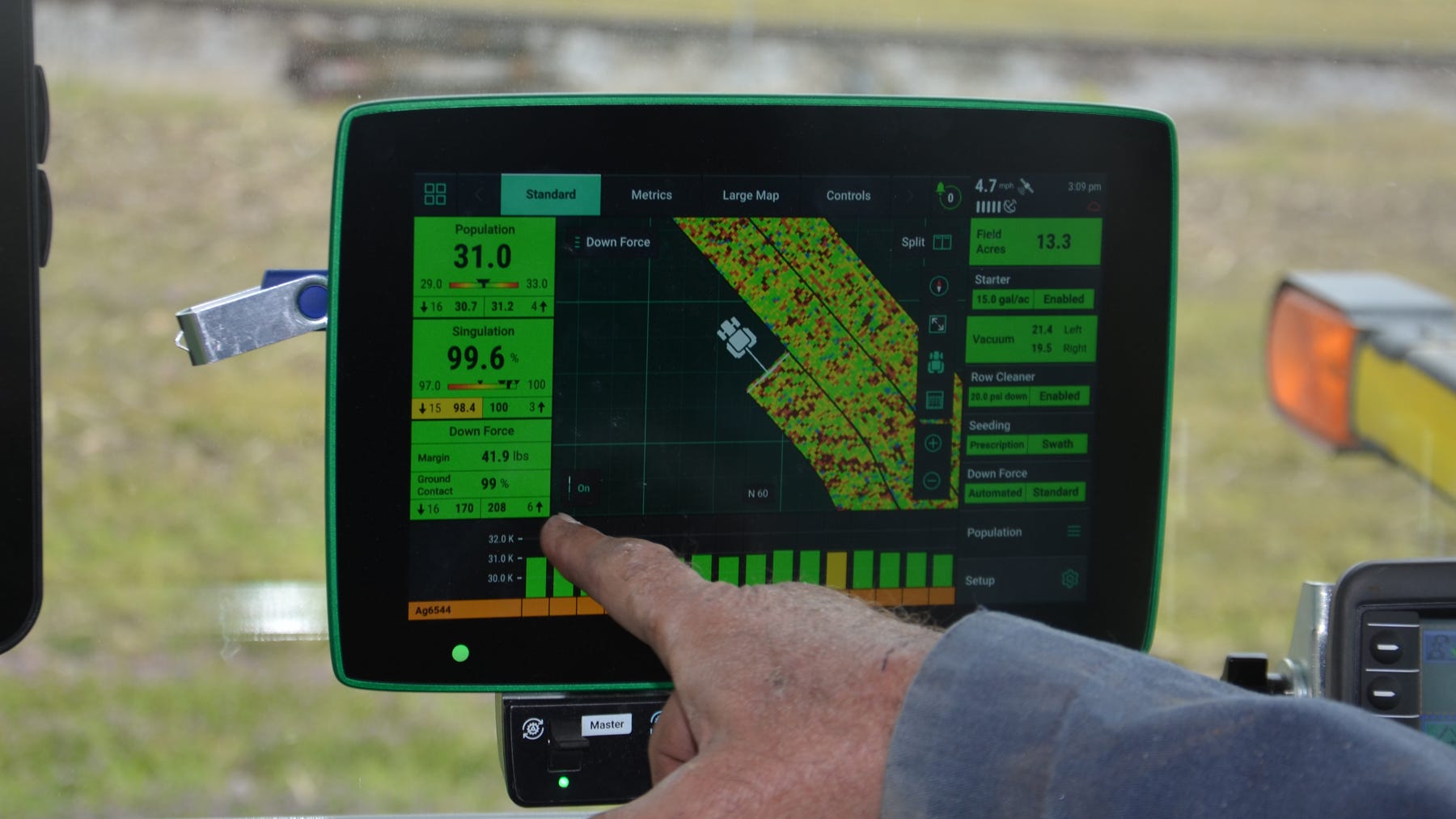 PLANTER MONITOR: This farmer zeroes in on how automatic downforce is performing on his planter as he examines the 20/20 monitor screen while planting.
Why have you branched into other areas, like spraying and soil testing?
Baker: When we see opportunities for better ways for farmers to do things, we get excited. Then we ask ourselves if we can develop equipment or processes to help farmers do better.
Sauder: That's why we developed a yield monitor. If farmers were going to vary seeding rates based on data collected, they needed to collect the very best yield data possible. The same thing happened with spraying. We thought there were ways to do things environmentally and economically better, so we pursued equipment that helps farmers do so.
Baker: The Radicle Agronomics soil testing lab introduced in 2022 developed the same way. One of the biggest expenses to grow a crop is fertilizer, yet there seemed to be a lot of uncertainty around soil testing. We invested heavily in finding a better way. The demand for that product is large, and we're working toward meeting it.
Can you give us a glimpse of technology in agriculture in 2033?
Baker: Ten years is a long time! Right now, industry is telling us that autonomy is a big deal. The reality is that equipment can perform automatically, but you still need an operator to understand what the information collected means and to make decisions.
Sauder: Based on where we were five years ago and where we are today, the safe bet is that change is occurring faster. So, whatever the next five years brings, it will come at us faster. Sensors are going to drive technology, but as Bryce noted, there are issues to work out. Farmers will need to ask themselves if they're better off once new changes are in place.
What do you see ahead for various pieces of equipment, like planters and sprayers?
Baker: The planter is not done. We continue looking for ways to make things work together even better. The sprayer is still not done either — we're working on new technology.
Sauder: We're not done by any means. The SmartFirmer is a good example. Expanding their use has been difficult due to waiting on components to make them. As that issue and chip issues are resolved, growers will get more chances to use these recent technologies, and they will find out more about what we all can do with new information.
Can growers afford new technology going forward?
Baker: There is no question that retail price of new equipment will go up, especially from OEM companies. However, we will rely on our retrofit strategy. Equipment which we offer can improve performance of an original machine. For example, we are working on sprayer technology that uses cameras to determine what to spray and when. Once available, it will retrofit onto existing sprayers.
The bottom line is that if we can help a grower access state-of-the-art technology for 20% to 30% of the price of an entirely new machine, planter or sprayer, it will be a workable solution.
Subscribe to receive top agriculture news
Be informed daily with these free e-newsletters
You May Also Like
---