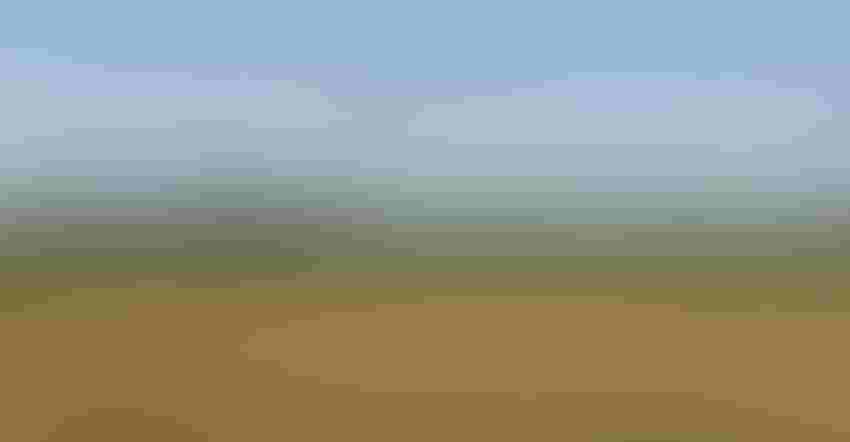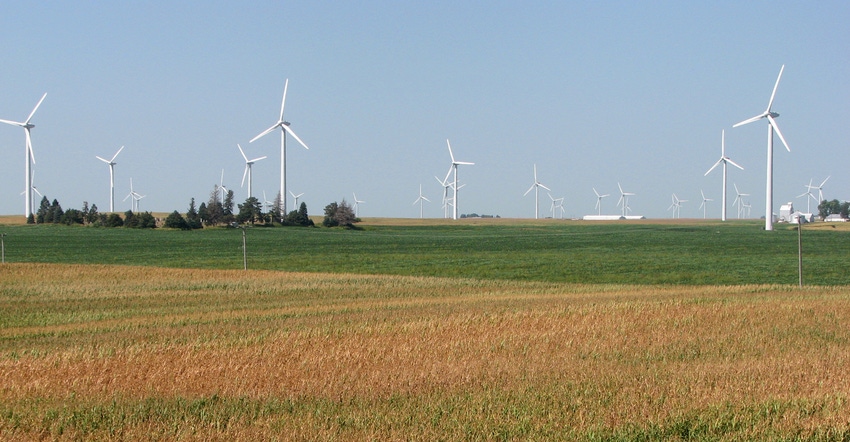 ON THE HORIZON: Installing more wind turbines across Iowa is being proposed to generate electricity. In counties where residents are keeping track, it has become clear that these projects are being driven by absentee landowners 85% of the time.
By Janna Swanson
For over four years now I've been working every day to protect rural Iowa from the onslaught of industrial wind turbines. My active involvement in this issue began the day our family received a certified letter from the company planning to build the Rock Island Clean Line, a proposed 500-mile wind energy power line. The letter explained that RICL was seeking a 200-foot-wide easement by the threat of eminent domain through our farm.
Today, I and many other Iowa residents are seeking to halt the hundreds of industrial wind turbines planned to be built throughout our communities. A number of turbines have already been built in recent years, and these new projects seek to add more electricity-generating turbines to the landscape.
I am a member of the Preservation of Rural Iowa Alliance, a grassroots organization, which started in Clay County in northwest Iowa and has stopped (for now) the Rock Island Clean Line from being built. The proposed RICL line would carry wind-generated electricity from turbines in northwest Iowa to Chicago, with none of that electricity being used in Iowa. 
I am also a board member of the Coalition for Rural Property Rights, which started in Palo Alto County and seeks to stop the efforts of MidAmerican Energy Co. and Alliant Energy from achieving their back-patting wind energy goals. Those goals — to build many more wind turbines on Iowa farmland — are destroying the land and the peace of our homes. Industrial wind farms are a horrible nuisance.
Not everyone supports wind turbines
Everyone loves wind turbines, you say? Iowa's government supports industrial wind companies and wind farm development? The farmers love the land payments?
No, the closer you get to wind installations the more you will find out how much these industrial turbines are losing favor. This last year I've received phone calls from all over the Midwest. People are distraught. People have been going door to door talking to neighbors, putting up signs, writing letters to newspapers, holding meetings, starting groups, starting webpages and talking with their county government officials.
For the most part, people who support industrial wind development live in town or don't live here in rural Iowa at all. In Palo Alto and Clay counties an average of only four residences per affected township have signed up to have industrial wind turbines located on land parcels where they live. In Sac County only 12% of the landowners who have signed contracts for industrial turbines actually live on the land. In Black Hawk, Poweshiek, Mahaska, Ida, Greene and Boone counties, it is all the same story. Rural residents don't want the installations, and they have no vote on the issue. Yet, they will have to live with the negative impacts every day for as long as the turbines last.
People who live in the footprint of the turbines stand to make the most money. But many of them refuse to sign a lease because they've heard the testimonies of others who signed before they knew of the negative impacts. Many of these people would not sign if they had it to do all over again.
Why wind turbines are a nuisance
There are many reasons why people do not want industrial wind development, and none of those reasons have anything to do with the turbines supplying renewable energy:
• Industrial wind turbines can be loud. In rural areas we generally have a nighttime decibel reading of 25 dBA. Wind turbine companies in Iowa have been seeking to raise that level to between 45 and 60 dBA. In many cases, people have not just one but multiple turbines surrounding their homes. The noise is likened to the sound of a jet plane that never lands.
• Wind turbines create wakes and turbulence for miles. The pressure changes that occur in the air from wind turbines can cause some people to feel dizzy or have headaches, or vertigo. Between the pressure and the noise, sleep can be difficult. A growing number of experts are studying these claims and finding that people with these claims are indeed not "making it up" as the wind industry says.
• Shadow flicker is another drawback. This sounds innocuous enough, but often rural residents have to put up with the large shadows that are thrown by the blades. This can occur every day for weeks on end, casting the shadows on their homes and on their property. It's like a strobe light you can't turn off. This can also make people feel ill.
• The look of the turbines. Maybe a few of them are not horrible to have on the landscape, but when hundreds of turbines are shoved into one area it clutters the entire view — day and night. The night sky is filled with blinking red lights and can ruin the beauty of the entire countryside for 30 miles in every direction, spread over an area half the size of the city of Des Moines for one installation.
The main reason why we only have five offshore wind turbines in the U.S. today (these were built behind an island) is because people don't want turbines in their coastal views. Iowans love their views as well. Town and city residents want to have attractive surroundings and so do rural residents.
• Wind turbines complicate farming. Gone is any hope of having straight rows of crops in a field, and that decreases farming efficiency. Gone are efficient aerial applications. Gone is the soil that is world class and the staple of our economy. Many ag pilots refuse to fly their aircraft within a half-mile of turbines. Ground rig sprayers don't work very well in these turbine fields either. Ground rigs don't work if the ground is soggy or if the crops are leaning. The large equipment used to build turbines can damage drainage tile lines in a field, and often it is not fixed in a timely manner or not at all when the wind company disagrees that the damage is their fault.
• Turbine failures are inevitable. Failures are far more common than the wind industry admits. GCube Insurance is a renewable energy insurance provider. Its website says "there are an estimated 3,800 incidences annually of blade failure — a rate of 1 in 184, or put more simply, one incident per 61 turbines in operation."  Turbines that throw off blades or fall over could harm people working the fields. Turbine fires burn for days, and local fire crews are not equipped to fight them.
• Wind turbines kill birds. The wind companies like to say that they only kill a small fraction of our birds. They cite buildings, cats and cars as other things that kill birds. How many of those things are there compared with the relatively small amount of turbines? We have 261.8 million cars and 86 million cats compared to 50,000 or so turbines in the U.S., yet the last administration felt the need to give wind companies the right to kill 4,200 eagles each year. That number does not include the rest of the birds or bats.
• Our communities are fighting. The local town-based governments that have control over the rural areas want the money. That money, the federal Production Tax Credit for wind energy, is driving this whole mess. Even well-known wind energy investor Warren Buffett, who heads the firm Berkshire-Hathaway, is quoted saying: "I will do anything that is basically covered by the law to reduce Berkshire's income tax rate. For example, on wind energy, we get a tax credit if we build a lot of wind farms. That's the only reason to build them. They don't make sense without the tax credit."
Wind energy industry has a strong lobby effort
The American Wind Energy Association has done a great job of telling about how much the rural areas love industrial wind development, and the farmers love the payments they receive for leasing land to the wind energy companies. That is likely how the wind industry got our legislators to agree to this debacle.
However, now that the offers have been made and the numbers are in, it looks like Iowans would rather preserve and protect our land and landscapes instead of giving MidAmerican Energy or Alliant Energy, who are planning to buy these projects from the wind companies, easements on thousands and thousands of our acres, for the companies to control.
Many other locations across the U.S. and around the world are voting the wind energy industry out of their communities, or they are using restrictive zoning laws that make the turbine installations unprofitable. Iowa is lagging far behind in protecting its people. Iowa's government is allowing our utility monopolies to run over our rural communities to satisfy their own back-patting goals.
Wind industry needs to admit problems occur
Wind companies often say that the mountain of evidence in the form of testimony and studies that speak to the problems people have living near industrial wind turbines are all lies. Even we will admit that not everyone has these problems. I would respect the industry more if the companies admitted the problems, though they do list them in their contracts. Here is an excerpt from an Invenergy Neighbor Agreement contract that company offers non-participating residents within a half-mile of the firm's projects: 
For a small one-time payment their contract gives the developer an "exclusive easement on, over, under and across all of the Owner's Property to permit Generating Units or other wind energy conversion systems on adjacent property or elsewhere to cast shadows or flicker onto the Owner's Property; impact view or visual effects from the Owner's Property; and cause or emit noise, vibration, air turbulence, wake and electromagnetic and frequency interference." — Invenergy Neighbor Agreement, 2015
If a company feels the need to offer these contracts with this type of wording to landowners, then their turbines are too close. If a neighbor does not sign one of these contracts, they will still receive the negative impacts. When communities instill zoning laws that protect homes and properties, there is not enough room for these 50- to 70-story tall turbines.
Farmers like progress, but not all like wind turbines
Some people may say farmers don't like progress. If that were true many of us would still be farming with horses instead of machines with 250 or more horsepower. Farmers understand that there is the cost of restoring our world class soils after the turbines and the PTC contract have expired.
The U.S. does not make 4% of its energy from wind, only 4% of its electricity. That 4% has cost us billions of dollars. What we reduce in greenhouse gas emissions according to the American Wind Energy Association is 159 million metric tons of carbon dioxide worldwide. That is less carbon dioxide than the 290 million metric tons U.S. forest fires release annually, just a tiny fraction of the 40 billion tons humans are responsible for every year.
When you count the cost of losing our peace in our homes, loss of property values, harm to our wildlife, harm to the land and agricultural businesses, the price of decommissioning the turbines once they are outdated and need to be torn down, and the loss of community relationships — you realize that the total cost of wind turbines has been and will continue to be staggering.
Editor's note: Swanson farms with her family near Ayrshire in northwest Iowa. She is a board member of the Coalition for Rural Property Rights, the National Wind Watch and is a member of the Preservation of Rural Iowa Alliance.
Subscribe to receive top agriculture news
Be informed daily with these free e-newsletters
You May Also Like
---