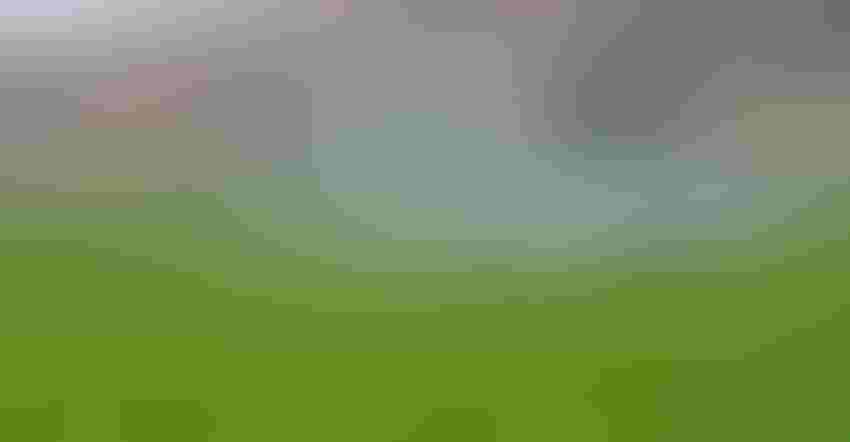 PIVOT MANAGEMENT: Center-pivot systems can plug or leak, causing yield issues. A new imagery tool combined with artificial intelligence may help eliminate these problems.
Aerial imagery can be a valuable tool by helping spot trouble in-season, and offering farmers a chance to make corrections and preserve yields. But how are those images interpreted? And looking at a dozen or more fields, how do you decide where to go first? Ceres Imaging, a California firm that provides in-season imaging services, has a new service for irrigators.
"I think the biggest thing is that if you capture images and display them, there's a lot of guesswork about what you're looking at," says Jeff Divan, Midwest product developer, Ceres Imaging. "You almost need a degree in remote sensing to interpret what you're seeing."
The company is laying claim to being the first to use machine learning, or artificial intelligence, to automatically detect, prioritize and alert farmers to center-pivot issues in their fields. The Center-Pivot Analytics Suite is designed for farmers and advisers managing more than 1,000 acres and can eliminate the need to sift through hundreds of images to detect issues.

DECISION TOOL: Scouting center-pivot systems for failures isn't easy, but a new approach from Ceres Imaging can alert a farmer to problem areas before they hit yields. The inset shows problem pivots (red for blocked nozzles, blue for leaking nozzles). It's an advanced way to maximize pivot scouting.
Divan explains that the system can "see" impacts of pivot problems early. Ceres Imaging uses aircraft to capture high-resolution images that include not only Normalized Difference Vegetative Index images but also thermal information. A thermal image can detect crop stress before it impacts crop biomass. But "seeing" that stress isn't always so easy — especially with irrigation, where you may have many pivots working at once.
"We can find those nozzles that are plugged, or a leaky nozzle," Divan says. "With our scientific-grade canopy temperature measurement, we can see crop impacts two weeks before NDVI, and that can be before some of the more standard indices captured by a drone."
Teaching the machine
Farmers are going to hear more about machine learning and artificial intelligence in the future. With visual images, computers can see crop diseases or identify weeds based on thousands of images. From that database, artificial intelligence makes decisions, and some who follow the technology know that image-based artificial intelligence offers promise. But Divan shares a stumbling block Ceres Imaging had to overcome.
"With machine learning, changes in a pivot-irrigated field can confuse the system," Divan observes. "On one pass, the pivot may be oriented straight east; on a different pass, it may be angled southwest. We had to do a lot of work to teach that system to be agnostic at where the pivot is for the image."
The answer was to teach the system to look away from the pivot and focus on nozzles and man-made shapes, he explains. "Once we had that figured out, we could filter the information and alert users to potential [problems]," he says.
This is more than seeing crop stress. In fact, that canopy temperature data is also affected during pivot operation. Water hitting the crop can change temperature in the field, too; it was another variable to overcome in interpreting the imagery, Divan adds.
"We're trying to let the computer do the heavy lifting and tell me what I need to know, and tell me where to send my irrigation guys to fix a problem," he adds.
Pricing for the service depends on the number of flights a farmer buys for fields. "For pricing, we feel we need to provide the most value, and that we need analytics behind it," Divan adds. "The analytics for center-pivot fields are included in the cost of capturing imagery." The company charges on a per-acre basis depending on the number of passes a farm needs.
The system will provide alerts in the company's app if it detects a pivot issue. Learn more at ceresimaging.net.
Subscribe to receive top agriculture news
Be informed daily with these free e-newsletters
You May Also Like
---