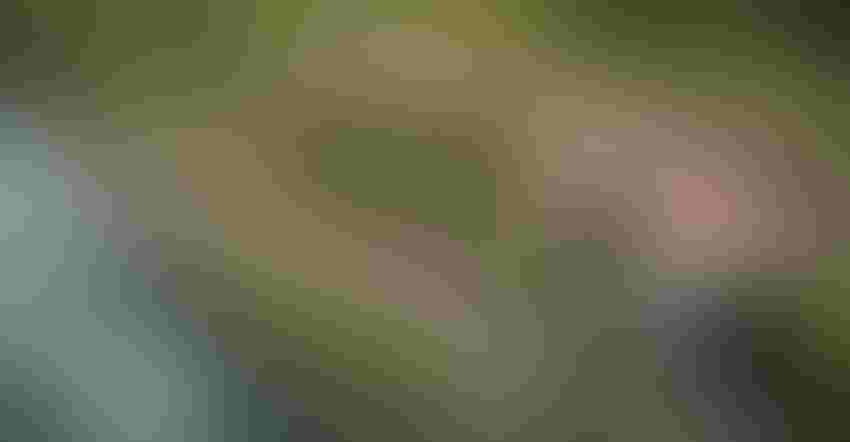 FRUITS OF LABOR: Pressurized pipelines provide water for many farmers in Oregon's Farmers Irrigation District, including those who grow pears and other fruits on hillsides. Water not used for irrigation goes through the 2.6-megawatt hydropower plant (shown here in foreground) before entering the Hood River.
Photos courtesy of FID
Editor's note: This is the eighth story in a series exploring how ranchers and farmers are benefiting from renewable energy.
Farmers within north-central Oregon's Farmers Irrigation District used revenue from two hydropower systems to replace canals with pressurized irrigation pipelines throughout the area.
That, in turn, has allowed growers to install more efficient irrigation systems, including micro-emitters, which has improved drought resiliency and reduced pumping costs.
"FID is another early leader that has really been influential in helping us to refine and think about how we try to help irrigation districts and the farmers they serve to modernize their systems," says Jed Jorgensen, Energy Trust of Oregon senior renewable energy program manager. "Hydropower has been the stable revenue source that enabled the district to install pipelines that can help drive other positive benefits in terms of pressurization, using water much more efficiently and ensuring enough water is in the streams for fish and wildlife."
Farmers within the district grow pears, apples, cherries, winegrapes, blueberries, vegetables and specialty crops, including lavender, on nearly 6,000 acres. Some also raise cattle, and more recently producers added cannabis to the mix.
FID installed two hydropower plants in the late 1980s, and the plants have generated approximately $50 million in revenue.
"Hydro produces about two-thirds of our income annually, and we use that revenue to pay for infrastructure improvements," says Les Perkins, FID district manager. "The biggest benefit of this investment in infrastructure has allowed us to serve the same number of acres with half the water, and the remaining water supports fish and wildlife habitat."

WATER WORKS: This Gilkes Turgo Impulse turbine installed in a Farmers Irrigation District hydropower plant in late 2015 produces up to 2.6 megawatts of electricity, enough to power nearly 2,000 homes when running at capacity.
From ditches to pipes
Thirty years ago, the FID system consisted of 100% open ditches. Erosion was common along many miles of ditches constructed in steep terrain. Water losses in the canals neared 50% because of the porous volcanic soils. Employees spent much of their time walking ditches to clear debris.
"There is a lot of vulnerability with open ditches and canals," Perkins says.
After completing in-depth studies, including a cost-benefit analysis, the district determined it could begin modernizing its system through revenue generated from hydropower. Since construction of the two original plants, FID generated enough money to install 70 miles of underground pipeline. That piping provides pressurized water to 1,900 accounts, which mostly consist of small family farms and many of which are third- and fourth-generation operations.
The pressurized water, meanwhile, has allowed farmers served by FID to install high-efficiency irrigation systems, including micro-emitters and low-flow sprinkler heads, while eliminating pumping costs.
"When we had open canals, we really struggled to get consistent water to our growers, especially during drought years," Perkins says. "This affected all of our farmers, especially the tree fruit growers. When you're growing tree fruits, you can't fallow. You have to water those trees, because if you don't, you're not only going to lose the crop for that year, you're going to lose the trees."
Of the five irrigation districts in the Hood River Valley, FID charges the most for water, but the majority of growers know what has come with this fee and related infrastructure improvements.
"Twenty and 30 years ago, many farmers in our district really struggled when they didn't have adequate water. Because we've invested heavily in infrastructure, that gives them a lot of security — knowing that they'll get water when they need it," Perkins says. "And for a big portion of our district, growers receive filtered water."
The district uses revenue from hydropower to service debt, and it hopes to convert the last 2½ miles of open ditch to underground pressurized pipe within seven years, using grant funds and low-interest loans to match FID resources.
"The pipeline is designed so [that] we'll start construction once we have the funding in place," Perkins says. "Right now, we're in the middle of a reservoir expansion, which should be complete by fall 2019. Between that and putting in a new powerhouse and controls, we've faced some pretty expensive endeavors."
He adds: "Our growers are very proud of what we've done. From a resiliency standpoint, the improvements make it so the farmers don't face big question marks every year concerning whether they're going to get the water they need."

RESERVOIR RENOVATIONS: Revenue from its hydropower facilities, member irrigators and other sources is allowing the Farmers Irrigation District to expand its Kingsley Reservoir from 700 acre-feet to nearly 1,400. This will provide more security for many farmers in the district, especially during drought years, and helps to maintain in-stream flows for fish and wildlife.
Help available for irrigation modernization
Irrigation districts across the West that would like to modernize their systems can turn to early adopters like the Farmers Irrigation District for help.
"The value of getting help from any early adopter is that they know the pitfalls that can happen, and they are able to give a realistic view to other districts wanting to embark on modernization," says Dick Wanderscheid, vice president of the Renewable Energy Group of Bonneville Environmental Foundation, an Oregon-based nonprofit that helps entities develop renewable energy and restore watersheds.
"Turning to others for help means that you're not out there on your own going into unexplored territories," Wanderscheid says. "Districts like FID are models about how to do things right, and they are more than willing to share their success stories, their knowledge and their connections to help other districts wanting to move in a very positive direction."
Perkins says that collaborating with others has been one of the long-term keys to success for his district, and "show-and-tell tours" are an important part of that collaboration. For example, since Perkins became manager in 2015, FID has hosted groups from California, Idaho, Montana, Nevada and Washington on tours of district facilities.
"If you're part of a district that is thinking about upgrading, tap into the wisdom of others who have modernized their systems," Perkins says. "It took FID 30 years to get to where we're at, and we weren't necessarily looking holistically when we started."
Though FID and its members are proud of their many accomplishments, from irrigation efficiency to improving the environment, Perkins notes, "The initial work started pretty piecemeal. Had we been thinking about the entire district from Day 1 and how it could be designed optimally, the system would probably look quite different than it does today."
Perkins emphasizes that an important part of irrigation modernization is taking advantage of technological advances in such things as hydropower and solar power.
"Use the tools that are available today, which are quite considerable," he says. "In fact, the technological advances in the past several years have been tremendous."
As an example, FID is now looking at implementing solar into its system.
"We have a pumping station at one of our powerhouses that is costing us $50,000 a year in pumping costs alone," Perkins notes. "We're seriously looking at putting in a solar system at that station to offset pumping costs with net metering." (Net metering is a billing mechanism that credits the owners of renewable energy systems tied to the power grid.)
Perkins says he welcomes contacts from other irrigation districts. His email address is [email protected].
Waggener writes from Laramie, Wyo.
About the Author(s)
Subscribe to receive top agriculture news
Be informed daily with these free e-newsletters
You May Also Like
---