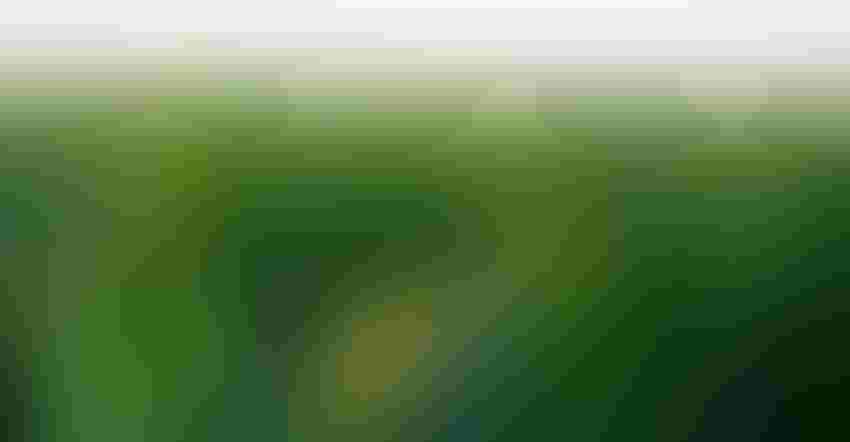 The expanding use of data to make field, and in-season, decisions is a non-stop process. The folks at Climate Corporation continue to build on their work with field data, and customers will find enhanced capabilities for 2018.
During a media event ahead of the 2017 Farm Progress Show, Jim Ethington, vice president of product for The Climate Corporation, explained the history of Climate Field View, which got its start in 2016; and the program has progressed every year since. He explained that for 2018, there are several new features.
"We'll have yield by region, which will allow the grower to understand performance in the field, and this will allow a grower to make every acre a test plot," he noted. "Farmers are experimenters by nature, to learn what's working and what's not. We want to help them do that more effectively."
One feature added for 2017 gets an upgrade with this yield by region capability. With Climate FieldView you can hand-draw a circle around a portion of a field and get information on just that area. With this in-field, acre-by-acre data approach, drawing that circle will give you more information.
Ethington shared the example of using Y-drops to add later season nitrogen. "With this approach you can see how it really works, and determine if it was worth the cost in that field," he said.
Earlier this year, Climate announced an R&D pipeline of more than 35 projects, a first for a digital company. Several of those projects are moving forward, with more coming in 2018. Here are some key advancements announced this week:
Manual scripting for N, P, K and Lime, which allows farmers to develop application scripts for these key nutrients to boost on-farm productivity, tailored to specific farm goals. This will be new to the platform for 2018 and will allow farmers to do more than simply manage nitrogen - a key nutrient that Climate FieldView Pro helps manage today.
Another script enhancement for 2018 is for seed selection. Using historical farm yield data, along with proprietary field testing results, the system can provide farmers with seed planting prescriptions tailored to their unique yield goals. The enhancement for next year is the development of management zones derived from field health imagery. With this capability, the company claims more than 80% of corn acres in the United States can now use Climate's advanced seed scripting capabilities.
Looking ahead, new tech on the way
During an expo-style presentation, Climate Corporation offered a look at some other tech that's in the works. Some is in beta - which means closer to market; some in 'alpha' which means there's been a proof of the concept, but now it has to be put to work in the field and tested.
Sam Eathington, chief scientist, Climate Corporation, noted that the company continues to work on ways to integrate data and create more layers of information for deeper analysis. The company has seven core science projects moving through the pipeline including fertility, seeds, field health, weather science, connectivity, equipment compatibility and data visualization.
He pointed to work on selecting seed, where using prior history of hybrids and matching that to specifics of an actual field, "we give that recommendation to a grower and see better yield." It's also possible, he added, to look at plant density and pull data from research trials to determine the best population for positive return on investment. From Eathington's perspective, in looking ahead, it's about matching data and machine intelligence and pushing them forward to meet a specific challenge. "We are applying science to all this data. And the future vision for the pipeline is to create new value to growers," he said.
One that got some attention is a tool for using artificial intelligence to identify corn disease in real-time. With the work, Steven Ward, director of geospatial sciences, explained the company is progressing with a system that would allow you to use a smart phone to identify a disease in the field.
"We get to 90% accuracy with the work we've done so far," he explains. "We're using artificial intelligence and educating the system in ways to identify disease."
The work, right now, is for gray leaf spot or northern corn leaf blight - both a little difficult to diagnose, and sometimes the two are confused. However, the work at Climate shows it's possible to use a smartphone in real time to help diagnose the problem. Ward shared that developers have been able to develop code so compact that the phone can carry the system and make the determination without reaching back to the Internet for help.
This system is still in beta testing as more images are shown to the system to educate it to better identify diseases no matter how the farmer takes the picture, in what light and more. Yet it could be to market as soon as 2019 as a helpful scouting tool.
As for 2018, the company has expanded data and equipment connectivity so more farmers can get all their data in one place. That's Climate Corporation's goal: create a single platform where you can pull together disparate pieces of data into one place for improved management. The Climate FieldView Drive can stream field data directly into the platform and works with most planters, and 65% of combines. That's an increase from 50% of combines in 2016. And farmers with John Deere Operation Center systems can retrieve yield and planting files into Climate FieldView.
New pricing
The company did announce new pricing. For the 2018 season, Climate FieldView Plus provides simplified data collection, increased data compatibility, broader connectivity across more equipment types, enhanced yield analysis tools, field health imagery, manual see scripting and improved on-boarding support for $999, for a 365-day subscription.
Farmers that have subscribed to FieldView Plus can upgrade fields of their choice to Climate FieldView Pro, which offers advanced seed prescriptions and nitrogen monitoring by zone, bundled together at $4 per acre. Or each service can be purchase for $3 per acre for the crop season.
A special offer, for the 2017 harvest, is on the table. The company is extending the 2017 price of $749 for a FieldView Plus subscription until Oct. 15, 2017 to encourage farmers to experience the system first hand with this fall harvest.
In 2017, the platform was on more than 120 million acres, and paid offerings were in 35 million acres. You can learn more at climate.com.
About the Author(s)
Subscribe to receive top agriculture news
Be informed daily with these free e-newsletters
You May Also Like
---