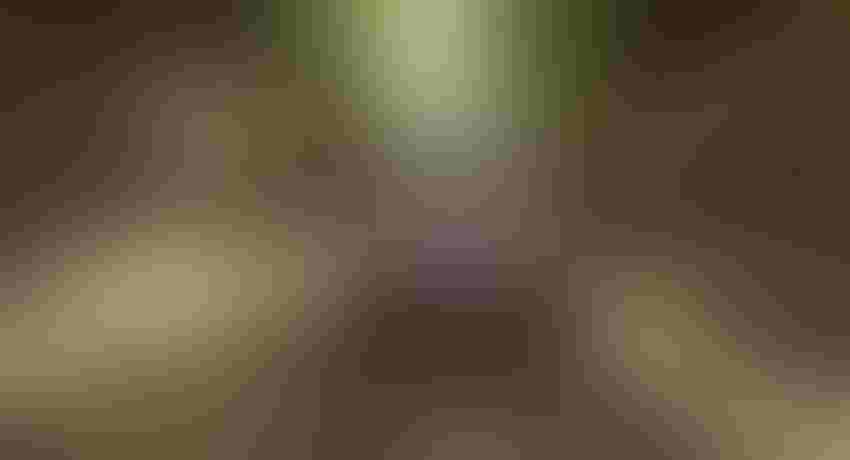 Future Acres' new machine, called Carry, can autonomously transport up to 500 pounds of crops on all terrain and in inclement weather. The machine is meant to be an automated "sidekick" to farmworkers, according to the company.
Future Acres
As two major West Coast initiatives seek to automate up to half of specialty-crop harvests within the next 10 years, tree fruit and other growers may start by automating portions of the task.
Companies interested in adopting full robotics someday are in "kind of a scaffolding process," starting with machines that can do things like move humans down the orchard row before the machines can be outfitted later with robotic pickers, said Gabriel Youtsey, the University of California's chief innovations officer.
Experts and companies could start by having farmers prioritize needs for various crops and use work-saving implements while "the hard stuff" such as soft-grippers, guidance systems and even optimal orchard designs are still being perfected, Youtsey told Farm Progress.
"While harvest is the holy grail, I think what we'll find is it takes some laddering to get there," he said.
Starting incrementally
One new company that's ramping up incrementally is the Santa Monica, Calif.-based Future Acres, which just introduced an automated, electric-powered machine called Carry that uses advanced artificial intelligence to serve as a sort of sidekick to help workers gather hand-picked crops faster and with less physical demand.
The machine can move up to 500 pounds of crops on all terrain and in inclement weather conditions, the company asserts. It is similar to a Burro but with different features, company chief executive officer Suma Reddy said.
"To us, the reason we went about this approach is we've looked at what problems we are trying to solve," Reddy told Farm Progress. She noted that farm income is expected to fall 12% to $79.4 billion in 2021, according to the Food and Agriculture Policy Research Institute, while production costs continue to climb.
"A huge piece of that, as we know in the industry, is labor," Reddy said. "For specialty crops, the share of labor costs to total cash expenses is more than 3 times higher than the average for all farms.
"Secondly, we're also thinking about farmworkers," she said. "We know that farmworkers do really, really, tough, brutal work … Dragging crops for miles is brutal, so in that regard we wanted to develop a solution that can increase production efficiency and make the lives of farmworkers easier."
Reddy calls the device's rollout "stage one" in a development process that could eventually lead to robotic picking. The second piece will include things like precision spraying, measuring pest presence and developing the capability of avoiding obstacles and people.
"We want to get there (to robotic harvests), but we need to build the right foundations," she said.
Parallel initiatives
The movement comes as Western Growers and three West Coast land-grant universities in February launched parallel efforts to automate fruit harvests to solve two of growers' most pressing challenges – food security and lack of harvest labor.
Scientists from Washington State University, Oregon State University and the University of California are working with researchers, fruit growers and technology companies in Washington state and the Netherlands to find ways to use robotics in the harvests of apples, pears and other tree fruit in a project called Fruit Orchard of the Future.
The parties will seek to create a network of local field labs and testing grounds, set up exchanges for education and research, connect companies with growers, and build access to funding, according to WSU.
The scientists will develop prototypes such as a robot for pruning and harvesting pears, a precision sprayer for fruit crops, sensors and algorithms to collect data on apples and pears, and decision models for apples and pears based on the data and the scientists' expertise, the university explained.
Meanwhile, the Irvine, Calif.-based Western Growers is teaming with dozens of international partners for an ambitious Global Harvest Automation Initiative, which aims to speed the development of crop-specific robots and put them in the hands of growers.
The Washington Tree Fruit Research Commission is involved in both initiatives, committing $200,000 to Western Growers over three years after signing on to the universities' effort the week before.
Team assembled
Since launching its effort at a day-long event Feb. 11 in Tulare, Calif., Western Growers has assembled a team of 24 experts – 18 from technology companies and six growers – to build a "technology stack" which will instruct startups how to integrate their proprietary pickers with industry-standard tractors, robot arms, sensors and other equipment to accelerate development of fruit-picking accessories.
The organization and its partners are also selecting a "cohort" of startups that it will present to growers so they're not inundated with scores of company pitches and can focus on a handful that are right for their operations. This project will include mentorship for startups and growers.
The first companies in the cohort could be announced by late March, said Walt Duflock, Western Growers' vice president of technology. Later in the year, the partners will produce a "road map" that will identify startups by crop type that are further along in their development than others for that crop, and will publish the first of what will be annual reports on automation progress on an industry-wide scale, he said.
"We are getting feedback from the industry now and have 15 or 20" startups identified, Duflock said. "We believe the first group will be somewhere around seven to 10."
Youtsey sees lots of opportunity for collaboration between the two initiatives, including an effort to more efficiently collate the "massive troves of data" the robots gather and use to "figure out what they're doing," he said. The universities, which have been working on various prototypes for years, can help growers apply new machines to "the real-world farm environment," he said.
"We're really excited to work with Western Growers," Youtsey said. "I think they're doing a nice job really coalescing the industry support and creating an alignment with companies."
Subscribe to receive top agriculture news
Be informed daily with these free e-newsletters
You May Also Like
---