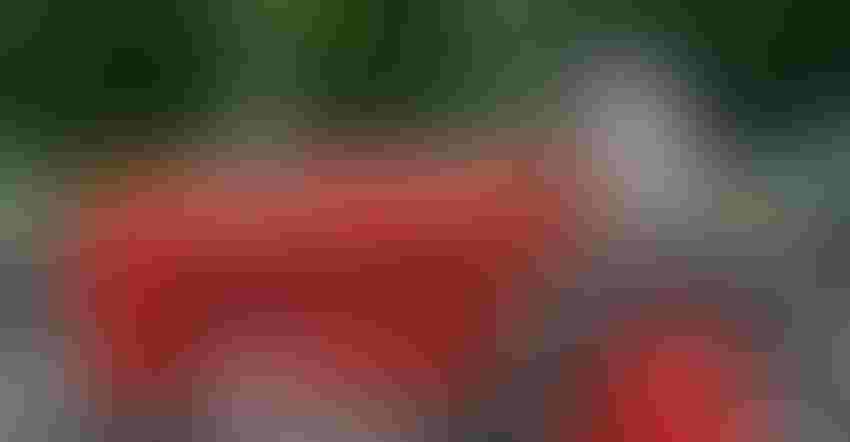 SHORT-LINE ADD-ON: Gordon Cripe is proud of his restored Farmall M, and rightly so. One feature sets it apart. It has an M&W hand clutch.
Gordon Cripe drove to the Delphi FFA Tractor Drive in Delphi, Ind., earlier this summer on the tractor he drove in the drive. Almost every other tractor was brought to the event via truck and trailer, but since Cripe lives in nearby Rossville, he left the truck and trailer at home.
"It's an easy drive on this tractor," Cripe says. "I enjoy driving it."
His tractor is a 1950 restored Farmall M. If you visit antique tractor shows or participate in tractor drives, it's not too difficult to find a restored Farmall M among the entries. What's tougher to find, though, is a Farmall M with a hand clutch.
Cripe's Farmall M has a hand clutch that is functional and that he uses routinely. It was manufactured by a short-line company, M&W.
Farmall M tractors left the factory with traditional foot clutches. John Deere two-cylinder models of the day featured hand clutches. Allis-Chalmers offered tractors with both a foot clutch and a hand clutch. The operator could use either one. Hand clutches offer an edge when you're in tight quarters and need to creep ahead slowly and carefully.
Farmall M details
According to tractordata.com, more than 270,000 Farmall M's were built from 1939 through 1954. Production continued in England after it ceased in the U.S. The Farmall M replaced the W-6, and was followed by the Super-M.
The three-plow tractor only claimed 25 drawbar hp, but it delivered 33 hp in official tractor tests. The standard M came with manual steering. You could buy a new Farmall M in 1952 for $2,400. The tractor weighed just under 5,000 pounds.
M&W company
M&W is best-known for supplying oversized pistons for older tractors. However, according to wellssouth.com, it started when two men with experience in the farm equipment industry sought to meet a need left open by International Harvester.
Farmall M tractors ran about 5 miles per hour in fourth gear, and 16 miles per hour in fifth gear. As farmers began to complain that they needed a speed somewhere in between, these two inventor-entrepreneurs eventually developed a nine-speed transmission. It didn't require replacing the original transmission but involved a clutch shift-lever instead. They formed a company in Anchor, Ill., and opened for business in 1948.
As demand for their solution to the Farmall M gear dilemma increased, they developed solutions for other concerns farmers had about the M tractors, including a need for a live PTO. They also began making their own pistons for the Farmall M, and later for other brands and models.
M&W was acquired by the Alamo Group, the same company that owns and markets the Rhino brand today.
Willie Vogt contributed to this story.
Subscribe to receive top agriculture news
Be informed daily with these free e-newsletters
You May Also Like
---