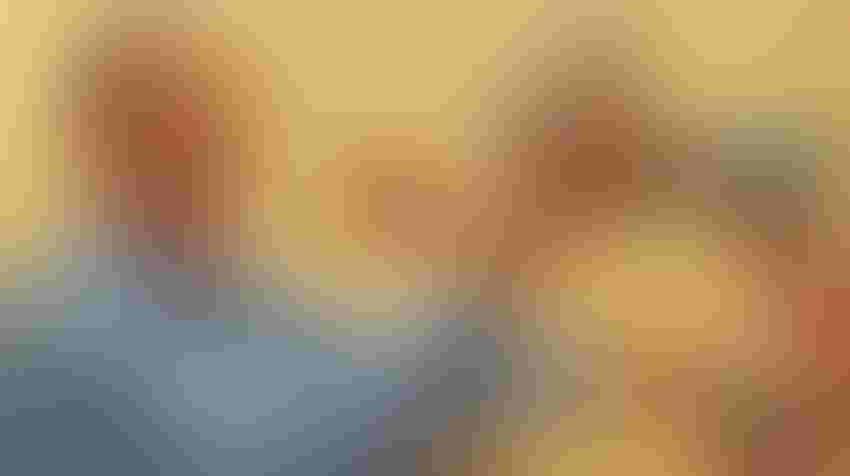 WSU scientist Manoj Karkee examines robotic arms being developed to solve labor challenges for the Northwest tree fruit industry. Karkee is part of the new Orchard of the Future collaboration between Washington state and the Netherlands.
WSU Ag Robotics Team
A trio of West Coast land-grant universities are teaming with farm groups and other researchers in a major global push to automate the harvests of apples, pears and other tree fruit.
Scientists from Washington State University, Oregon State University and the University of California are working with researchers, fruit growers and technology companies in Washington state and the Netherlands to find ways to use robotics and automation to overcome labor shortages and other tree-fruit challenges.
In a project called Fruit Orchard of the Future, the parties will seek to create a network of local field labs and testing grounds, set up exchanges for education and research, connect companies with growers, and build access to funding, according to WSU.
The scientists will develop prototypes such as a robot for pruning and harvesting pears, a precision sprayer for fruit crops, sensors and algorithms to collect data on apples and pears, and decision models for apples and pears based on the data and the scientists' expertise, the university explains.
Participants say automation and robotics could help tree fruit growers in the U.S. and the Netherlands resolve issues such as an increasingly difficult-to-find orchard labor force. They also notice a greater demand for sustainability, environmental health and food safety.
"Technology implementation into orchards has to accelerate to enable our state's tree fruit industry to remain viable and prosper into the next decade," said Ines Hanrahan, the Washington Tree Fruit Research Commission's executive director.
Public-private consortium
In signing an agreement Feb. 3, officials from the commission and universities were joined by representatives from the Washington State Department of Agriculture; the Netherlands' Ministry of Agriculture, Nature and Food Quality; Wageningen University and Research; the Dutch Fruit Growers Association; Dutch technological associate FME; and more than a dozen Dutch and American companies and organizations, according to WSU.
As part of the pact, this public-private consortium will speed new tree fruit technologies into orchards using an industry-developed concept called Next Fruit 4.0, the university explains. The project is part of a broader coalition in the Netherlands and U.S. to get safe and environmentally friendly innovations to the market faster, the participants say.
Gabriel Youtsey, the UC's chief innovations officer, is the California lead on the broader project. He said it could be five to 10 years before there's large-scale automation of harvests in commercial apple and pear orchards, but that research will be ongoing.
"It is very difficult, and I think we are still a few years off from seeing something that is even adoptable, and then adoption will take more years still," Youtsey told Farm Progress in an email. "I believe we will see lots of activity both in research and in new company products that are a lot of 'point solutions' like we have now."
Mechanized harvests are standard for California tree nuts, and they're becoming so for other crops such as raisins and olives for oil. But they're more difficult with fruit, for which pickers often must work quickly in determining appropriate ripeness and get it to the warehouse unblemished.
Workers dwindling, aging
Many commodities have looked to automation as the agricultural work force in the past decade has been dwindling – and aging. According to the USDA's Economic Research Service, the average age of hired farm laborers rose from 35.8 years in 2006 to 38.8 years in 2017, driven by aging foreign-born farm laborers. The labor force in this instance excluded managers, supervisors and other supporting jobs.
In looking for solutions, the West may have found a perfect partner in the Netherlands, the world's No. 2 exporter of food by value behind the United States even though it has 1/270th of America's land mass and is situated only about 1,000 miles from the Arctic Circle, according to National Geographic.
The tiny but densely populated European nation has set a standard for sustainability that the West Coast would very much like to emulate. Among its innovations, the country grows bananas using an alternative soil composite made of coco peat and rock wool, uses food waste to feed farm animals and has a "floating farm" in Rotterdam that is entirely sustainable, reports DutchReview, a Netherlands-based international magazine.
"Globally, producers face many of the same hurdles," said Andre-Denis Wright, dean of WSU's College of Agricultural, Human and Natural Resource Sciences. "The practical solutions being developed through this international coalition hold promise for more robust, healthy and efficient industries in both countries."
Western Growers initiative
The partnership was announced as Western Growers is set to launch its own global automation initiative coinciding with the World Ag Expo, which began Tuesday, Feb. 9 and concludes Thursday, Feb. 11. The farm show is being held virtually because of coronavirus-related restrictions on public gatherings.
Western Growers is holding a day-long summit Thursday at the International Agri-Center in Tulare, Calif., which will be streamed live on YouTube.
The 9 a.m. to 4 p.m. event will include a showcase of new harvest robotics, an update from tech giants on harvest tech development, an update on projects to accelerate fresh produce harvest automation, and other news on global mechanization efforts. The summit will be hosted by Walt Duflock, Western Growers' new vice president of technology.
Duflock has high praise for the Netherlands' innovations.
"From Western Growers' perspective, whoever solves this problem first is a benefit to everyone," he told Farm Progress. "The Netherlands are doing great stuff on this."
Subscribe to receive top agriculture news
Be informed daily with these free e-newsletters
You May Also Like
---