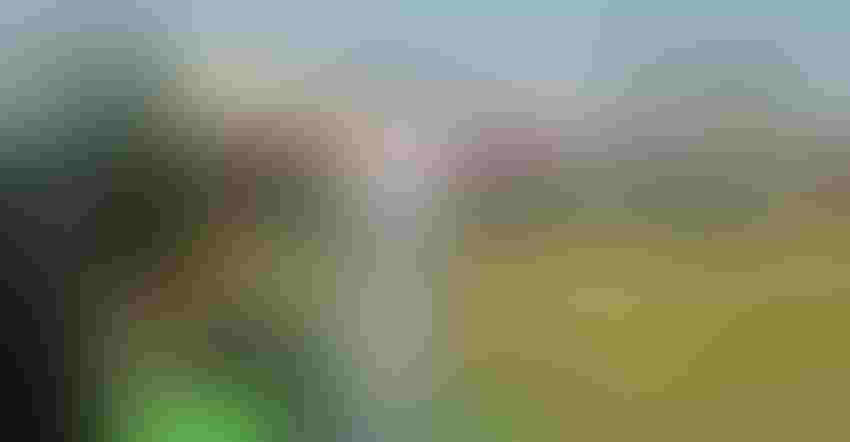 READY TO ROLL: Equipment vendors line up to show large audiences how their newest machines operate.
On Aug. 7, 8 and 9, hundreds of tents, tractors, trucks, tools and technologies — everything of agriculture — will pop up at the Rodman Lott and Son Farm just south of Seneca Falls, N.Y. It's the 88th annual Empire Farm Days, sponsored by the Empire State Potato Growers.
Biggest crowd-drawers, says show manager Melanie Wickham, will be the field demos, the new manure injection demo, ride-and-drive experiences, the soil health seminars and drone demos. "And we've added new crop demonstration plots," she says.
The popular forage chopping, merging, hay and tillage demonstrations return. This year, manure application equipment, promising to reduce odor and runoff and retain nutrient value, will join the lineup. Side-by-side demonstrations will include dribble bars, a grassland tool, disks and shanks.
Demo event schedule
Here are the event times:
10:30 a.m.: Hay mowing
11:30 a.m.: Hay merging and chopping
12:30 p.m.: Tillage and GPS
1:30 p.m.: Hay raking and handling
2:30 p.m.: Manure injection
A demonstration of Bugnot's rock and stone grinder/forestry mulcher has also been scheduled.
• Take a test drive. Try a test drive with large sprayer applicators, tractors, trucks and UTVs. Learn how each style of sprayer works with GPS section control and other precision features.
• Cover crop demo plots. See side-by-side trials of new cover crop options including stress-tolerant summer annuals, combinations for dealing with compaction and adding organic matter. There'll also be three pollinator-friendly mixes and four blends for use after small grain and vegetable crops. Daily guided tours take place at 10:30 a.m.
• Automated soil sampling. On Wednesday and Thursday of the show, the Falcon Automated Soil Sampler will be demonstrated, courtesy of Agrinetix of Rochester, N.Y., in partnership with Growmark FS. The Falcon collects georeferenced, time-date stamped, and barcoded soil samples every 15 feet for precision application of nutrients and fertilizer.
• Soil health seminars. Rigorous daily speaker and activity schedules are planned for the Soil Health Seminar Center. Activities include farmer panels, tabletop demonstrations, the New York Soil Health Trailer, a rainfall simulator, web-based soil survey mapping, plus opportunities to talk with USDA, Cornell, Soil and Water Conservation personnel.
Beef up your enterprise
New York Beef Producers Association, Davon Sales, Runnings and Twin Clover Equipment are offering training and demonstrations on topics such as cattle handling system design, beef animal evaluation, preconditioning and safe cattle handling. The programs start at 9:30 a.m.
SOCK IT IN: Manure-incorporating and sidedressing tools will be new to this year's field demos.
Runnings' Round-Up Presentations will include: Feeding for top line and body condition, safe cattle handling, simple electric fencing solutions and worry-free, frost-free watering.
On Tuesday only, New York Beef Council hosts a Beef Quality Assurance training program. Registration is required. Call 315-339-6922.
Saddle up and adopt
Equine programs held daily, at 11 a.m. and 2 p.m., in the Runnings Round-Up Pen include the following:
• Tuesday. The Finger Lakes Thoroughbred Adoption Program will show how flat track racehorses are retrained as companion horses.
• Wednesday. Jack and Emma Minter of Rose Hill Ranch make an encore visit with once-wild horses trained in just 100 days to compete at Mustang Magic and Extreme Mustang Makeover.
• Thursday. Begin Again Horse Rescue volunteers will present how and why they rescue and rehabilitate horses of all breeds, mules, donkeys, drafts and miniature horses.
Other special attractions
• On Tuesday only at 2:30 p.m., Advanced Ag Systems' Tom Kilcer will cover new alfalfa genetics for forage quality plus tips for forage program consistency in the Special Events building.
• At 10:30 a.m. daily, learn about grapes, hops and the invasive spotted lanternfly in the Craft Beverage Center.
• At 11 a.m. daily, USDA offers an apple and grape grafting demonstration in the Cornell Building.
• N.Y. Farm Bureau's Family Education Center hosts the Adopt An Alpaca project.
• New York Center for Agricultural Medicine and Health Safety Center offers free skin cancer screenings on Tuesday and Wednesday, daily blood pressure checks, and hearing and vision screenings on Thursday. You can also sign up for the National Rollover Protective Structure Rebate Program and the raffle of two ROPS kits. You can also check out the NYS Department of Labor farm-related services.
Show hours are 9 a.m. to 5 p.m. on Aug. 7 and Aug. 8, and 9 a.m. to 4 p.m on Aug. 9. Admission is free; parking is $10 per vehicle. Just plug 2973 State Route 414, Seneca Falls, N.Y. into your GPS and roll out.
ROPING A WILD ONE: This cowboy-to-be shows how once-wild mustangs can be tamed.
For more details and directions to the show by air, visit empirefarmdays.com or call 877-697-7837. Or check Empire Farm Days on Facebook.
Catch these Dairy Profit sessions
Here's a brief peek at the Dairy Profit Seminars kicking off at 10:30 a.m. each day:
• "Herd management strategies for challenging times" will be the focus of three morning topics on Aug. 7 and Aug. 8 — Optimizing calf management, strategic ration opportunities, and improving labor efficiency and effectiveness.
• At 1 p.m. both days, see the Dairy One Data to Dollars panel presentations on "Milking your milk samples" and "Wringing your records." Selective dry treatment, intensive culturing, milk urea nitrogen analysis and milk pregnancy testing will be covered in the first round. Getting better results via computer-generated records and reports, identification systems, and heifer records are the second-round topics.
• Thursday morning's topic is "Changing times, changing consumers: How to connect with the 'moovable' middle." Five milk producers share their positive stories and how they communicate on-farm production practices with non-farm neighbors and local community organizations. 
The show 'boss' is retiring
Melanie Wickham, executive director of Empire State Potato Growers, is retiring after 33 years as "head honcho" of Empire Farm Days. Melanie and her family team, Drew and Samantha, are transitioning show management leadership to a new team — Alexandra Grimm as ESPG executive director and EFD show manager, Jamie Meyer as assistant executive director, and EFD exhibitor coordinator and Chase Brown EFD site coordinator.
About the Author(s) Editor, American Agriculturist
For more than 38 years, John Vogel has been a Farm Progress editor writing for farmers from the Dakota prairies to the Eastern shores. Since 1985, he's been the editor of American Agriculturist – successor of three other Northeast magazines.
Raised on a grain and beef farm, he double-majored in Animal Science and Ag Journalism at Iowa State. His passion for helping farmers and farm management skills led to his family farm's first 209-bushel corn yield average in 1989.
John's personal and professional missions are an integral part of American Agriculturist's mission: To anticipate and explore tomorrow's farming needs and encourage positive change to keep family, profit and pride in farming.
John co-founded Pennsylvania Farm Link, a non-profit dedicated to helping young farmers start farming. It was responsible for creating three innovative state-supported low-interest loan programs and two "Farms for the Future" conferences.
His publications have received countless awards, including the 2000 Folio "Gold Award" for editorial excellence, the 2001 and 2008 National Association of Ag Journalists' Mackiewicz Award, several American Agricultural Editors' "Oscars" plus many ag media awards from the New York State Agricultural Society.
Vogel is a three-time winner of the Northeast Farm Communicators' Farm Communicator of the Year award. He's a National 4-H Foundation Distinguished Alumni and an honorary member of Alpha Zeta, and board member of Christian Farmers Outreach.
Subscribe to receive top agriculture news
Be informed daily with these free e-newsletters
You May Also Like
---