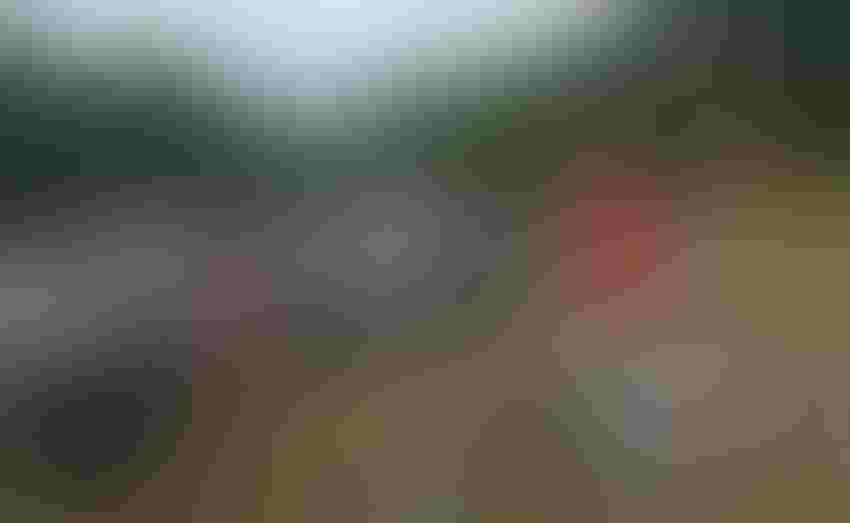 Speaking at the Tomato Field Day Aug. 11 at the Mountain Horticultural Crops Research and Extension Center in Mills River, N.C., Duncan McSorley discusses new apps under early development at North Carolina State University that will provide early detection of late blight in tomatoes.
John Hart
Editor's Note: The original version of this article incorrectly indentifed Duncan McSorley as a gradaute research associate. Mr. McSorley is actually an undergraduate reserch intern.
In the future, North Carolina tomato farmers will be able to turn to apps on their smartphones to determine if their crop is infected with such pathogens as late blight. The goal is early detection to avoid the more time-consuming task of sending a sample to the lab to Raleigh to determine if late blight is present.
Development of the technology is in its earliest stages and likely years away from being commercially available, but North Carolina State University researchers believe the technology will offer great benefits to North Carolina tomato farmers.
At the Tomato Field Day Aug. 11 at the Mountain Horticultural Crops Research and Extension Center in Mills River, N.C., Duncan McSorley, an undergradaute research intern at North Carolina State, discussed the two smart phone apps his team is developing for early detection of tomato pathogens.
McSorley said the apps will be particularly helpful to farmers in the western part of the state who are a long way from the Plant and Disease and Insect Clinic at North Carolina State University in Raleigh. Instead of sending the sample to the lab to test for late blight, farmers will be able to use the apps to test for the disease in the fields themselves and get an almost immediate positive or negative test.
"If you're out here in the western part of the state, you can send that sample to Raleigh, and it will take more than a few days to get back to you with a positive identification. During that time, you, and your neighbors, who are also growing tomatoes that could be affected by this pathogen, haven't started treating because you're not sure. You don't want to make that investment without being positive about what you are doing," McSorley said at the field day.
"In that time, late blight can take over and really decimate an entire field. It can be a huge problem. And that's where early detection comes in. What we are trying to do is take a DNA sample in the field and positively identify that in an hour. And say we know for certain — based off the DNA of the sample we took — this is late blight, we can say with confidence you can start treating and so can your neighbors. In this way we can get a handle on the spread of the disease in this area," he explained.
In the project, McSorley and his team are using a patch the size of a dime, sticking it on a leaf that looks infected and washing it, which is the sample. The process takes less than a minute to complete Right now, all the testing has been done in the lab at North Carolina State in Raleigh, but the researchers hope to move it to field testing soon.
"We've been able to say with confidence that we can use that sample to run the same diagnostic test we do in the lab in the field and have the same or similar efficacy. We can use this DNA to detect a pathogen. In  under a minute, we can take that sample, so that's a huge improvement," McSorley said.
The second aspect of the detection test is taking the sample and running a lamp test on it, which ideally can be completed in 30 minutes. McSorley said with the one-minute DNA extraction and 30-minute lamp test, the whole process should take less than an hour, compared to several hours if you  are close to the Raleigh lab or several days if you are not.
The system includes the microneedle patch you stick to the leaf and wash off. You then put the sample in a small tube which is the DNA. You then take a small pipette and load the sample into a sensor chip that is about half the size of a credit card.
 "In 30 minutes that block will heat up to one temperature, run for 30 minutes and your phone will take a picture. After those pictures, if it's positive, it will light up green. You will know if there is a positive identification for the disease," McSorley said.
The second sensor under early development at North Carolina State is designed to measure the volatile organic compounds that flow out of the plant leaves into the air. The sensor will allow you to measure those compounds and determine if you have a healthy plant or if late blight is present.
"Your smartphone will take a picture of the sensor chip, and you'll take it, before and after, and the change in that profile will tell you 'Yes or no, you have late blight' in one hour. That can be done before symptoms arise as well as after symptoms arise. The goal is continuously monitoring the emission of these volatile organic compounds, so you know, even before you go out in your field, somethings up," McSorley said.
About the Author(s)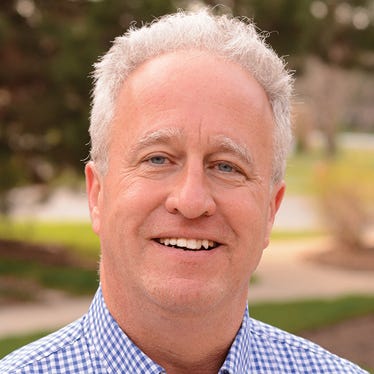 Associate Editor, Southeast Farm Press
John Hart is associate editor of Southeast Farm Press, responsible for coverage in the Carolinas and Virginia. He is based in Raleigh, N.C.
Prior to joining Southeast Farm Press, John was director of news services for the American Farm Bureau Federation in Washington, D.C. He also has experience as an energy journalist. For nine years, John was the owner, editor and publisher of The Rice World, a monthly publication serving the U.S. rice industry.  John also worked in public relations for the USA Rice Council in Houston, Texas and the Cotton Board in Memphis, Tenn. He also has experience as a farm and general assignments reporter for the Monroe, La. News-Star.
John is a native of Lake Charles, La. and is a  graduate of the LSU School of Journalism in Baton Rouge.  At LSU, he served on the staff of The Daily Reveille.
Subscribe to receive top agriculture news
Be informed daily with these free e-newsletters
You May Also Like
---