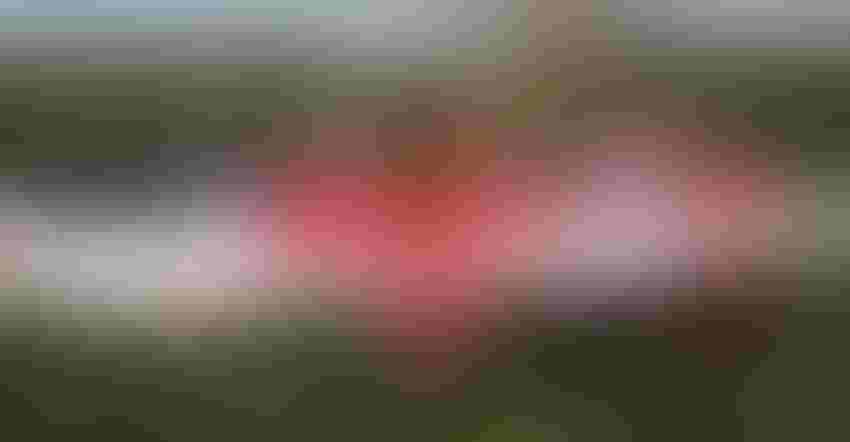 RESEARCH TEAM: The Unmanned Aircraft Research Team includes Joe Luck (left), Christopher Neale, Wayne Woldt, George Meyer, Derek Hereen and Yufeng Ge. Not pictured is Eric Frew.
A new research project is getting off the ground at the Daugherty Water for Food Global Institute at the University of Nebraska-Lincoln. Funded by a $500,000 grant from USDA's Agriculture and Food Research Initiative (AFRI) program, the institute is studying the use of unmanned aerial systems (UASs), or drones, to improve irrigation efficiency.
The funding will be used to explore new aerial robotic technologies to help farmers make informed decisions about managing center-pivot irrigation systems.
"This funding recognizes the ability of the University of Nebraska and the Daugherty Water for Food Global Institute, to lead this potentially game-changing research," says Christopher Neale, DWFI director of research and the lead project director. "We have a looming challenge of feeding a growing world population expected to reach nearly 10 billion by the year 2050, effectively doubling the demand for food, and we will need to use every tool and opportunity available to rise to this challenge."
As part of the project, a team of engineers will fly drones over crops at the Eastern Nebraska Research and Extension Center (ENREC) near Mead, and collect data using advanced remote sensing systems and in-field sensors. The project also involves research collaboration with the University of Colorado-Boulder, Research and Engineering Center for Unmanned Vehicles (RECUV) in the Ann and H.J. Smead Aerospace Engineering Sciences Department.
"This collaboration will be a win-win for both institutions, providing an opportunity for UNL to draw upon our depth of aerospace engineering expertise, while we learn more about agriculture and the challenges of increasing food production efficiency," says Eric Frew, University of Colorado associate professor and director of RECUV.
The project will conduct regular flights of a UAS equipped with multispectral and thermal infrared imaging sensors, from planting to harvest. It will also explore using a UAS to communicate with in-field soil moisture sensors and crop canopy temperature sensors.
"Essentially, we will be able to economically collect near real-time crop and soil water content data, that are not currently available, and use these data to create water management prescriptions for newer variable-rate center-pivot irrigation systems," says Wayne Woldt, director of the NU-AIRE laboratory, and an associate professor in the School of Natural Resources and Department of Biological Systems Engineering.
With this level of detail, researchers hope farmers will be able respond faster and more accurately to their soil conditions, increasing crop production, while maximizing their water use efficiency.
See the video on the Water for Food Global Institute's YouTube Channel.
Source: Daugherty Water for Food Institute
Subscribe to receive top agriculture news
Be informed daily with these free e-newsletters
You May Also Like
---