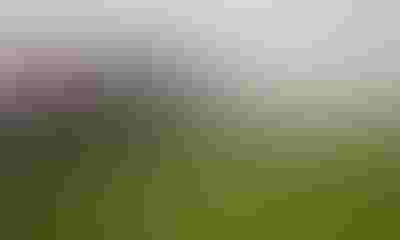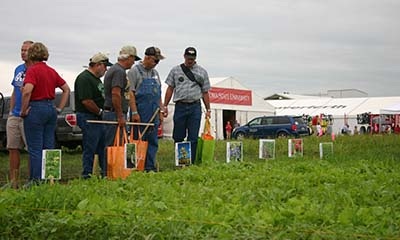 Get wet, get wild, get dirty, get covered, get started—by visiting Conservation Central during this year's Farm Progress Show, Aug. 30 through Sept. 1 at Boone, Iowa. In this exhibit, a group of Iowa soil and water conservation agencies and non-profit organizations are joining forces to bring farmers information on soil health, water quality, wildlife habitat and more.
This year's Conservation Central is themed "Get Wet. Get Wild. Get Dirty. Get Covered. Get Started." Visitors can weave through displays and demonstrations and talk to experts on topics such as improving and protecting water quality, increasing wildlife habitat, improving soil health and establishing cover crop acres.

CONSERVATION INFORMATION: People who participate in Conservation Central activities at 2016 Farm Progress Show can receive a "Get Started at Conservation Central" yardstick. You can also view the Farmer Feud game.
Some of the demonstrations include:
-Get Wet! Water quality testing demos, a well water model, information on the nutrient reduction strategy, understanding farm water quality issues, farmer-endorsed water quality protection practices and soil conservation practices
-Get Dirty! Soil testing and related demos, the soil health trailer, farmer-endorsed soil health practices
-Get Wild! Hands-on wildlife management, bringing wildlife to the farm, farmer-endorsed wildlife conservation practices
-Get Covered! A live cover crops plot with 10 different types of plants, farmer experience using cover crops, cover crop seed display
-Get Started! Leave with all the information you need to start a project
People who participate in the demonstrations can receive a "Get Started at Conservation Central" yardstick.
Farmer Feud Returns—Conservation Central will again host Farmer Feud—a spinoff of the gameshow Family Feud—pitting teams against one another based on conservation and ag-oriented survey questions presented to Iowa farmers. Farmer Feud will be played twice daily, at 10 a.m. and 2 p.m.
Activities are focused on promoting collaborative, research-based strategies to improve water quality during the 2016 Farm Progress Show. The Iowa Department of Agriculture & Land Stewardship is joining public, private, educational and other partners to educate farmers about additional practices they can use on their farms to help better protect water quality.
What you can do to protect water quality on your farm
"The Farm Progress Show is the largest outdoor farm show in the U.S. and presents a great opportunity for us to reach out to farmers and have a conversation about the water quality efforts underway statewide," says Iowa Secretary of Agriculture Bill Northey. "Farmers, businesses, ag organizations, our research institutions and many other partners are engaging in the Iowa Water Quality Initiative. We will be showcasing new tools and the latest research during the Farm Progress Show."
Some of the water-quality-focused activities at the show include:
Conservation Central: Conservation Central (booth 817) will have a cover crop demonstration plot with 9 different strips showcasing different species and seed mixes that can be used in Iowa. The Boone County Soil and Water Conservation District Soil Health trailer will also be on site at Conservation Central and includes soil health tests, tools, pictures and other visuals to educate farmers.
Conservation Central partners include the Iowa Department of Ag & Land Stewardship, Conservation Districts of Iowa, USDA Natural Resources Conservation Service and several other partners having a wide variety of information available on water quality and conservation tools farmers can use.
Ag Organizations: To help identify economic development opportunities associated with achieving the goals of the Iowa Nutrient Reduction Strategy, the Iowa Department of Agriculture & Land Stewardship and the Iowa Agriculture Water Alliance (IAWA) will announce the development of an action plan focused on accelerated implementation water-quality-based conservation practices. The announcement will be at 10 a.m. on Tuesday, Aug. 30 in the media tent (booth 742).
Practical Farmers of Iowa (booth 9513) will have experienced cover crop farmers available daily to answer cover crop production questions. Each of these farmers has expertise in different aspects of cover crop use. A full list of farmers and additional information is available at www.practicalfarmers.org.
The Iowa Corn Growers Association (booth 26N) will hold soil health and water quality panel discussions with farmers and other stakeholders at 2 p.m. daily. Northey will participate in the panel on Tuesday, Aug. 30.
Showcased at the Iowa Soybean Association booth (booth 754) during the 3-day event will be a working model of a bioreactor to display how the carbon-based system processes nitrate in tile water and reduces the amount of nutrients leaving a farm.
Iowa State University: ISU's exhibit (booth 718) includes table-top models, interactive online landscapes, a conservation station, and researchers with a wealth of experience to bring the practices outlined in the Iowa Nutrient Reduction Strategy to life for visitors. The demonstrated research looks at the performance of current and emerging nutrient management practices, provides recommendations on implementing practices and shares the development of new practices. The possibility of splashing about in water adds a playful feature to learning about bioreactors and saturated buffers.
Visit www.CleanWaterIowa.org to learn more about collaborative, research-based effort to improve water quality. Iowans can also follow @CleanWaterIowa on twitter or "like" the page on Facebook to receive updates and other information about the ongoing Iowa Water Quality Initiative.
The 63rd Farm Progress Show is Aug. 30, 31 and Sept. 1, 2016 at Boone, Iowa. The show is an interactive venue for farmers, agribusinesses and companies to network, gain cutting-edge information and do business. The show has more than 600 exhibitors for this year's 3-day event. Visit www.FarmProgressShow.com.
About the Author(s)
Subscribe to receive top agriculture news
Be informed daily with these free e-newsletters
You May Also Like
---