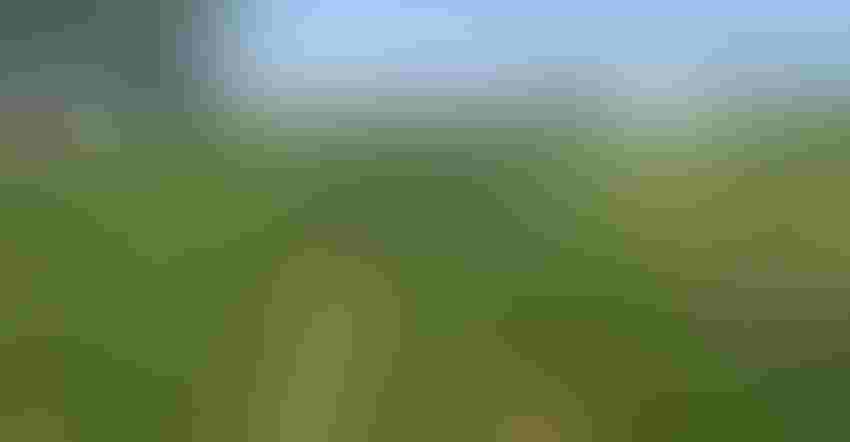 ROBOT ON PROWL: An autonomous machine by Solinftec monitors fields and transmits information about weeds, insects and other issues.
Courtesy of Solinftec
If you see what looks like a card table moving through a field, don't panic. It's not a magic carpet but a robot moving autonomously as it collects and transmits information on weeds and insects. The information goes to the cloud, and then to retail agronomists or crop consultants.
The Jetson cartoon-like bot was developed by Solinftec, a Brazilian company with U.S. headquarters in West Lafayette, Ind. These robots will be in Midwest fields this summer through a cooperative agreement with Growmark. See Robot crop scout could drive faster, better input applications.
See & Spray Ultimate
John Deere unveiled its first sprayer equipped with green-on-green spraying capability. The See & Spray Ultimate detects weeds and makes spraying decisions in 0.2 second, camera to ground, at 12 mph. Thirty-six cameras positioned every meter relay information to an onboard computer.
Available as an option on select models for 2023, the See & Spray Ultimate features a two-tank system — one for broadcast applications and one for See & Spray. See John Deere rolls out See & Spray Ultimate.
Tractor burns methane
New Holland introduces a new version of the T6.180 tractor that runs on methane or compressed natural gas, compared to its diesel cousin. The option enables farmers with livestock operations and methane digesters to enter the circular economy, producing their own tractor fuel.
The T6.180 features a spark-ignition engine with similar horsepower and torque to the diesel version. The technology is more advanced in Europe, but these types of tractors will trickle into the U.S. to meet demand. See New Holland tractor can run on farm-raised methane.
Make sustainability real
Shed the cloud of vagueness surrounding sustainability and make it real on your farm, starting with the Cropwise Sustainability app from Syngenta. It's available at your favorite app store. Syngenta says the app helps you establish a baseline for sustainability on your farm, around the operations you carry out today. Compare how you stand versus similar farm operations. It also offers ways to improve sustainability over time. See Syngenta app promotes farm sustainability.
New Massey Ferguson power
Massey Ferguson introduced four new tractor models in the 6S Series and five new models in the 7S line. Plus, it unveiled the WR windrower series for 2023, including three models from 197 to 265 hp. These windrowers deliver 10% more power with a 10% fuel savings.
The 6S Series tractors range from 145 to 180 hp and the 7S models from 155 to 210 hp. Spokespeople say the horsepower overlap lets customers pick the right chassis for their needs. The 6S chassis is smaller and more maneuverable. See Massey Ferguson launches new tractors, windrowers.
Equipment for troubleshooting, repairs
If you repair your own modern equipment, check out the Jaltest AGV system from Cojali USA, an offshoot of a Spanish company. Spokespeople say its software covers nearly all makes and models of farm equipment sold in the U.S. It's much more than just a compilation of owner's manuals. Jaltest can provide detailed service intervals and display service codes within a machine. Learn more at cojaliuse.com. See Right to repair just got easier.
Subscribe to receive top agriculture news
Be informed daily with these free e-newsletters
You May Also Like
---