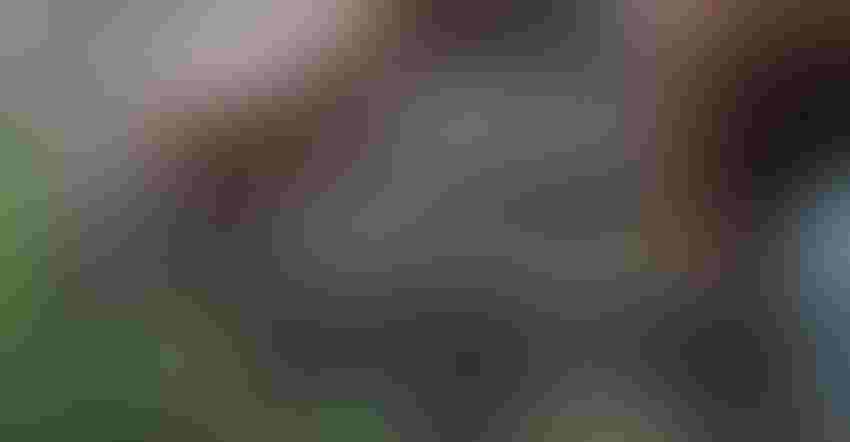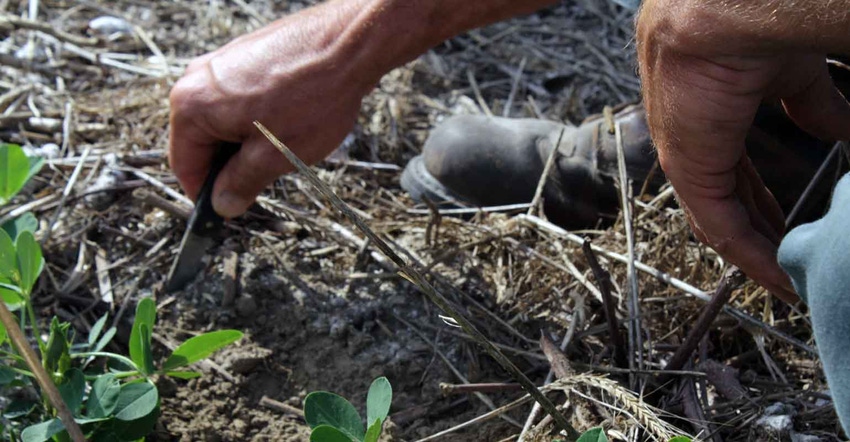 A working market includes someone with something to sell to someone who wants to buy that something, along with a means to accurately measure that something. The same holds for the developing U.S. on-farm carbon market.
At the annual Southern Peanut Growers Conference earlier this summer, Mary Yap introduced Lithos Carbon's way to capture carbon on farms. And Allen Torbert, research leader at the USDA National Soil Dynamics Lab based in Auburn, discussed how his lab uses gamma rays to measure a soil's carbon load.
The Lithos carbon-capturing system is based on basalt, a silica-based rock that contains nutrients like magnesium and calcium. It is a byproduct of mining. Finely crushed into dust and applied to fields, Yap said, basalt can greatly speed up the natural process of carbon capture in soil.
Yap said it basically works like this:
Basalt is applied to farmland with a regular on-farm spreader.

The basalt reacts with rainwater, converting (or capturing) atmospheric CO2 into dissolved bicarbonate and releasing macro- and micronutrients to the soil. Lithos measures this, she said, with a proprietary method.

Dissolved bicarbonate is transferred from fields by rivers and streams to the ocean, where it is stable for thousands of years. Lithos monitors for leakage in river networks and tracks the carbon in a cradle-to-grave lifecycle, she said.

Eventually, dissolved bicarbonate form calcium carbonate minerals that are permanently deposited at the ocean floor.
Yap said Lithos makes agreements with farmers and handles the process from start to finish, including the marketing of the carbon credits created in the process, which instead of millenniums or decades can take only years. Currently, the Lithos process is active on 1,000 acres of farmland, including test trials on peanut-rotation farming systems.
Yap co-founded Lithos with Noah Planavsky and Chris Reinhard, both graduates of California Institute of Technology. Planavsky is a professor at Yale University and Reinhard is a professor at The Georgia Institute of Technology.
Torbert's USDA lab worked with the Department of Energy to develop a mobile machine that can be pulled across a field to measure gamma rays in the soil. The device can in real-time measure soil fertility elements, which includes calculating carbon in the soil.
Torbert showed a picture of a prototype of a working machine, which was about the size of a large lawn tractor.
There's a lot of science and jargon behind the technology. But basically, the machine generates and fires neutrons to strike atoms in the soil as it moves across a field. The strikes 'excite' the atoms. As the atoms return to a 'less-excited' state, they release gamma rays. Each atom produces a specific gamma ray signature, which shoots back to the soil's surface. Through its on-board gamma ray sensors, the machine can identify and measure particular elements in the soil based on that gamma signature, including carbon.
Farmers have traditionally used 'dry combustion analysis,' or core sampling, to find out what nutrients their soils have and what needs to be added. He said this traditional core-sample process can take two months, or even six months in some cases. The mobile, gamma-measuring machine can do it same day.
The cost to build such a machine has dropped over the decades. However, to accurately and safely operate the mobile machine takes training and know-how. He said efforts are underway to package the technology as a practical tool to measure on-farm carbon for the growing interest in establishing a larger carbon market in the U.S.
About the Author(s)
Subscribe to receive top agriculture news
Be informed daily with these free e-newsletters
You May Also Like
---