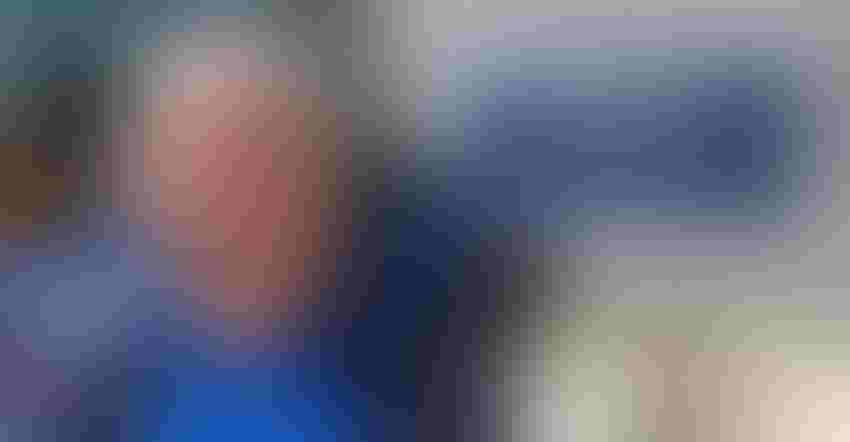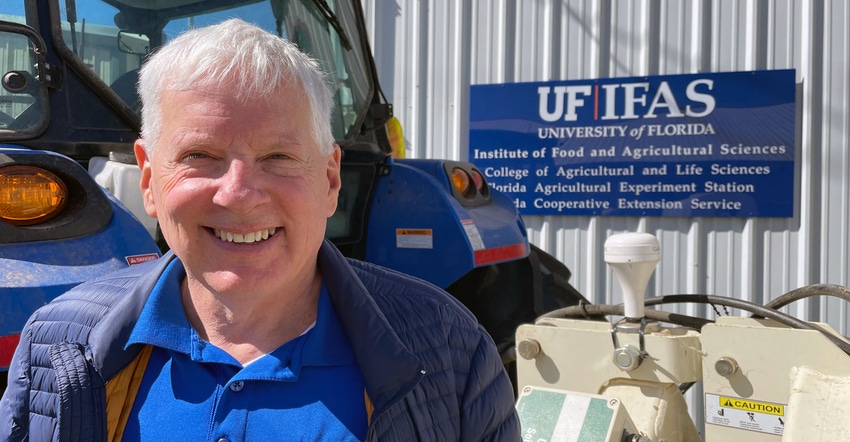 Scott Angle, University of Florida senior vice president for agriculture and natural resources, Oct. 19 at the annual Sunbelt Ag Expo in Moultrie, Ga.
Brad Haire
The University of Florida, sparked by a powerful donation, wants to become the gravitational hub to merge artificial intelligence's boundless insight with science-backed academics and industry creativity to produce practical solutions for agriculture's future.
Scott Angle, UF senior vice president for agriculture and natural resources, sat down with Southeast Farm Press Oct. 19 at the annual Sunbelt Ag Expo and talked about the new AI initiative for agriculture.
"AI is already deeply ingrained into the automotive, banking and other industries. It's just starting to get into agriculture now. So, in one way, agriculture's late to the game, but we can move quickly. The technologies have matured. AI is more practical, more usable," he said.
The AI force behind the UF agricultural college's initiative comes from the University of Florida's established, decade-long AI program, which includes a supercomputer housed in Gainesville. Billed as the fastest artificial intelligence supercomputer in U.S. higher education, the HiPerGator AI was donated to the university two years ago from UF alumnus Chris Malachowsky and NVIDIA, the leading AI-computing company Malachowsky co-founded. 
AI Ag Center
To leverage the computer's capacity, the Florida legislature kicked in funding to draw 100 AI-centric scientists to the University of Florida. Of the new 100 faculty positions, 15 are agricultural scientists who will join other UF ag faculty with AI ideas.
To focus the agriculture AI initiative, UF Institute of Food and Agricultural Sciences will build a 19,000-square-foot facility at the Gulf Coast Research and Education Center in Balm, about 25 miles southeast of Tampa. For now, the in-progress building is being called the UF Center for Applied Artificial Intelligence in Agriculture. The center will bring agricultural scientists and industry together under one "shop," where watercooler conversations take a cleared path to real-world solutions for agriculture, Angle said.
Looking at the history of modern U.S. agriculture, he said, specific technological jumps accelerated production and illustrate U.S. farmers' skills in adopting new practices on their land. These revolutionary eras include on-farm mechanization a hundred years ago, followed by improved input products such as fertilizers and chemistries, leading up to the modern adoption of GMO crops and precision agriculture.
"And AI is the next big revolution that's going to allow us to increase yields, which we will have to double food production by mid-century to feed the world on the same or less amount of land we have today in production," he said.  
He said AI's impact on agriculture can be limitless, but an example now involves UF's leading breeding program for strawberries, a major crop for the region. Working with AI colleagues to tap into all the knowledge of strawberry breeding, the breeding program can bring quicker access to improved strawberry varieties to farmers and consumers. The same AI approach, he said, can accelerate breeding programs for all crops with sequenced genomes.
The AI center director Jack Rechcigl and his associate director Nathan Boyd are spearheading the AI hub planning. The AI center will be equipped to design and build, for example, robotic technologies for agriculture, such as improving robotic harvesting machines for labor-intensive crops like strawberries and other fruits and vegetables.
Computer Power
Angle said the center's developments will help "democratize" AI advancements, meaning the solutions from the center will be accessible and economically scalable for growers regardless of the farming operation's size.
"Humans are analytical and can make decisions, but no human can assimilate all available information, organize it, make sense of it and then form the best recommendation for a farm, field, field row or a single plant, for example. But that is what AI can do," he said.
The agriculture AI center projects will have Florida and Southeast focuses, but Angle said the door is open to collaborate with businesses, start-ups, entrepreneurs and investors from across the country.
The UF supercomputer is based on NVIDIA DGX SuperPOD of 140 DGX A100 systems and NVIDIA Mellanox HDR InfiniBand networking.
According to NVIDIA, UF's HiPerGator AI is the eighth most powerful supercomputer in the U.S. and 22nd most powerful supercomputer in the world. The HiPerGator AI delivers up to 17.20 petaflops of AI power. FLOPS stands for floating point operations per second, a way to measure a computer's AI data-crunching ability. A computer with one gigaflop can do one billion floating-point operations per second. One petaflop, and remember the UF computer has 17.2 petaflops, is equal to 1 million gigaflops.
Subscribe to receive top agriculture news
Be informed daily with these free e-newsletters
You May Also Like
---