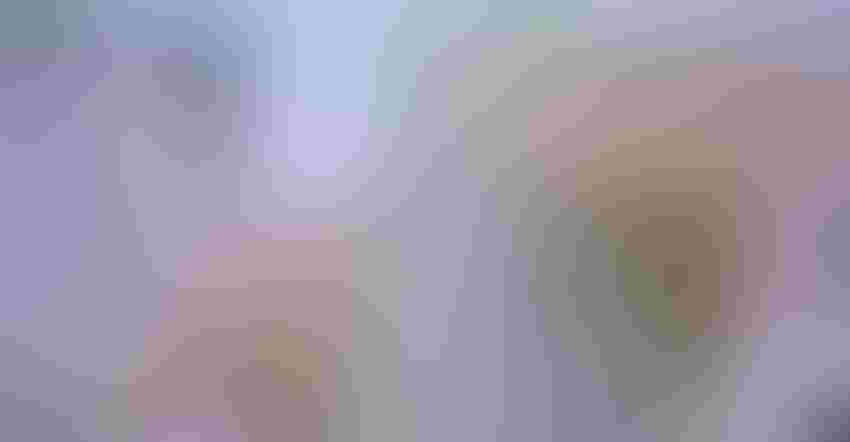 NEW INSECT CONTROL: Bayer's VT4Pro technology will feature three modes of control for aboveground pests plus RNAi-based control of corn rootworms, which chewed the roots on the plant on the left.
Tom J. Bechman
U.S. EPA granted registration for traits that will become Bayer's VT4Pro technology. It will be the first corn product that combines Trecepta technology, consisting of three aboveground insect control methods, with an RNAi-based mode of control for corn rootworm and other belowground pests.
VT4Pro will complement Bayer's SmartStax Pro. This new technology will be field-tested in 2022 and 2023. Launch of VT4Pro in the U.S. could happen in 2024. Visit bayer.com.
New insecticides, fungicides
Helena Agri-Enterprises LLC introduces Protecta as a method of building fungicides and insecticides differently, rather than as single, stand-alone products. Spokespersons say Helena will soon launch Mogul, the first Protecta product. It's a foliar fungicide premix for soybeans. Six more fungicides and insecticides are expected within the next few years. Learn more at helenaagri.com.
Chemicals for drones
Synergen DRT is the first commercial solution from Clariant's DropForward focused approach to building precision application adjuvants and co-formulants. Designed specifically for pest management applications with drones, Synergen DRT is a drift control agent and biological activator. It allows application of standard pesticides under low volume conditions found with small drone tanks. See clariant.com.
New herbicides debut
Valent spokespersons say Perpetuo herbicide for soybeans can be a burndown or applied over emerged crops to provide extended weed control and prevent late-season weed flushes. It contains flumiclorac pentyl and pyroxasulfone. See valent.com.
Syngenta received registration for Tendovo, a unique three-way mix designed as a preemergence soybean herbicide. Spokespersons say it will provide additional help against weed resistance. They say it stops early-season weeds without slowing soybean growth. Visit syngenta.com.
Precise fertilizer application
SureFire Ag Systems and SurePoint Electronics, Atwood, Kan., announced a joint venture with John Deere. These companies design and make liquid fertilizer application and spray tendering equipment. They will now operate as SurePoint Ag Systems and SurePoint Electronics. Spokespersons say access to Deere technologies will result in even more advanced solutions soon. Visit deere.com.
New nitrogen stabilizer
Corteva Agriscience introduces PinnitMax TG as an aboveground nitrogen stabilizer for urea and UAN liquid solutions. Spokespersons say it prevents volatilization for up to 14 days. It is compatible with various fertilizer handling systems and comes in a convenient solvent formulation. Visit corteva.us.
Delivering Envita
Envita, a product containing bacteria that allows plants to fix nitrogen, could soon also be available as a Simpas-applied Solution. Azotic North America and Amvac announced a collaboration to develop and commercialize Envita in the Simpas portfolio. Simpas from Amvac allows products to be applied by prescription with SmartCartridge enclosed containers, usually at planting. To learn more, visit amvac.com.
Smoother data entry
FarmLogs users can now connect to Climate FieldView and allow data to flow seamlessly into the system. This new wrinkle will help you determine profit and loss more easily. See farmlogs.com.
Livestock breakthrough
Want to know when your cattle drink water? Track this and all other movements animals make with Bluebell ear tags from Smart Paddock. Each includes a GPS unit. Coupled with Semtech's LoRa devices, which operate through its LoRaWAN system, information can be transmitted and collected. This is an early application of an Internet of Things sensor system in agriculture. Visit smartpaddock.com and semtech.com.
About the Author(s)
Subscribe to receive top agriculture news
Be informed daily with these free e-newsletters
You May Also Like
---