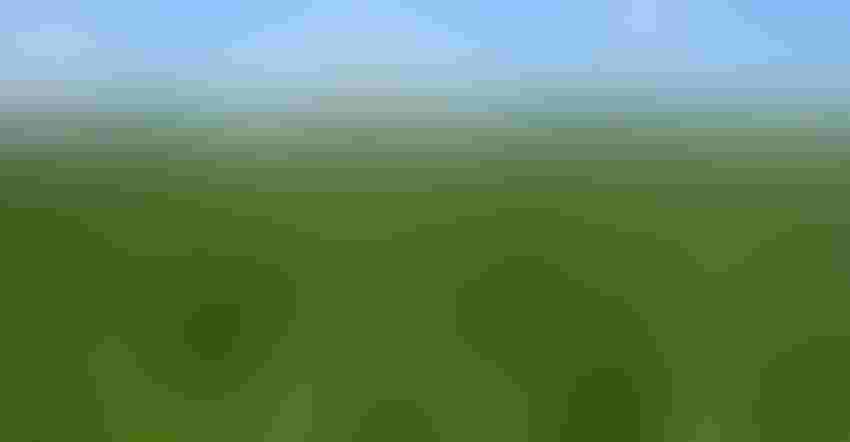 FINDING MORE N: Utrisha from Corteva is designed to help corn begin capturing nitrogen from the air early in the growing season.
Tom J. Bechman
Utrisha N might be the technology you've been waiting to see. This biological product introduces methylotroph bacteria into corn plants through the stomata in corn leaves. Brooks Coetzee, with Corteva Agriscience, says that once inside plants, these bacteria colonize throughout the plant. Living on byproducts of cell growth, these bacteria can fix nitrogen from the air without interfering with uptake of nitrogen from the soil through roots.
Corteva recommends applying Utrisha N at the V4 to V8 growth stage, and it can be applied with most pesticides and foliar fertilizer. Researchers are not yet ready to say how many pounds per acre of nitrogen Utrisha N can replace, Coetzee says, because it depends upon soil types and other factors. See Unique biological product helps corn capture nitrogen.
New seed treatment expected
Syngenta awaits registration from EPA for Cruiser Maxx APX. Dale Ireland, technical product lead for Syngenta Seedcare, says it will greatly boost protection for soybean seedlings against pythium and phytophthora species, and provide control of other diseases and pests.
The new seed treatment, once approved, will contain Picarbutrazox, the active ingredient in a corn seed treatment from Vayantis approved by EPA in 2021. Ireland believes the new soybean seed treatment will be especially attractive to growers planting early and to those cutting back on seeding rates. See More options coming for soybean seed treatments.
Graphite alternative provides kickstart
For about $3 per acre, Seed+Graphite replaces talc and graphite as a planter box additive to improve seed flow and boost plant growth at the same time. Talc and graphite typically run 50 to 85 cents per acre. What do you get for the extra investment?
Joe Vaillancourt, product manager for Seed+Graphite with Verdesian Life Sciences, says the extra benefit is twofold. The product contains micronutrients that young plants need, and it also helps protect plants against abiotic stresses, such as from weather extremes. Metabolites from a fermentation process work as antioxidants, offsetting oxidants produced in plants during stress situations.
Since Seed+Graphite doesn't contain living organisms, it's classified as a biostimulant, not as a biological product, resulting in a longer shelf life. It's available on the market now. See Graphite alternative offers boost for plants.
Fine-tune N management
Granular, a wholly owned subsidiary of Corteva Agriscience, upgraded its nitrogen modeling system just in time to help you manage nitrogen in a year when prices are extremely high and supplies could be tight. Bob Gunzenhauser, agronomy service manager for Granular, says that based on real-world data collected over time, the model can run up to 400 simulations daily on one field of corn, simulating 20 years of weather data on 20 management zones.
Results from the model can help with decisions, such as how far to cut the nitrogen application rate if using an inhibitor, he says. It can also help you more accurately predict how much nitrogen might be lost in each area of each field from a 4-inch rain.
Granular's certified service agents can help you utilize modeling and other services it offers to fine-tune N management. Visit granular.ag and see This is the year to fine-tune nitrogen management in corn.
Subscribe to receive top agriculture news
Be informed daily with these free e-newsletters
You May Also Like
---