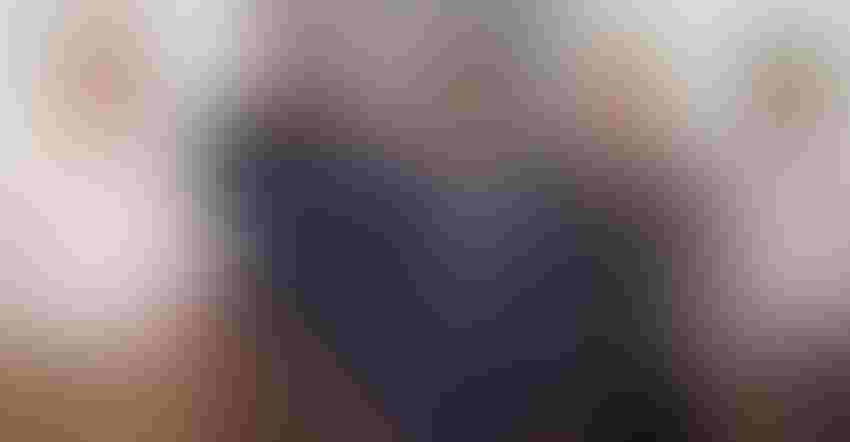 University of Arizona researchers discussing the future of Arizona agriculture included, from left: Dr.'s Paul Brown, Russell Tronstad, Turki Al Rasheed, Bonnie Colby, and Satheesh Aradhyula.
There were so many doctors on the speaker's panel it looked and sounded like a medical convention. And in a sense, it was as the subject matter dealt with the health of an industry – 'The Future of Arizona Agriculture: 10 Years and Beyond.'
Discussing challenges and opportunities to emerging niches and technology innovations, the 12 panelists had PhD's in their areas of specialty at the conference sponsored by the University of Arizona College of Agriculture & Life Sciences.
Less irrigated acreage
Water plays a major roll as addressed by agricultural meteorologist Dr. Paul Brown who noted the state's water supply fluctuated a lot, but ranged somewhere around 7 million acre feet with agriculture still the dominant user at about 70-plus percent. 
"There looks to be about a 30 percent reduction in irrigated acreage largely caused by the retirement of land and the abandonment of agricultural acreage," he said.
Brown lauded the greater Yuma area for its irrigation efficiency on a district-wide basis.
"Land leveling, using sprinklers instead of flooding, press wheels to accelerate surface irrigation, high flow turnouts, and shorter irrigation runs have all led to improvement in irrigation efficiency," Brown said.
Dr. Bonnie Colby cited Smart Fallowing, a three-year pilot program of a temporary reduction in consumptive agricultural water use begun in 2014, as showing promise. Water (up to an estimated 60,000 acre feet of Colorado River water) could be saved through forbearance with farmers receiving funding (a base rate of $750 per acre) to participate while fields are fallowed.
NAFTA 1.1 trillion value
The North American Free Trade Agreement and Arizona's agricultural trade status presented a bit of a problem for Dr. Satheesh Aradhyula since so much is still up in the air about the trade pact between U.S., Mexico, and Canada.
Noting that regional trade between the countries, including Arizona exports, had tripled to $1.1 trillion in 2016, he said, "With a few speed bumps here and there, most everything has been on cruise control, but after four rounds of renegotiation talks everything is still at an impasse."
Saudi Arabia
The panel closed out with a discussion on agricultural trade with a Saudi Arabia perspective presented by Dr. Turki Al Rasheed who sounded more like a social scientist, decrying the nearly millions of dollars invested to buy weapons - suggesting those dollars should be used for "sustainable development goals to eliminate poverty and hunger and cooperation is the way forward."
Noting that Saudi Arabia had decided to stop growing its own forage, the country had invested $47.5 million to purchase nearly 10,000 acres of farmland in Vicksburg, Ariz.
"We have uplifted the entire town and raised the bar for all farmers. We import 70 percent of our forage and if you want your alfalfa to be exported to Saudi it has to be first class."
Spirited discussion
A spirited question and answer session included these comments and concerns:
1 – The return of nut growers in Cochise County is putting former cotton ground, idle for 30-40 years, back into production. County growers expect to have an active management area soon since the orchard growth rate may not be sustainable without regulation.
2 - Farmers in Pinal County are reluctant to install drip irrigation on land with short leases.
3 - Water availability and price is a major concern with farmers worried about if-and-when the Central Arizona Project system might go short, plus what future water source would replace it, and at what price. When water gets too expensive, that's the driving point for a business to go out of business or relocate to another area.
High-tech cattle
After addressing challenges and opportunities in Arizona's agricultural future over the next decade and beyond, speakers outlined their takes on technological innovations and emerging niche markets.
Dr. Dan Faulkner discussed the largest segment of Arizona agriculture, the cattle industry, and efforts to ensure its future.
"Tech innovations are expected to more than double by 2025," Faulkner said, "including virtual fencing sensor collars, wearable technology to track cattle and monitor health status, temperature, and nutrition levels." 
Emerging crops
Emerging crops were the focus of Dr. Joel Cuello who discussed alfalfa hay, hemp, and microgreens. He called irrigated alfalfa production an emerging sector, and asked about the possibility of creating an alfalfa hay agriculture hub in Arizona.
He said industrial hemp, a highly-water efficient crop around for about 10,000 years, is another possibility since many products can be produced. On microgreens, he said, "We don't have a lot of arable land or an excess of water here so microgreen farming is promising, grown vertically indoors."
Dr. Ed Martin addressed the correlation of water to food in the $23 billion Arizona agribusiness economy. Martin said water use must be even more efficient, referring to surface and flood systems as 75-85 percent efficient especially in small plot basins; sprinklers at 85 percent efficiency; and drip irrigation at 90-95 percent efficiency.
Dr. Craig Rasmussen supported on the need for better healthy soil data. He called the traditional soil survey a thing of the past. Everything now is National Resource Conservation Service web-based data so the grower can stand in the field and pull up estimated soil properties.
Automation and robots
Dr. Mark Siemens was the most futuristic discussing automation and robots. In a series of videos describing new or prototype machinery, he said, "There's a big push by industry to develop smart machines that can basically do what a human does and ultimately take care of plants on an individual plant-by-plant basis. It's precision farming taken to a new level."
Siemens outlined the future of field work including:
1 - Autonomous multi-tasking tractors working around the clock to eliminate human operator fatigue.
2-  24-hour-a-day mobile agricultural robots planting an entire field with off-site monitoring, then returning to a main unit for recharging and seed refill.
3 – A see and spray unit using cameras, computers, and artificial intelligence to spray herbicides only on weeds, plus the fertilization of individual plants using algorhythms similar to facial recognition. 
"A field of automated technologies and a tsunami of new data are now available."
Subscribe to receive top agriculture news
Be informed daily with these free e-newsletters
You May Also Like
---