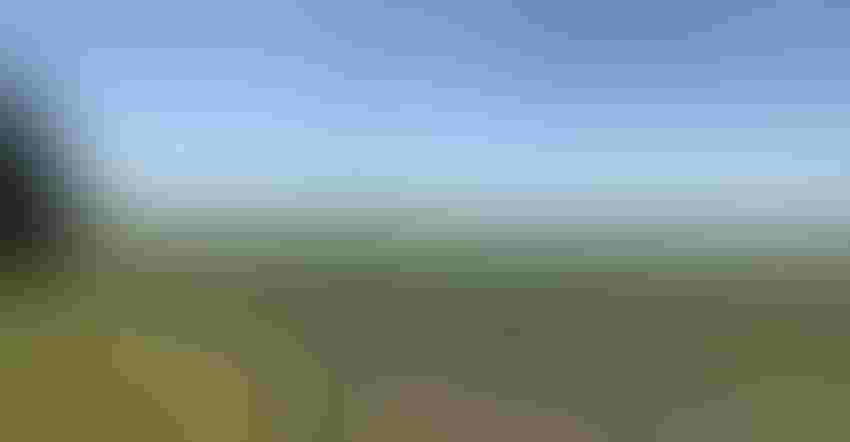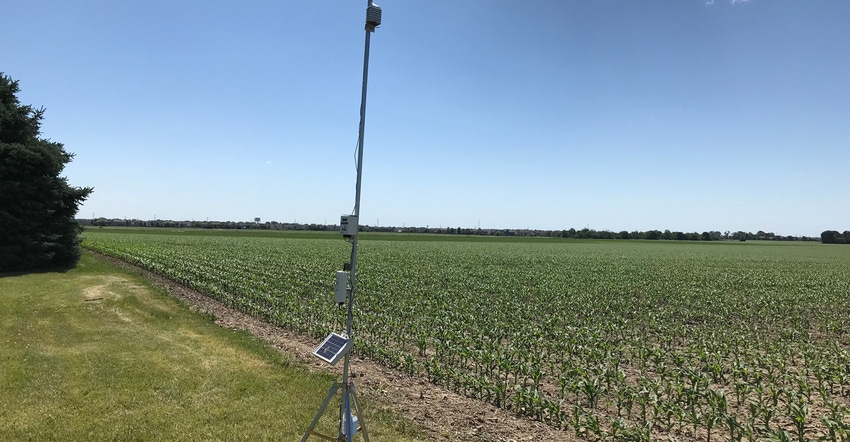 DETECT INVERSIONS: This weather station from Spectrum Technologies can determine if a temperature inversion exists because it measures air temperature at 18 inches and 10 feet above the ground.
Spectrum Technologies
"Temperature inversion" was a vague weather phrase few farm folks ever worried about until two years ago. A temperature inversion was blamed for a freak June freeze in the early 1990s but was considered an unusual event.
Dicamba-tolerant soybeans and the herbicides growers can apply to them changed all that. Over a very short time frame, many farmers learned that temperature inversions of some degree happen quite often in the Midwest, especially toward evening and in the early morning. A temperature inversion can keep small herbicide particles from rising into the atmosphere. Once they're trapped, they can move sideways, eventually causing injury, even if there's only a mild breeze blowing.
"We've determined that temperature inversions happen frequently, especially in most years in June during spraying season," explains Bill Johnson, Purdue University weed control specialist. If you're going to spray XtendiMax, Engenia or FeXapan, the three newest dicamba herbicides for Xtend soybeans, be able to recognize when an inversion might develop, Johnson says. Temperature inversions are the primary reason why U.S. EPA restricted spraying from one hour after sunrise to two hours before sunset when it renewed labels for these three products in October.
Detect temperature inversions
Spectrum Technologies Inc., Aurora, Ill., offers a solution that can help detect temperature inversions. The company configured various products to be able to detect when a temperature inversion exists. Mike Thurow, head of Spectrum Technologies, says an inversion occurs when temperature increases as you move upward from ground level instead of decreases. It's this phenomenon that causes smoke to move sideways instead of go straight up, and that traps those suspended spray particles. When they move sideways far enough, they can drift onto a neighbor's non-dicamba-tolerant soybeans or other sensitive crops.
Spectrum's weather station positions sensors to monitor temperature near ground level, typically at 18 inches, and at 10 feet above the surface. Measuring temperature at the two locations, growers can determine whether an inversion exists or not, Thurow explains.
Weather stations, referred to as logging sites, can be customized from simple configurations that let you log, download and view data on-site to configurations that can be monitored remotely. These stations can also be set up to monitor other parameters, including wind speed, wind direction, humidity, solar radiation and more, Thurow adds.
Cost factor
One advantage to collecting and logging data about temperature inversions over time is that you can form records of conditions before, during and after your spray application, Thurow says. These could prove valuable, especially in areas where sensitive crops are present or where there have been previous issues.
If an ag retailer invested in several stations across a service area, data collected would give reference points for application and management across a wider area.
List price for all the components necessary to set up a weather station to monitor temperature at both levels is $1,144. Data is read at the site and can be downloaded to a PC. List price for a station that can transmit the data wirelessly to remote locations, including an annual subscription fee, is $2,419. Learn more at specmeters.com.
Subscribe to receive top agriculture news
Be informed daily with these free e-newsletters
You May Also Like
---