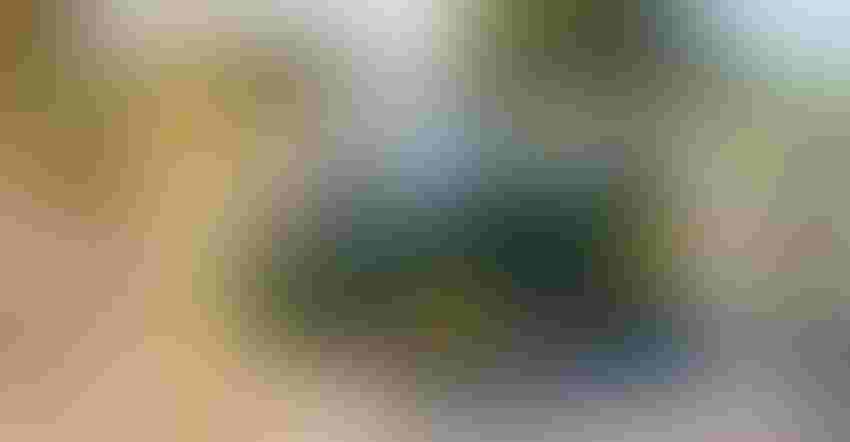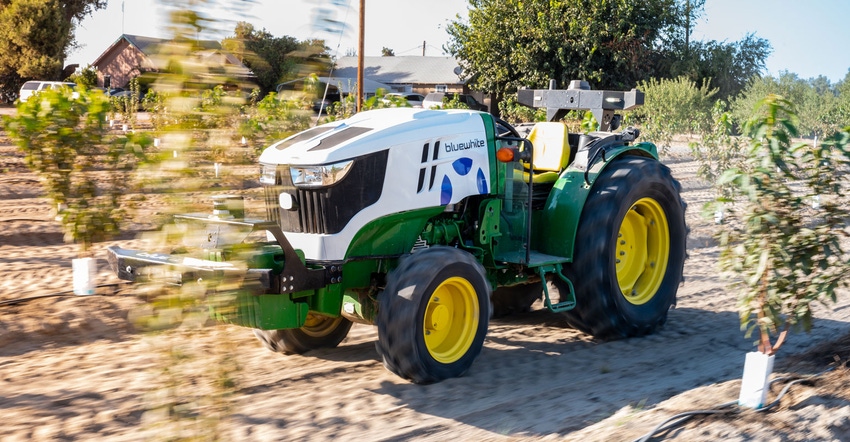 Courtesy of Blue White Robotics
There's a conundrum in ag robotics. Many view farm tasks as repetitive and practically ideal for a driverless system. But spend some time on any farm and you'll find an autonomous machine is likely facing more obstacles than its cousin, the driverless car.
That's the challenge Blue White Robotics faced as it developed its commercial system that turns existing tractors into driverless workhorses. "With Blue White, you can operate any type of tractor, and you have the ability to operate the vehicles day and night," says Ben Alfi, co-founder of the company based in Tel Aviv, Israel.
Fully commercial, the company is performing autonomous operations in permanent crops in the West, Alfi says, where the need in vineyards is greatest, given the number of machines at work, chores to be done and labor shortages hitting that part of agriculture. However, he says Blue White can alter machines to run without a driver in any type of farm operation.
Blue White's system not only drives a tractor along the appropriate path, but also makes sure the implement being pulled — sprayer, tillage tool, harvesting attachment — is doing the appropriate job. This complexity requires the system does a lot of "live thinking" on the job.
This thinking on the job is called "edge computing," where the machine has the processing power to make decisions without the need to send a request to the cloud and have a bigger computer elsewhere do the thinking. That's critical in agriculture because communications of that kind would never work.
Alfi says farm work, including implement management, is far more complicated than more broad autonomous efforts like driverless cars. As a developer, he says he would prefer to just make a machine and operate it, but he found that today's autonomous infrastructure is unable to handle the computing needs of a farm tractor. Blue White needed a different kind of computing power.
Search for new supplier
To meet the diverse needs of ag autonomy, Blue White sought a supplier of an edge computing solution. The company found it at Hailo, an Israeli maker of edge computing products, specifically its Hailo-8 AI processor, which uses artificial intelligence.
Switching out the computer brains of an existing product is no easy task. And the concept of turning a farm tractor — no matter the brand — into a driverless machine isn't easy either. Hailo stepped up, and the project was completed quickly.
Alfi says having the staff at Blue White and Hailo both speaking the same second language — Hebrew — helped. "Being able to talk in Hebrew helped close a gap that might take a few years," he says.
And this gap closed quickly even though staff at Hailo knew nothing about agriculture or autonomous tractors. "I think it was a nice marriage in the sense that we are indeed complementing each other," says Avi Baum, chief technology officer at Hailo. "We have no domain expertise, but the idea here was to address the problem from the infrastructure perspective."
Baum says Hailo's "edge artificial intelligence" is versatile, and "it was nice to find that people are talking for years about autonomous vehicles driving on roads, but here comes something for us that is off-road."
Adapting the Hailo-8 AI chip to the Blue White application took less time than anticipated, even with the ag autonomous application being more complex than driving on-road.
The flexibility of the Hailo chip was the secret. Baum says the company's approach is more "open source," in the sense that designers can address multiple markets. But that flexibility works in an ag application where the machine is dealing with so many variables.
For farmers who want to turn their tractors into driverless machines to deal with the labor shortage, Blue White Robotics is ready to go, and now the company has the confidence that its edge-computing system is set to meet the wide-ranging needs of the farm. Learn more at bluewhiterobotics.com and hailo.ai.
Subscribe to receive top agriculture news
Be informed daily with these free e-newsletters
You May Also Like
---