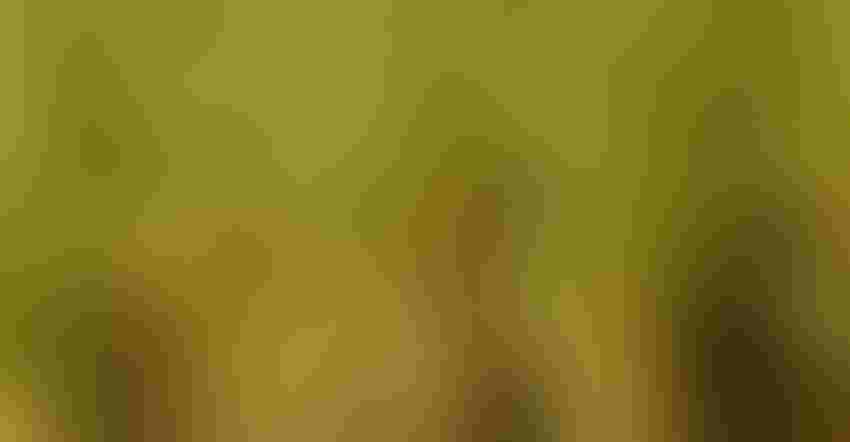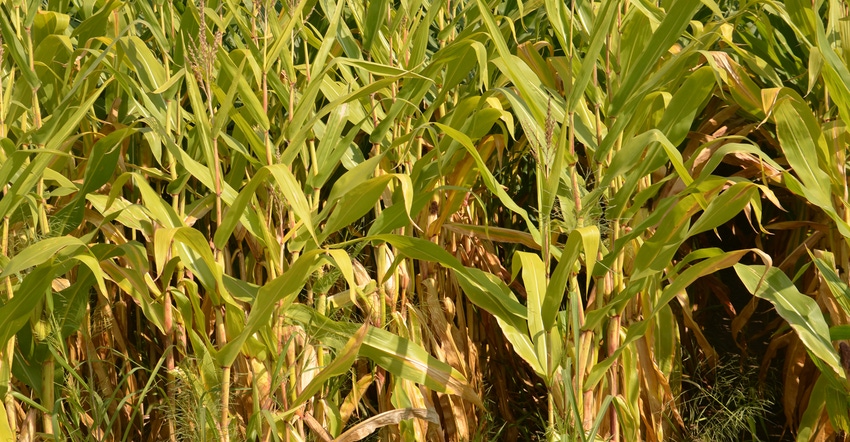 LOCAL OR WIDESPREAD? Is the pale color and drying shucks a local issue confined to this part of the field, or is it widespread? Flying a UAV over the field could likely answer that question quickly.
A few years ago, a county Extension educator was trying to figure out why every so often across a cornfield, two rows were pale green instead of dark green at tasseling. He never figured out the pattern. He couldn't get above the field to see exactly what the pattern looked like.
"That is where aerial imagery can really make a difference," says Bob Nielsen, Purdue University Extension corn specialist. "I've often found myself thinking, 'Man, if I could just get above the corn to see if I could pick up a pattern.' Today, you can."
There are several options for doing this, including unmanned aerial vehicles, aerial flights and satellite images. Nielsen experimented with a UAV during the 2017 season, and was impressed with what it allowed him to see above the crop.
"All choices have pluses, but I like being able to check a field when I want to check it," he says. "That's an advantage of having your own UAV and being able to fly it [versus relying on planes or satellites]."
Operating a UAV means earning a remote pilot's certificate under Federal Aviation Administration rules, but it's worth it, Nielsen says. UAVs are relatively inexpensive. His model cost about $1,400, but you can buy a UAV that will take quality images for under $500. You can also pay a lot more, depending on what you're trying to accomplish.
Where it pays
Here are three situations where access to aerial imagery, especially quick access, pays, Nielsen believes.
• Hybrid comparisons. If you want to see what one hybrid looks like compared to another during the growing season, an aerial view is difficult to beat, Nielsen says. Especially if you've planted two hybrids side by side all the way across the field, differences show up easily from the air.
• Extent of a problem. Say you're noticing wilting on the outside of a field. Is it just in that location, or everywhere? You can tell quickly if you can get a view above the field, Nielsen says.
• Quick access. Knowing about a problem, where it is and how big an area it covers, and then ground-truthing the issue immediately, beats waiting for a yield map to see if it mattered, Nielsen says. Some problems can be corrected if you find them soon enough.
Subscribe to receive top agriculture news
Be informed daily with these free e-newsletters
You May Also Like
---