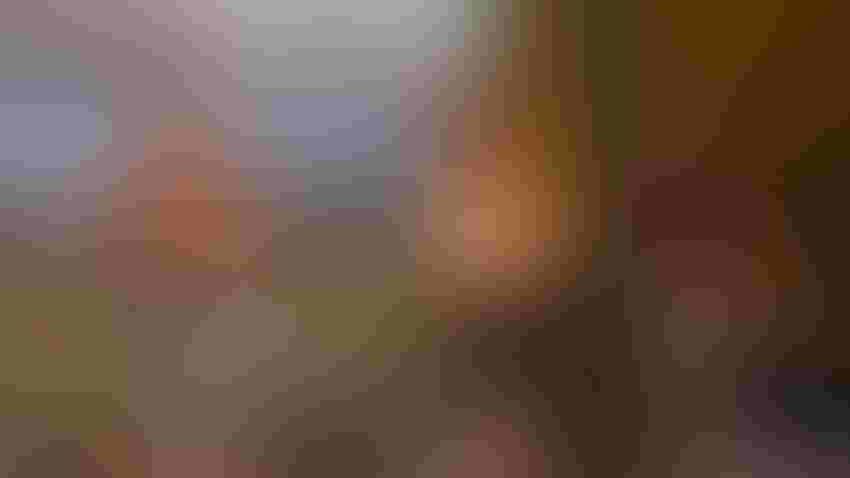 TALKING DIGITAL TECH: Panelists at a recent discussion about where digital technology fits in agriculture included Ty Brown (left), Rachel Stevens and Adam Beck.
Tom J. Bechman
The Purdue College of Agriculture continues moving forward in digital technology. Recently, Bruce Erickson, Purdue Agronomy Department education distance and outreach coordinator, hosted a panel discussion with three people involved in agriculture:
Ty Brown. Brown and his family have a large grain farm near Mulberry, Ind. It includes the Drago equipment dealership for Indiana, plus organic acres.
Rachel Stevens. Stevens became superintendent of Purdue's Agronomy Center for Research and Education in 2021. The facility operates primarily as a research farm, working with 10 Purdue departments and 85 researchers.
Adam Beck. A Purdue agronomy graduate, Beck and his wife run a small, intensive farm operation near Attica, Ind. It includes wholesale and retail, two high-tunnel greenhouses, 400 laying hens and 30 sheep. Beck also manages the USDA Farm Service Agency office in Crawfordsville, Ind.
Here's part of their discussion with Erickson:
What are the most useful tools for you today derived from digital technology?
Stevens: Autosteering makes a difference in this operation. Next, I would tout the cellphone. It allows me to look at data in real time. Also, spatial data, which you log in the tractor cab during operations in real time, is useful. I also believe the ability for variable-rate application, even with tillage, will help us be better stewards moving forward.
Beck: Having sensors in the greenhouses and access to fiber internet is a game-changer. We can keep in touch with what is going on and manage things much better.
Brown: Access to TeleSense for monitoring grain in storage and preventing grain from spoiling is a big deal. We store a lot of grain. This service uses sensors to detect real-time parameters, including carbon dioxide levels, and alerts us to potential problems.
We also have used robotic soil sampling provided by Rogo Ag. We have access to that service because our county is part of the Wabash Heartland Innovation Network project in north-central Indiana. The goal of WHIN is to bring futuristic technology to agriculture and manufacturing.
How does digital ag technology bring value to you?
Brown: It's making a big difference in managing grain. We're learning things we never expected to learn. That's probably the biggest one for us.
Beck: As noted, it's helpful in managing our greenhouses. We would like to utilize autosteering, but our newest tractor is around 25 years old. We have information on kits that work on older tractors, but most are around $7,000 to $8,000. That's still a lot of money for a small operation.
Stevens: We get a chance to see lots of technology as a research farm, including robotics. We see it, and there is lots of interest, especially for research. We will continue watching and see what works best.
What are challenges for the future in digital ag?
Stevens: Managing and analyzing data is probably the biggest thing. Lots of data is being collected. Managing it, storing it and analyzing it is the challenge.
Brown: We've been collecting lots of data since yield monitors came along around 1994. With bigger equipment today, data for a single combine pass represents more area. We must keep working at managing data and using it correctly to make recommendations for things like spreading fertilizer.
About the Author(s)
Subscribe to receive top agriculture news
Be informed daily with these free e-newsletters
You May Also Like
---