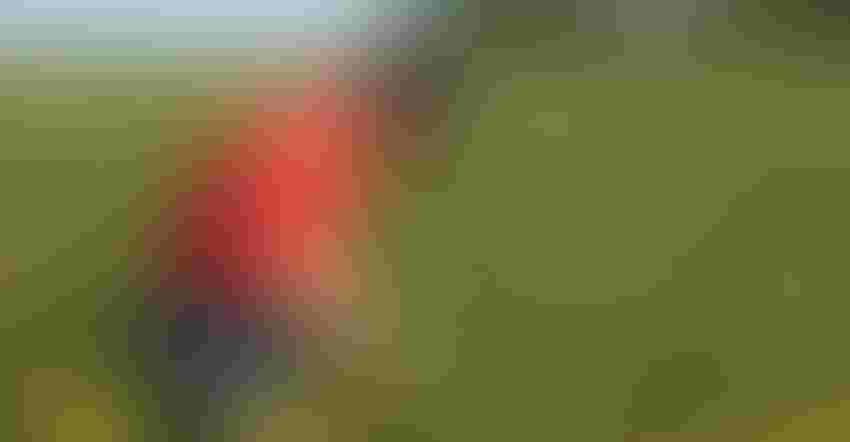 EXAMINING POD SET: Agronomist Steve Gauck discovered that many soybean plants in 2022, especially if the field wasn't irrigated, had fewer pods and beans per pod in the lower to middle portion of the stem.
Tom J. Bechman
How could you be disappointed with a farm average soybean yield of 70 bushels per acre? One grower found himself in that position.
He spoon-fed soybeans, hoping for yields in the 80-to-90-bushel range. He's achieved those yields before. And when August rains ended the hot, dry streak, he felt his beans were on their way. Even when he pulled into the first field, he was expecting his best yields ever, based on looks.
Related: Higher seeding rate right choice for June-planted beans
Rather than being the exception, his experience turned out to be common in 2022. August and September rains, absent in 2021, returned when soybeans entered the heart of the reproductive phase. Yet, word throughout much of the Midwest is that soybean yields were good, but not great.
Read plant signs
What happened? "Those who scouted carefully and examined how soybean plants were podded from top to bottom weren't as surprised," says Steve Gauck, a regional agronomy manager for Beck's. He walked many fields throughout the summer, including the Soybean Watch '22 field. Beck's sponsored Soybean Watch '22.
"Fields in most areas got off to a good start, although some were planted late like the Soybean Watch field due to weather delays," Gauck says. "The lower part of the plant reflected good conditions early, with multiple pods per node and lots of three-bean pods.
"The middle part of the plant, where up to 70% of the yield originates in most years, told a different story. In many cases, there were fewer pods per node, indicating some flowers and/or pods aborted. We also found several two-bean pods. That's unusual. Then in many fields, the upper part of the plant was loaded with up to four beans per pod.
"What plants told us was that the hot, dry weather in June and July impacted them more than many people thought. That's when the middle part of the plant was flowering and setting pods. When rains returned and it cooled off, the upper part of the plant performed well, but couldn't totally offset yield potential lost earlier in the season."
Lessons for 2023
Gauck points to three take-home lessons from 2022:
1. Help plants avoid stress when possible. Weather stress knocks off yield potential. Whether it means installing irrigation on drought-prone soils or timing planting differently, factor minimizing plant stress into your plans for next season.
2. Set the stage for as many nodes as possible. More nodes per acre usually means more yield per acre, Gauck says. Perhaps you accomplish this by planting earlier so plants can build a bigger factory with more nodes. Or maybe you increase seeding rate on lower organic matter soils.
3. Adjust to the season. The grower upped the seeding rate for the Soybean Watch '22 field when rain pushed planting into early June, and it paid off. "Be ready to make in-season adjustments," Gauck concludes.
About the Author(s)
Subscribe to receive top agriculture news
Be informed daily with these free e-newsletters
You May Also Like
---