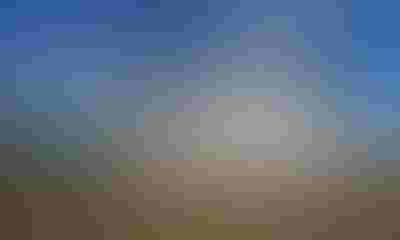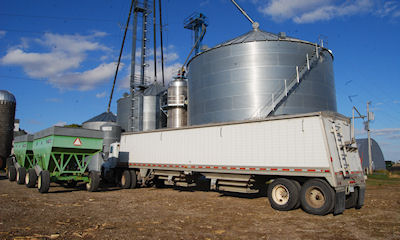 Rain this past week in Louisiana slowed vessel loading at Gulf export points at that caused a drop in basis bids for corn and soybeans, U.S. shippers said.
The corn basis recovered a little on Tuesday, but remained down from a week ago. Corn bids slipped to 62 cents over the September futures on Monday for September shipment. Tight supplies of available corn prompted a rebound to 67 over on Tuesday. Last week they were about 72 cents over.
"There are not a lot of barges (of corn) available," one shipper said of the basis rebound on Tuesday.
Soybean bids at the Gulf dropped to about 95 cents over November for September shipment from $1.01 over last week.

Flooding is receding in parts of Louisiana but weather forecasts keep rain in the Gulf Coast for at least the next seven days and the 6- to 10-day outlook (Aug.21-25) has above-average chances for rain there then.
"Most of Louisiana's flood-stricken areas are experiencing warm and humid but dry weather, allowing recovery efforts to continue in areas where water has receded," the National Weather Service said on Tuesday. "A very active weather pattern will continue for the remainder of the week due to the interaction between cold fronts and tropical moisture. In fact, rain can be expected nearly everywhere during the next five days except in the Far West, where hot, dry weather will persist."
Rain also fell in the Midwest the past few days. Central Illinois reported up to 5 inches in about 24 hours over the weekend, which caused localized flooding. The rain helped crops and no flood damage to fields was reported.
"At this point, no major crop damage has been reported, but producers are concerned about how the tall corn stalks will hold up and about lodging in soybeans," the weekly Illinois crop progress report said late on Monday of the rain and flooding.
Farmers continue to sell old-crop supplies, mostly corn, to make room in on-farm and off-farm elevators for this year's harvest. The selling is motivated in some areas by commercial elevators raising storage fees for in-house supplies beginning Sept. 1.
Inland elevators said the increase in selling is being countered by good demand by processers, ethanol plants and exporters for old-crop supplies. Corn is needed before new-crop supplies become available. One container shipper in Illinois was reported to have raised bids about 30 cents a bushel in the past week for spot loads of corn.
In the shipping sector, rail car loadings totaled 24,677 for the week ended July 30, up 3% from the prior week, but up 15% from a year ago and up 32% from the three-year average, said USDA's Grain Transportation Report.
Barge grain loadings for the weekend August 6 were nearly 1.12 million tons, down 2% from the prior week but up 19% from a year ago.
Barge rates were mostly lower last week, with mid-Mississippi rates at 393% of tariff, down 27 points from the prior week. At St.Louis rates went to 275% from 293% the week before and at the Twin Cities, rates dropped 20 points to 475%.
For truckers, the U.S. average diesel fuel price dropped 3 cents in the latest week to $2.31 per gallon for the week ended August 8. That is down 30 cents from the same week last year.
Weekly Grain Movement - Aug. 1, 2016 - Export demand pulls corn to Gulf by rail and barge
Weekly Grain Movement - Aug. 9, 2016 - Exports pull corn to Gulf, basis firm
Click on the link below for more charts.
Subscribe to receive top agriculture news
Be informed daily with these free e-newsletters
You May Also Like
---