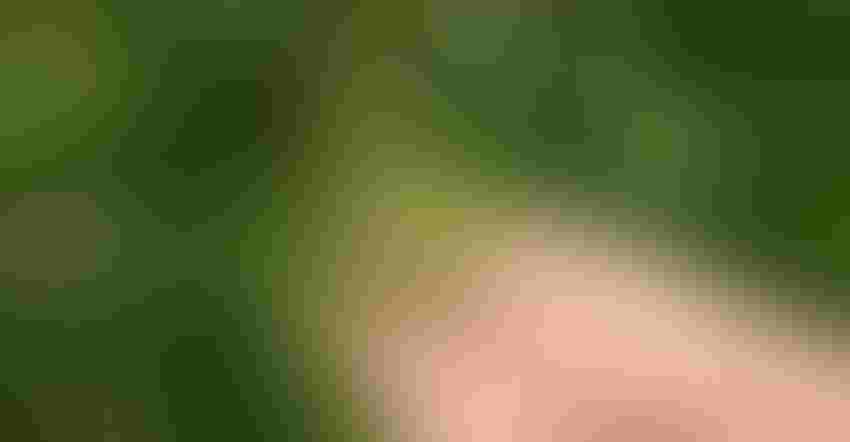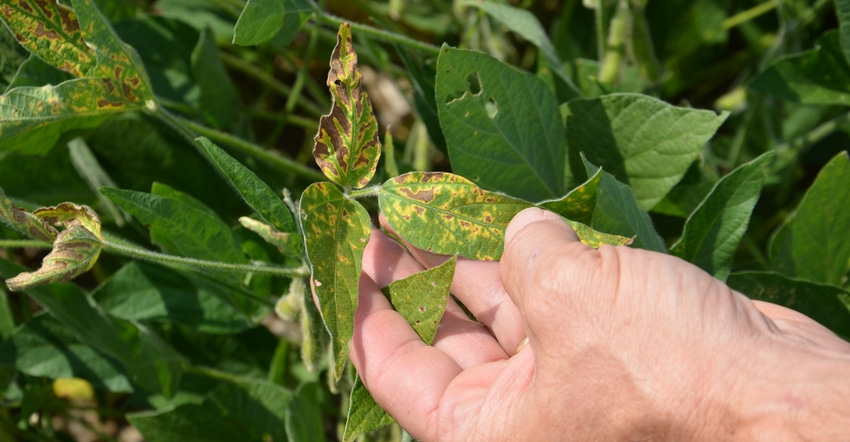 CLASSIC SYMTPOM: Yellowing between the veins on upper leaves is a classic early symptom of sudden death syndrome in a soybean plant.
Tom J. Bechman
Scouting soybeans is a season-long proposition if you're after top yields and want to make improvements each year. Some problems, such as insect infestations, you may be able to treat now and help this year's crop, if the infestation meets the threshold level for economic treatment. If you find other problems, such as sudden death syndrome, you may not be able to help this year's crop, but you can take a closer look at variety selections for next season.
"Sudden death syndrome symptoms generally begin appearing by now in most years," says Steve Gauck, a regional agronomy manager for Beck's, based near Greensburg, Ind. Beck's sponsors Soybean Watch '21.
Related: Smile, Mr. Grasshopper … you're on 'candid camera'
"You can't apply a fungicide or anything to control SDS if you find it, but you want to know if it's there," Gauck says. "There are differences in varieties with tolerance and resistance to SDS, and as you begin your seed selection process for next season, it's a factor you will want to keep in mind — especially if you tend to have problems with it in certain fields. There are also seed treatment fungicides that offer good suppression."
Even though the Soybean Watch fields typically are planted to varieties with good resistance to SDS, Gauck usually still finds a plant here and there showing symptoms. He says that's because tolerance or resistance won't be 100% effective.
"The difference is that if you have strong resistance and just find a plant showing some symptoms here and there in the field, it's not going to be an economic factor," Gauck says. "You also know that if you're only finding a few plants with symptoms, the resistance is working."
SDS symptoms
Actual diagnosis of SDS, if you're finding a significant amount of it in a field, should be confirmed by specialists. You can send samples to the Purdue University Plant and Pest Diagnostic Lab or to another lab of your choice.
Gauck relies on the Purdue Corn & Soybean Field Guide for both a visual image of SDS and a written description of what symptoms to look for in fields where a plant might be showing signs of SDS.
The most common symptom is yellow, interveinal leaf chlorosis and necrosis, which typically develops any time after the R2 stage in soybeans. In layman's terms, yellowing occurs between the veins on leaves. Tissue nearest the veins may stay green, at least at first. As the disease progresses, leaf tissue turns brown and dies. Once leaves die, they fall off, leaving only petioles, Gauck observes.
If you see those symptoms, the next step is to pull a plant and split open the stem near the base, he says. The pith will be normal, but brown or gray streaks should be evident in the outer cortex portion of the stem.
Once you see the symptoms, the damage for this year is done, Gauck says. Infection occurred much earlier, during vegetative stages. The symptoms appear later, sometimes during flowering and then definitely during reproductive stages.
Cool, wet weather in early vegetative stages encourages infection. The inoculum is present in almost every field in the soil. Wet weather at flowering followed by warm, dry weather later favors expression of symptoms in plants. Some areas have seen that weather pattern this year.
Subscribe to receive top agriculture news
Be informed daily with these free e-newsletters
You May Also Like
---