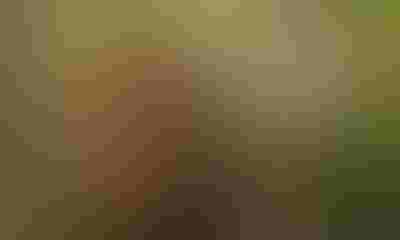 Updated with comments from Bryce Knorr.
USDA on Monday raised its forecast for this fall's soybean harvest nearly 3.5% to 4.2 billion bushels from the August estimate, which surprised traders who quickly sold Chicago soybean futures lower.
The corn harvest forecast was trimmed to 15.09 billion bushels from the August estimate of 15.15 billion, but the latest number was still higher than what many in the trade had expected.

"USDA's token reduction in corn yields and big increase in soybean production cast a bearish tone to today's report, but the second guessing is already underway," said Bryce Knorr, Farm Futures senior grain analyst. "USDA's sharp increase in soybean yields showed increases across virtually the entire Midwest, a trend that has not been borne out by crop ratings since the Aug. 12 estimates."
Following the report, November soybeans traded about 17 lower for the day after being about 7 cents higher ahead of the report. Corn futures were about 3 cents lower after the report.
Soybean ending stocks for the 2016/2017 crop year were raised to 365 million from 330 million. Analysts largely expected stocks to be unchanged to down from August. Exports were raised to 1.985 billion from August's 1.95 billion.
In its world numbers, USDA lowered China's soybean imports to 86 million metric tons from August's 87 million. The previous year imports were 82.5 million.
"By cutting its forecast of Chinese imports the agency may again be setting itself up for that trend to emerge. However, it will take time to play out, which could leave beans vulnerable to outside market pressure into harvest and the Sept. 30 stocks reports," Knorr said.
Corn
USDA trimmed the expected U.S. corn yield to 174.4 bushels per acre from August's 175.1. The trade expected a larger reduction. It left 2016/2017 corn exports unchanged at 2.175 billion bushels and lowered ending stocks to 2.384 billion from August's 2.409. 
"The small reduction in corn yields is surprising given how many states saw a reduction," Knorr said. "But in any case supplies continue to look burdensome, limiting potential for rallies."
Wheat
USDA left its total wheat numbers unchanged from the August report, with U.S. production at 2.321 billion bushels, exports at 950 million and ending stocks at 1.1 billion. Wheat futures were a little higher shortly after the report, which Knorr said could be related to the dry conditions in the Black Sea, but he warned "the fundamentals remain bearish for now".
About the Author(s)
Subscribe to receive top agriculture news
Be informed daily with these free e-newsletters
You May Also Like
---