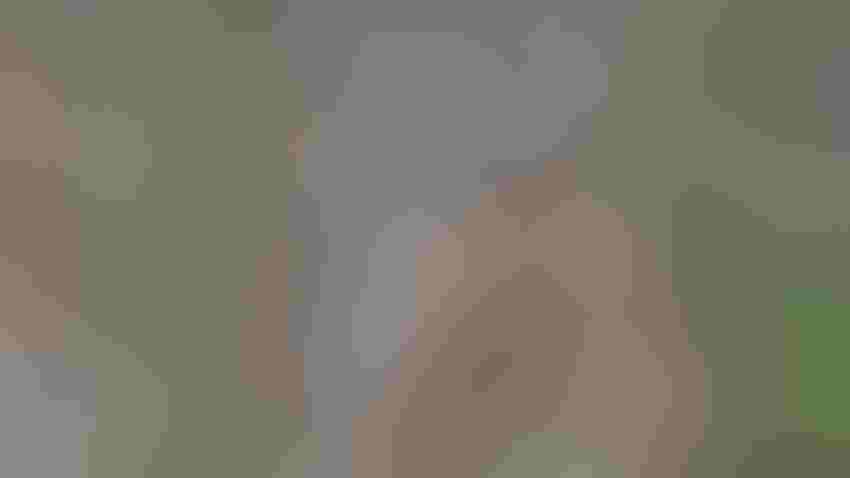 MISSING PLANTS: These are not 30-inch rows. The row with only a couple of plants formed a repeating pattern across the field. Disk openers on that row did not always penetrate the residue.
Tom J. Bechman
You've rolled your hula-hoop and determined plant populations. Overall, you're satisfied with the stand in your no-till soybeans. You planted 140,000 seeds per acre, and your population is just over 105,000 plants per acre. You hoped for more, but it's still well into the safety zone for soybean populations that can deliver maximum yield.
What you're not so happy about are occasional rows with large skips between plants. In a few places, it looks like 30-inch-row soybeans, not 15-inch rows, because plants in one row are missing for a considerable stretch.
"The time to figure out what was going on is when you first see this type of pattern," says Steve Gauck, a regional manager for Beck's, based near Greensburg, Ind. Beck's sponsors Soybean Watch '23.
"The clues needed to figure it out are likely still there," he says. "And if it winds up tracking back to the planter, and you haven't cleaned it up yet, you can figure out which row seemed to be involved and inspect the row unit, as well."
Gauck suggests standing back and looking over a wide area of the field. Is there a pattern? Can you narrow it down to one row or side-by-side rows? If so, then you can investigate seed placement, looking for differences. You need an idea of what you're looking for before you inspect the planter.
Example of missing plants
Take the case of the field where every so often, it looked like 30-inch rows vs. 15-inch rows, although most of the field was in good shape. "Start looking for the common denominator," Gauck says. "What things seem to be the same wherever you don't see plants?"
In this case, soybeans were planted into heavy residue from a 240-bushel-per-acre corn crop. "Where gaps were biggest, residue was heaviest," he recalls. "Often, the new soybean row lined up over the old corn row for a stretch where there were few plants."
You're thinking residue interfered with forming the seed trench and placing seed properly. If you check the planter, you may find that disk blades on certain rows are worn to a smaller diameter than on other rows. It could be the row or rows weren't penetrating residue as well and obtaining adequate seed-to-soil contact, especially when it was positioned directly over an old row.
"Once you know what the problem is, you can make adjustments before next year," Gauck says. "As long as you still have 80,000 plants per acre, you wouldn't do anything about it this year."
One modification would be to no-till at an angle instead of driving straight with existing old rows. "That would get you off old corn rows more of the time," he explains. "If you have skips and gaps then, they should be shorter."
Another option might be replacing worn disk openers. Going back and checking the planter could be time well spent. You might even consider switching the type of blades, opting for something to better penetrate through heavy residue.
In this case, the operator did all three things, and he eliminated the problem the next year. "That's why evaluating stands early in the season is so important," Gauck says. "You still have time to make changes."
Subscribe to receive top agriculture news
Be informed daily with these free e-newsletters
You May Also Like
---