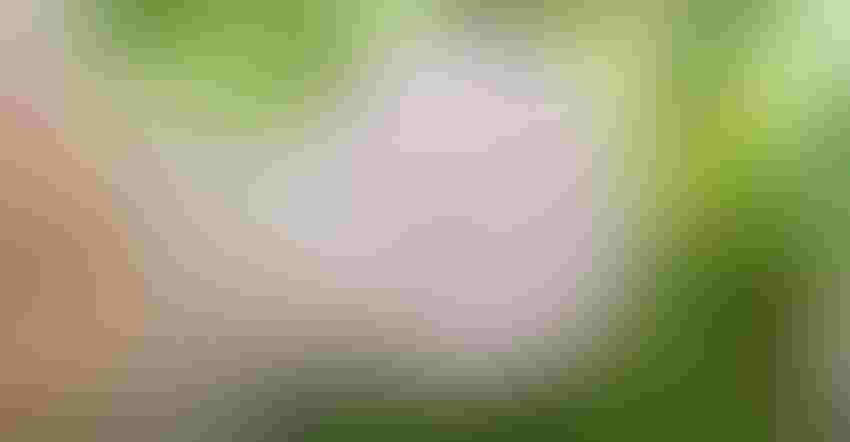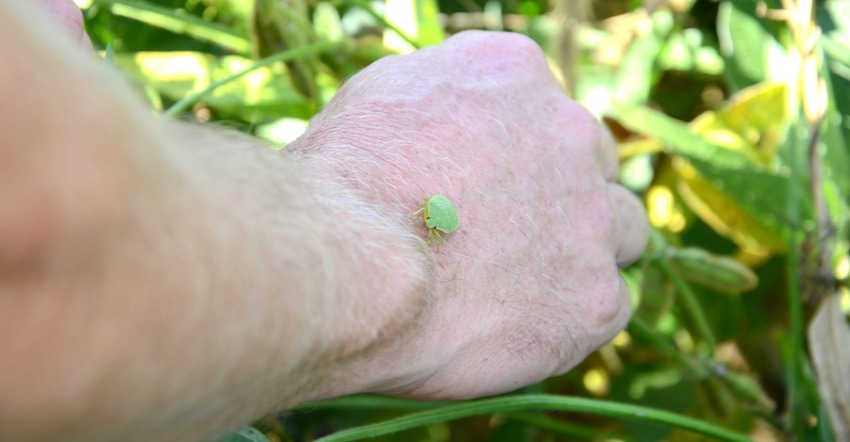 FAT AND HAPPY: This large green stinkbug was hanging around the edge of the Soybean Watch '22 field near a fencerow late in the season.
Photos by Tom J. Bechman
Scouting the Soybean Watch '22 field in central Indiana about three weeks before harvest prompted questions about insects, especially stinkbugs. Even if you've already harvested soybeans, you can file this information away to help you make more informed soybean management decisions on your farm in 2023.
Steve Gauck, a regional agronomy manager for Beck's, based near Greensburg, Ind., scouted the field all season. Beck's sponsors Soybean Watch '22. Gauck provided answers to these questions:
What was insect pressure like when you scouted the Soybean Watch field this year? We didn't observe much insect pressure throughout most of the year. At midseason, there was some feeding by Japanese beetles, primarily on upper leaves, but overall leaf loss was negligible. In late September, there was noticeable leaf feeding by insects, primarily along the edges of the field and along a grass waterway. However, there was negligible leaf loss, especially in the primary part of the field.
Related: Even spacing counts in soybeans, too
Did you find stinkbugs in the field? Yes, we found both brown and green stinkbugs in late September in limited numbers. We also saw signs of pod feeding. Again, however, the pod feeding, and presence of insects was primarily along where soybeans joined a grassy border.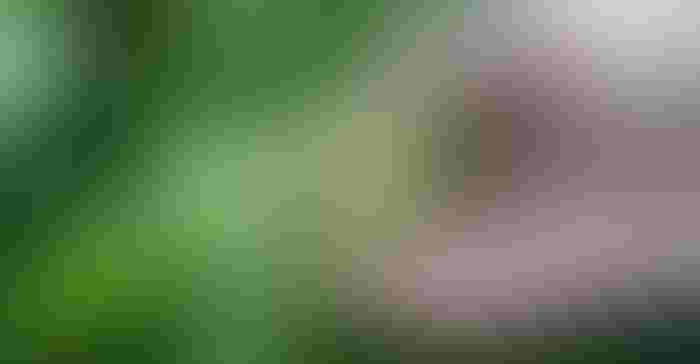 Is stinkbug damage worth monitoring? Yes, absolutely, primarily because if stinkbugs feed on or sting pods, the bean inside will be damaged. That can result in a discount for insect damage. Plus, extensive stinkbug feeding can open up pods for disease infection, resulting in loss of seed quality. In years when you find stinkbugs feeding within the field, it's worth monitoring all the way to harvest. They can come in late and still do enough damage to reduce yield and quality. In a worst-case scenario, treatment may be needed even within a couple of weeks of harvest.
After you scouted in late September, did you recommend spraying an insecticide in the Soybean Watch field? No. Once you walked in several feet from the edge, stinkbugs were much harder to find, and there was only very infrequent pod feeding. Applying an insecticide at that point would not have provided a return on investment.
Fungicide was applied on this field at R3, but an insecticide was not applied. If an insecticide was applied at R3, would it have made a difference on stinkbugs in late September? Probably not. The insecticide does not last that long. An insecticide would have knocked back insect populations present in mid-July when it was applied, but stinkbugs tend to come in later. That's why it is important to keep scouting soybeans and looking for pests later in the season.
About the Author(s)
Subscribe to receive top agriculture news
Be informed daily with these free e-newsletters
You May Also Like
---