SLUGGING IT OUT: Yes, that is a pun! Slugs were one issue affecting emergence in the Soybean Watch '21 field, although crusting from a rain after planting probably was an even bigger obstacle to overcome.
Photos by Tom J. Bechman
Harvest is complete, and now it's clear how the story ends. The no-till soybean field monitored during the Soybean Watch '21 project yielded 66 bushels per acre. However, from the day the crop was planted, it wasn't clear if the field would yield at that level.
"There were plenty of challenges for this soybean grower and for most people who grew soybeans," says Steve Gauck, a regional agronomy manager for Beck's, based near Greensburg, Ind. Beck's sponsors Soybean Watch '21. "It's useful to look back and see what we can learn from those challenges before turning our attention to next season."
Related: Payoff time for Soybean Watch '21
Emergence. The first challenge was making sure enough soybeans emerged to ensure an adequate harvest population for top yield potential. Rains after planting on May 15 created some surface crusting, even in no-till, and soils were on the cool, wet side for the first couple of weeks.
Emergence was slower than usual, and early yield checks left some doubt about reaching adequate stands. By three weeks out, however, the grower concluded the field was too good to tear up. The weakest area was 70,000 plants per acre, and most areas were 90,000 or more.
"We're OK as long as we have 80,000 — and possibly even less, if we can control weeds," Gauck says.
Slugs. Gauck found slugs still trying to work on small seedlings in mid-June. "That is not supposed to happen. They should be gone by then," he says. "But in cooler, wetter seasons, we're finding that they hang around. They cost us some plants in this field, but they were a bigger problem in other fields."
Voles. Voles are another tough problem because there is no good solution. They tend to work in small areas, destroying everything in sight.
"They make the field look ugly from the air, but actual area affected is fairly small," Gauck says. "We put a few perches in our fields during the season to encourage owls to take them out. Encouraging a natural predator is one of the few ways to attack them."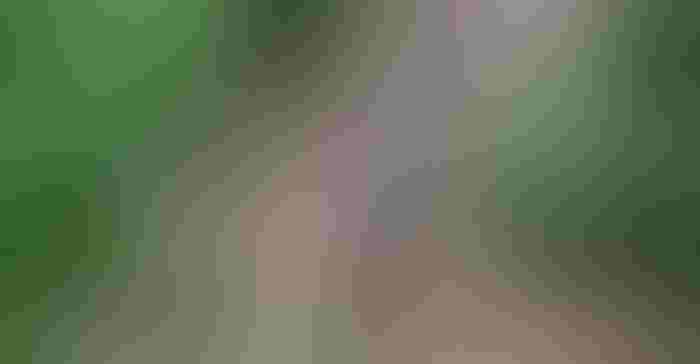 Dry stretch during critical stages. Perhaps this was the biggest challenge of all for dryland soybeans. In this field, like many others, it went from wet to bone-dry in a matter of days in mid-July, and stayed like that until near the end of August.
"That was the critical soybean reproduction phase, and there's no doubt it caused some pod abortion and some abortion of beans within pods," Gauck says.
Volunteer corn. Weeds were well-controlled in this field, except for volunteer corn. The grower took it out in midseason.
"Soybean plants near corn plants tended to not branch on that side," Gauck observes. "You don't want any type of early competition, if you can help it."
Tree lines and wet spots. This field has trees on both sides. Yield was cut in half for the first 45-foot pass along the trees due to excess competition for sunlight and moisture. Since the field isn't pattern-tiled, there were also a few wet spots where beans were paler, shorter and lagged behind during the season.
About the Author(s)
Subscribe to receive top agriculture news
Be informed daily with these free e-newsletters
You May Also Like
---