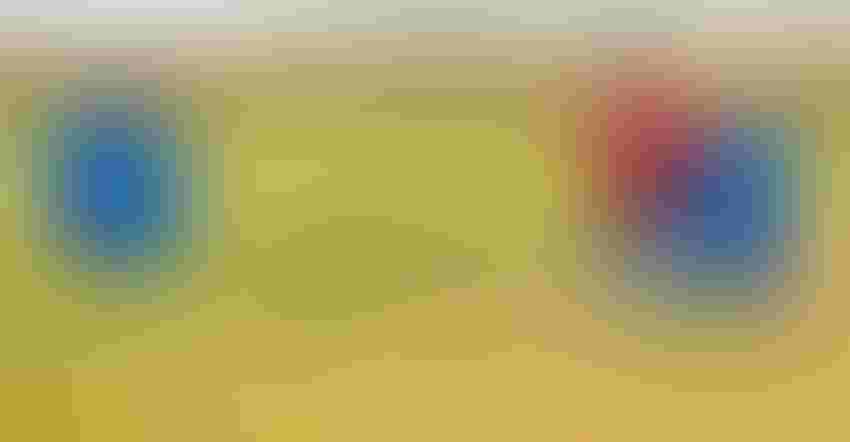 UNBIASED TESTING: Ryan Frasch (left), Chad Arnold and Bill Fjelland of the Iowa Crop Improvement Association survey a field of soybeans.
Christopher Gannon, ISU
The Iowa Crop Improvement Association, an Iowa State University affiliated nonprofit organization, is marking the 50th anniversary of its Iowa Crop Performance Tests for Soybeans, offering Iowa farmers independent information to help them select the best beans for their needs.
Founded in 1902, ICIA is affiliated with ISU's College of Agriculture and is the official seed-certifying agency in Iowa. "The soybean test is a tool to help Iowa farmers make decisions, but seed companies also participate so they can promote their products to farmers," says Jim Rouse, ICIA executive director, who holds a staff appointment in ISU's Department of Agronomy.
From 200 to 250 soybean varieties, selected by seed companies or ICIA staff, are tested each year. The varieties are tested within three districts encompassing all of Iowa — north, central and south — and each district has five testing sites. Varieties are subdivided based on maturity, to include both early- and full-season testing.
Results in early October
As the trials are harvested each fall, ICIA analyzes the data and publishes yield results in print and online. Results are available to the public beginning in October of each year at croptesting.iastate.edu.
The results are distributed in farm publications, are available on ICIA's website, and accessible online as PDFs at the ISU Extension Store.
"The real value of the test is to help farmers plan what they want to do next year," says Rouse. "It's a selection tool to help farmers decide which varieties to plant."
Although there was some soybean crop testing in the state, the standard for modern-day testing was established in 1967 by Walter Fehr, Charles F. Curtiss Distinguished Professor of Ag and Life Sciences and professor of agronomy at Iowa State University. "The Iowa Crop Performance Tests have always been tightly linked to the agronomy department's plant breeding program, and we have strong programs in both soybeans and corn," says Kendall Lamkey, chair of the department of agronomy.
Farmers use unbiased, 3rd-party data
Dean McIntosh, a farmer from Missouri Valley in western Iowa, reviews the test results every year. His farm provides ICIA with a testing plot for the soybean and corn tests.
"The test gives unbiased, third-party data and showcases a broad selection of soybean varieties, and I think the smaller seed companies especially enjoy seeing the results," says McIntosh. "ICIA runs a nice program and has good people helping them."
ICIA also tests corn hybrids. Its Iowa Crop Performance Tests for Corn will mark its 100th year of testing in 2019.
"Our program provides direct, unbiased comparisons among a large number of corn hybrids and soybean varieties, in many different environments," says Rouse. "Data are posted online within 48 hours of harvest, giving you an early look at test results. There is no other way to get this type of high-quality plot management, statistical integrity and timely access to information. Our program is backed by an 80-year history of testing, and the credibility of ICIA, ISU Extension and Iowa State University."
ICIA official seed certification agency
Serving Iowans since 1902, ICIA is the official seed certifying organization for Iowa. ICIA's purpose is to promote the use and production of improved seed stocks, to conduct testing for the adaption and performance of cultivars, and to support opportunities in leadership, research and education related to crop improvement.
ICIA financially supports the ISU Crops Team, a student organization; sponsors the Iowa FFA Agronomy Career Development event; offers a summer internship program; and awards several annual scholarships to ISU students. For more information, contact ICIA at 515-294-6921.
Source: Iowa State University
Subscribe to receive top agriculture news
Be informed daily with these free e-newsletters
You May Also Like
---