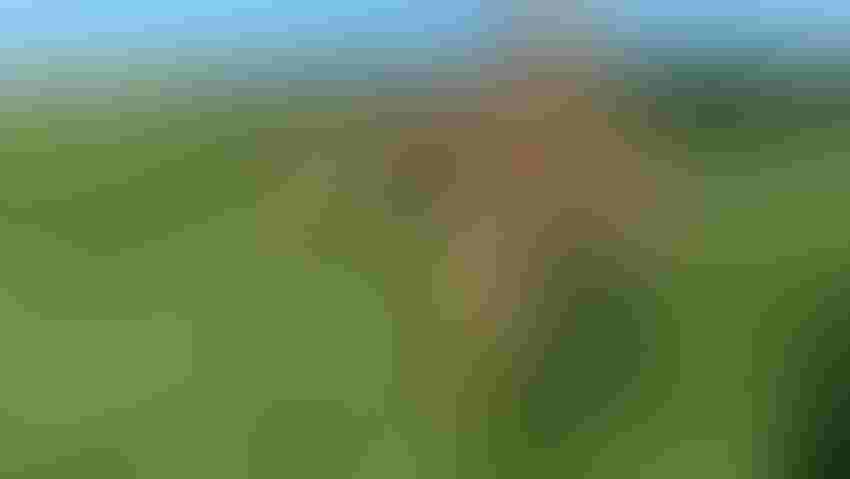 Soybean root systems covered in galls reveal a southern root-knot nematode problem. The yield limiting pathogen is widespread across the Midsouth and best combatted by planting resistant cultivars.
Travis Faske, University of Arkansas
Southern root-knot nematode (RKN) is a yield-limiting pathogen that is troublesome for many Delta soybean producers. The leading defense against the disease on susceptible acres is to plant a resistant soybean variety. Results of the Arkansas 2022 field performance test were recently released for soybean varieties marketed as resistant to the pathogen.
Each year since 2016, the Lonoke Plant Pathology Program at the University of Arkansas System Division of Agriculture conducts these screenings. In 2022, the program tested 36 maturity group (MG) 4 and 5 cultivars of Roundup Ready, Enlist, Xtend, and XtendFlex soybean.
Travis Faske, Extension plant pathologist and nematologist for the Division, leads the program.
"The only way to screen for plant-host resistance is to plant these varieties in a field with a relatively even distribution of southern root-knot nematode. Infection occurs as varieties are planted and continues throughout the season," Faske said. "We measure the amount of galling caused by southern root-knot nematode at the end of the season to determine if varieties are susceptible or resistant."
2022 Screening and Results
A field with loamy to sandy loam soil texture was sampled in the fall of 2021, finding moderate nematode pressure. Varieties were divided into three experiments based on maturity group, and test plots were planted on Jun. 14, 2022.
Root systems were sampled from the replicated test at the R5 growth stage from non-harvest rows of each test plot. Faske noted that sample timing is crucial in getting the most accurate susceptibility rating for each variety.
"Early in the cropping season, galls are relatively small and make it difficult to compare one variety to another. If we wait until too late in the season, the plants start to die, and the roots begin to drop off so you cannot tell the amount of galling. Soybean plants tested around R5 timing give the best results."
The susceptibility rating of each variety is based on the percentage of the root system galled. The plants with little or no root galling are most resistant to Southern RKN and produce better yields.
Resistant varieties
Based on the root system galled in the MG 4 soybean varieties, two tested as resistant (1.1 – 4% root system galled) and nine tested as moderately resistant (4.1 – 9% root system galled). Those varieties and susceptibility ratings include:
Pioneer P43A42X – (2.9% and 3.5%)

Delta Grow DG 4940 GLY – (3.8%)

Petrus Seed 49G16 – (4.9%)

Delta Grow 46E10 – (6.1%)

Local LS 4918E3S – (7.9%)

AgriGold G4881E3 – (8.7%)
Of the MG 5 soybean varieties screened, three tested resistant, and five tested as moderately resistant. Those varieties and susceptibility ratings include:
Delta Grow 54XF20 – (3.5%)

Delta Grow 55X25 RR2X – (4.1 %)

Local Seed LS5588X (4.8%)
Faske said that overall, the percentage of root system galled was lower in the 2022 screening than in previous years. While the cause is unknown, favorable environmental factors for southern RKN could affect the susceptibility rating of these varieties. Thus, cultivars categorized as moderately resistant could easily be moderately susceptible in a situation with a high nematode population or moisture stress.
For fields with southern root-knot nematode populations, choosing soybean varieties with a lower percent root system galled and a higher yield is optimum. The full list of tested 2022 varieties and results are on the Arkansas Row Crops blog. Results from previous years are on the Arkansas Extension Plant Disease Publications webpage.
Identifying Southern Root-Knot Nematode
Southern RKN is widespread across the Midsouth, and populations are found in nearly all soybean producing counties in Arkansas. They are commonly found in course textured soils – sandy and sandy loam.
Tiny, segmented roundworms of the southern RKN overwinter in the soil as either eggs or juveniles. When soybeans are planted in the spring, the southern RKN begins to infect the root system and reproduce.
Soybean plants are robbed of water and nutrients by the plant-pathogenic nematode, ultimately impacting yield production. Faske said, many soybean farmers do not realize they have a southern RKN problem until plants begin to turn yellow and die in the field.
"One way to identify them in the field is by pulling up a plant. Root systems covered in galls reveal a southern root-knot nematode problem. These galls are unlike normal root nodules. The galls do not rub off when handled and stay stuck to the plant," he described.
Inside the galls are developing females, robbing nutrients and depositing eggs. The cycle continues again and again throughout the season. Grain yield losses can range from as low as 10% to over 70% when a susceptible variety is planted in a field with a high population density of southern RKN.
Nematode Testing and Identification
Not all nematodes are created equally. They are host-specific pathogens and management strategies vary by crop. It is important to note that the southern RKN is the only nematode that causes root galls.
The absence of galling does not mean nematodes are not in a particular field. Other nematodes require a soil sample for identification, and the best time to collect those samples is at the end of the season, shortly after harvest.
The Arkansas Nematode Diagnostic Laboratory offers assays and nematode analysis. Regulations from the Animal and Plant Health Inspection Service (APHIS) allow for out-of-state samples, accompanied by a required printed permit.
A nematode assay is recommended every three to five years to monitor population changes in the field over time.
Subscribe to receive top agriculture news
Be informed daily with these free e-newsletters
You May Also Like
---