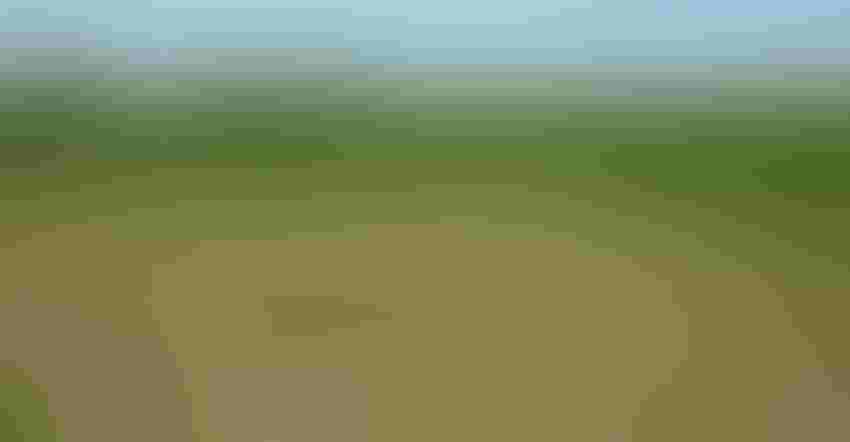 STEALING YIELD: Soybean cyst nematodes are tiny worms that feed on roots of soybean plants, causing stunting and yellowing.
Photos by ISU
Field trials led by Iowa State University scientists have saved farmers millions of dollars by helping them select soybean varieties resistant to a major pest, according to a new economic analysis. 
The analysis was led by GianCarlo Moschini, Pioneer chair in science and technology policy in the ISU department of economics. The study found the Iowa State University SCN-resistant soybean variety trials have created a surplus or profit overall of about $140 million in Iowa and Illinois between 2011 and 2016. The analysis estimates that farmers captured a third of that surplus while seed companies held the rest. 
The soybean cyst nematode, a microscopic roundworm that feeds on roots of soybeans, is the greatest pathogen threat to U.S. soybean yields. Previous estimates showed the pest is present in up to 70% of Iowa fields. Plant breeders have developed soybean varieties with genetic resistance to the pests, but the level of resistance and performance of these varieties can vary widely. 
Helpful information for farmers 
With that in mind, ISU scientists, supported by soybean checkoff funds from the Iowa Soybean Association, have conducted field trials every year since 1997 to evaluate hundreds of resistant soybean varieties. Annual reports of the results are published as ISU Extension publications online at isuscntrials.info, and copies of the publications are printed and directly distributed annually to 70,000 to 90,000 households in Iowa and northern Illinois. 
The economic analysis drew on data generated by the field trials, as well as a proprietary data set of farmers' seed choices. That data set included the quantity and price paid for seed of specific soybean varieties. Using economic models, Moschini and doctoral student Seungki Lee determined how willing farmers were to pay a premium for resistant soybean varieties compared to susceptible varieties. 
"Our study essentially matched the data produced by the trials over the period from 2011 to 2016 with data about farmers' specific use of soybean varieties over the same period," Moschini says. 
Better seed selection decisions 
The analysis found that farmers were willing to pay an additional 75 cents per acre for seed of SCN-resistant varieties that were in the ISU field trials. Farmers also paid an additional $1.36 per acre for seed of resistant soybean varieties that performed above the median in terms of yield in the ISU experiments. 
The results indicate farmers used the field trial data to make informed decisions regarding what seeds to plant, says Greg Tylka, professor of plant pathology and microbiology at Iowa State who leads the field trials. "Many people think all SCN-resistant varieties are created equal, but they're not, which is why we do the evaluations. The analysis shows the usefulness of our research overall but also shows that farmers value the varieties that perform well in the yield tests." 
The profits farmers made by using the ISU SCN-resistant soybean variety trial information from 2011 to 2016 were estimated to be $66 million to $78.8 million. When the profits to farmers are compared to funding level for the research during that time, there was a 91:1 to 109:1 return on investment of the soybean checkoff dollars. 
The full economic analysis, which was not supported by soybean checkoff funds, is available at the ISU Center for Ag and Rural Development. 
 
GOOD GUIDE: ISU field trials provide farmers with valuable data on the performance of bean varieties with genetic resistance to SCN.
SCN can develop resistance to resistance 
Over 95% of SCN-resistant soybean varieties on the market today share the same genetic source of resistance: PI88788. Repeated use of any pest control practice over a period of years — whether to control weeds, insects or SCN — encourages the pest population to develop resistance.
If you plant varieties that have the PI8878 resistance every time you grow soybeans, it will favor or select for individuals in the SCN population in the field that can reproduce on those resistant soybean varieties. Eventually, the SCN population becomes "resistant to the resistance." 
Research conducted over a period of 25 years by Greg Tylka, Iowa State University Extension nematologist, shows that SCN populations in the soil can increase in aggressiveness (ability to reproduce on resistant plants) with repeated plantings of SCN-resistant soybeans that have the PI88788 source of resistance. 
There are some soybean varieties that have a different source of resistance: Peking resistance. Planting those varieties enables farmers to diversify SCN-resistance sources. Peking varieties used to have lower yield potential relative to varieties with PI88788 resistance but not anymore. There are some top-yielding soybean varieties that have Peking resistance to SCN. Another bonus for planting Peking soybeans is they can lower the numbers of nematodes in a field, thus reducing the amount of damage that will occur from SCN in future years. 
Tylka says having a sound SCN management strategy is key. "Farmers and those who advise them must actively work to manage this pest," he says. "Rotating soybeans every other year with corn and planting a different variety with PI88788 resistance each time soybeans are grown is a start. Then the third-or-fourth time soybeans are grown in that cycle, plant a variety that has Peking-based resistance. And there are numerous nematode-protectant seed treatments that may provide added protection against SCN." 
It's a good idea to dig some roots during the growing season and look for the presence of SCN females on the roots of resistant varieties to see if the SCN resistance is still effectively protecting the plants in that field, Tylka says. There should be only a few white SCN females on the roots, not hundreds, if the resistance is working effectively. 
If you don't check your fields for SCN by digging roots of plants during the summer, you should properly collect soil samples and have the soil tested. Tylka says you should sample fields for SCN after harvest, but before the ground has frozen or is snow covered. Ideally, collect samples from fields in which soybeans will be grown the next growing season. Follow the proper sampling procedures and send soil samples to a commercial or university testing lab. Sampling guidelines and a listing of labs that process SCN soil samples in each state are at thescncoalition.com. 
Soybean varieties with new sources of resistance to SCN are being developed. Two new soybean varieties with resistance from a breeding line named PI 89772 have been released by Syngenta in small quantities in 2020. Syngenta is sharing the seed with university researchers this year and is doing some on-farm testing with farmers. A full commercial launch of these varieties, Golden Harvest GH 2329X and Northrup King S23-G5X, is expected for 2021. 
About the Author(s)
Subscribe to receive top agriculture news
Be informed daily with these free e-newsletters
You May Also Like
---