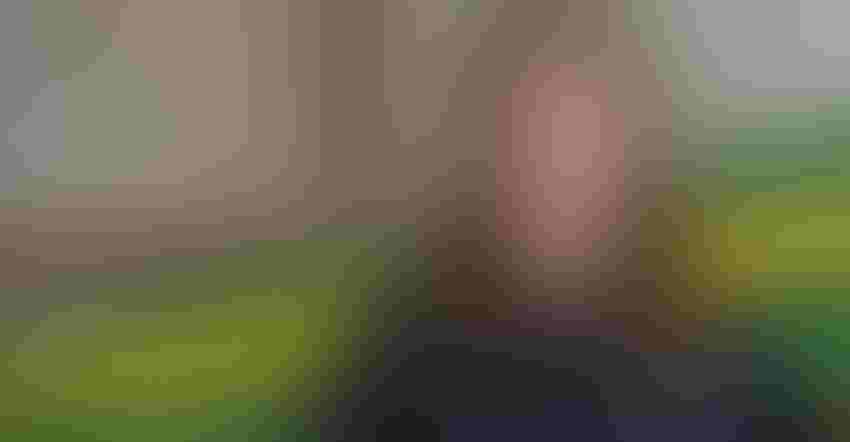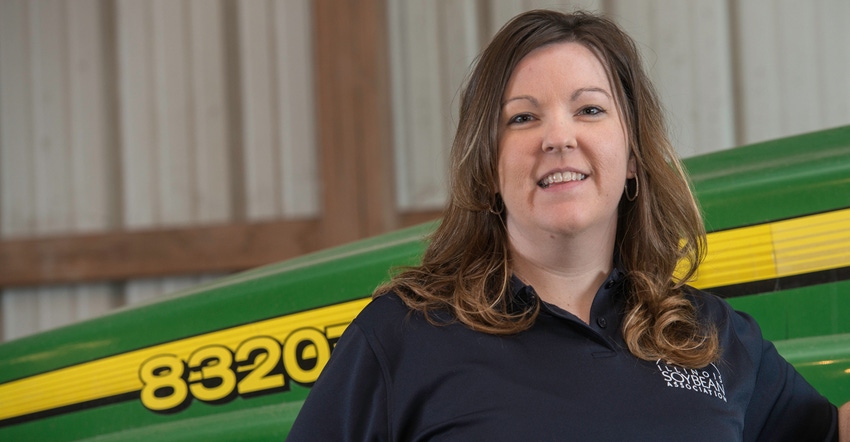 BIG PICTURE: "We get focused on our operations and can forget about the bigger picture," says Fairmount farmer Lynn Rohrscheib of what she learned during her time as Illinois Soybean Association chair.
Courtesy of Illinois Soybean Association
Lynn Rohrscheib will tell you she's always wanted to be a farmer, evident from her early days pulling her red Radio Flyer wagon around her family's farm and farm supply business, "delivering" bags of seed or jugs of chemical. That she would become the ninth generation to farm her family's Fairmount, Ill., farm was simply a fact of life. And that her parents, Vern and Mary Rohrscheib, never questioned her ability was simply the way it was.
What was less clear early on: that she'd become chair of the Illinois Soybean Association for two years. And while she may have been talked into running for the board back in 2013, she quickly rose to the top of the leadership ranks, serving as chair for two years, from 2017 to 2019, and as a director on the United Soybean Board for the past four years.
Here is her interview with Prairie Farmer:
Where did life start for you? I grew up in Fairmount and lived here my whole life, except for two years at Southern Illinois University to finish up my bachelor's degree.
What inspired you? I'd see my dad's FFA awards on wall, and when I was 3 or 4 years old, Grandpa told how my dad won Star Farmer of the year in 1974. So I told Grandpa I wanted to be the first female to do that. I was also from a family where being a female wasn't a negative. Farming was always an option for my sister and I, but we weren't pushed into it.
What does the snapshot of the farm look like today? Rohrscheib Farms is around 7,000 acres of corn, soybeans and a little wheat, plus a handful of feeder calves out back that we butcher and use for employee bonuses. We also operate C&R Ag Supply, a seed, fertilizer and chemical business.
What made you run for the ISA board? I had a friend who served on the ISA board, and he kept trying to get me to run for an at-large position. I told him I didn't have time. I finally put my name in, but I didn't think I'd win. Lo and behold, I won!
What's the first thing you did on the board? I got to know other people and learned as much as I could. If I didn't agree, I'd stand up for what I thought was right. I got respect from the other board members for that.
And you also serve on the United Soybean Board? Yes, I ran for USB and was appointed by the U.S. secretary of Agriculture four years ago. That's opened up doors and opportunities I never thought I'd have. I've met people from across the world. I've spent a lot of time in Springfield and Washington, D.C., lobbying on behalf of soybean farmers.
You've served with a lot of people in your tenure. When you look at fellow farmers, what makes a good leader? A lot of it is if they have an open mind. We all can get tunnel vision, but be open to new technologies and practices. Be able to talk to people easily. Have an understanding of the people you're dealing with. Be a team player but know when to stand up for what's right. And have a passion for agriculture and farming.
How do you know when to be a team player and when to stand up? I play a lot on what my gut's telling me. That's how I gauge whether I need to stand up or not. I won't be nasty, but I'll be respectful.
It feels like there's a story there. We were in Washington, D.C., with a legislator and we were talking about how the transportation system needs upgrades. They weren't very keen on it. I decided to speak up and told them the Mississippi River is our key advantage over our competitors in South America. That was about the time the levees broke in Nebraska, so I explained how we could have the same scenario on the Mississippi, and then it's not just farmers who are affected. Many products go up and down the river, so many communities are affected by potential flooding. You could tell they were actually listening because they hadn't heard it from that point of view.

LOBBY: As Illinois Soybean Association chair, Lynn Rohrscheib shakes hands with Sen. Dick Durbin. They are shown here with ISA board member Roberta Simpson-Dolbeare, American Soybean Association board member Jered Hooker and Mike Levin, ISA director of public policy and regulatory affairs.
We're in the middle of a trade war on a number of fronts; what's that mean for you and Illinois soybean farmers? When the markets went down 20% when tariffs were first being talked about, we lost $600,000 overnight in value. Costs go up as steel goes up, like machinery implements and other inputs, too.
Where will you be on this year's crop? Our crop won't be anywhere like what last year's crop was. For next year, we're trying to figure out which crop to grow, even though we're losing money on both.
Will the Market Facilitation Program help? We applied for MFP payments, and we did receive some dollars last year. But it didn't make us whole. It also placed large farmers against small farmers. It placed farms that run as entities against individual farmers. My family runs as individuals and not a corporation or entity, and there's a $125,000 limit for each producer. But smaller operators were made whole. We had real costs associated with putting in the crop. As the trade war lingers on, we have to make decisions about what to plant.
Could you diversify? We'd be all for diversifying but need to know where we can sell it. We're scratching our heads thinking, how? We're not conducive to switching to vegetables or something. We struggle with how to keep cutting our costs. We don't have much left to cut out.
What does that mean for farm labor? We want to take care of them. Every month this trade war goes on, it's harder to figure out how we're going to keep going for the next year. Nobody wants to tell somebody, "We have to let you go because of this political climate." We want to make a decent living, and we have a lot of people who depend on us to make a decent living. They feel like family, even if they're not — and nobody wants to hurt their own family.
You're one of many farmers who serve in a major commodity organization and run a farm at the same time. What have you learned about balancing the two? Time management is absolutely critical. One thing that has helped me tremendously is that my family understands the importance of volunteering on a board. No. 2 is that I am lucky enough to be in a larger operation where it's a little more flexible for me to be gone. I may be up a little later if I've been gone!
How many days away from the farm did you have to spend? Did you ever question if it was too much? When I served as vice chair, was gone 160 days of the year. As chairman, it was 160 to 190, so I was gone about half the year. It's tough. It's a tough commitment. My family and our operation have made some sacrifices with me being gone that much. Some things could be shortened up; others are pretty crucial aspects that need to happen.
What did you learn during your time as chairman? How interconnected everything is.  
Did you get a firsthand view of that? Yes, on a trade mission to Taiwan. We grow non-GMO soybeans — not because we're against genetics, but because of a premium — and we were talking with a gentleman who had a soymilk business. He had a variety he really liked in this 50-pound sack, and it turns out my family grows the variety he looks for. I couldn't believe I was halfway around the world and right there could be soybeans my family grew! That was my a-ha moment.
What's one thing you do that's directly tied to your success? My drive to always do better. My family and I do the best we can with what we have.
And I always know that potentially, there's somebody looking up to me. There are two lady farmers in my area that probably never knew I was watching them. I'm real cognizant that somebody may be using me as an example. 
ROHRSCHEIB REFLECTS
On leading a commodity organization:
"I was a female and I was elected to chair and run this organization, and I was in my mid-30s. That never happens in commodity organizations! I was pretty excited and humbled that people thought I could do it and do it well."
On her best decision:
"When wildfires hit Kansas in March 2017, I spearheaded a hay convoy to Ashland, Kan. That's really the best thing I've ever done in my life. You can't describe that moment of watching those trucks load out — and the hospitality of people as we went through small towns."
On leadership style:
"Family ingrained in me: You might not be very popular, but at end of day, you need to stand up for what you think is right."
On wanting to farm:
"As a kid on the farm, I always had my nose in a little bit of everything. It clicked at a really young age that farming's what I want to do."
ROHRSCHEIB IN BRIEF
Truck? Ford
Tractor? John Deere
Livestock? Shorthorn cattle
Team? St. Louis Cardinals
Technology? Smartphones
Book? Anything by Wanda E. Brunstetter
Hobby? Family genealogy and cake decorating
Family? Parents Vernon and Mary Rohrscheib; sister Stacey Rickard
Best advice?  Always give your best, no matter the outcome. My parents always said, "Mediocre is never good enough."
Subscribe to receive top agriculture news
Be informed daily with these free e-newsletters
You May Also Like
---