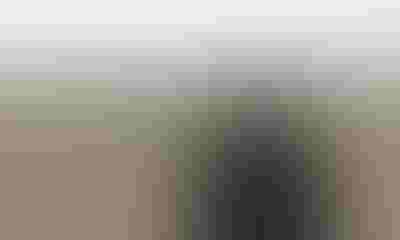 There's a new irrigation 'sheriff' in town and he's already getting to work. Vivek Sharma comes from Nebraska where irrigation technology takes on a heady form with high-tech tools aplenty. Sharma sees opportunity in Wyoming too, and is already making plans.
Only on the job two months when we talked with him, Sharma notes that the first thing he sees is the diversity of crops in Wyoming and the opportunity there to fine-tune water use. "I think there's a lack of information available on soil moisture sensing, evapotranspiration and other information that would allow for maximum use of the available water supply," he says.
ALREADY AT WORK: Vivek Sharma, the new Extension irrigation specialist, Univeristy of Wyoming where he's already gathering new information focused on the state's key crops.
For example, there may be great information on evapotranspiration for corn or soybeans, but what about barley, sugar beets, alfalfa seed or dry beans. These are areas where this new Extension Irrigation Specialist role at the university.
And while he ramps up research work in those areas, "at the same time, I will work to disseminate information on experiments and work with extension educators, crop consultants and producers to help them build their knowledge of these areas," he says.
To start, Sharma has two studies in the works already - one in sugar beets and the other in dry beans. "We're looking at the optimum soil moisture and evapotranspiration information for both crops," he says. "We want to work on providing effective [water] scheduling for these crops."
He notes that many in Wyoming have made the move from flood irrigation to working with sprinkler systems, but also finds that they are hungry for information that can help them maximize use of this new investment. "I want to work with producers on developing scheduling, not only the time for watering but the amount too," he explains. "We can use sprinklers in a better way. That's my role."
Thinking ahead
Beyond helping farmers in the "now" of irrigation, Sharma wants to start developing a Wyoming agricultural water management program to increase overall production, and reduce worries of chemical and nutrient leaching from the soil. This includes installing weather stations in the state, to better measure moisture and its availability and to understand the impact on climatic variability on agricultural water productivity across the state.
He talks of plans to install more weather stations around the state to create a more comprehensive network of information for future crop modeling and water management. "I'm talking about a long term data set for the state of Wyoming that can help producers manage this resource," he says.
It's a big job, but Sharma notes that with 99% of the state's crop production under irrigation, these management programs will be helpful for not only the producer, but also the environment.
Subscribe to receive top agriculture news
Be informed daily with these free e-newsletters
You May Also Like
---