Neonic seed treatment not best for soybean aphids best controlled via IPM
Neonic seed treatment not best for soybean aphids best controlled via IPM
Crop Tech Update: Research conclusions about soybean aphid control miss the main point of neonic soybean seed treatments. A futuristic peek at gene-editing.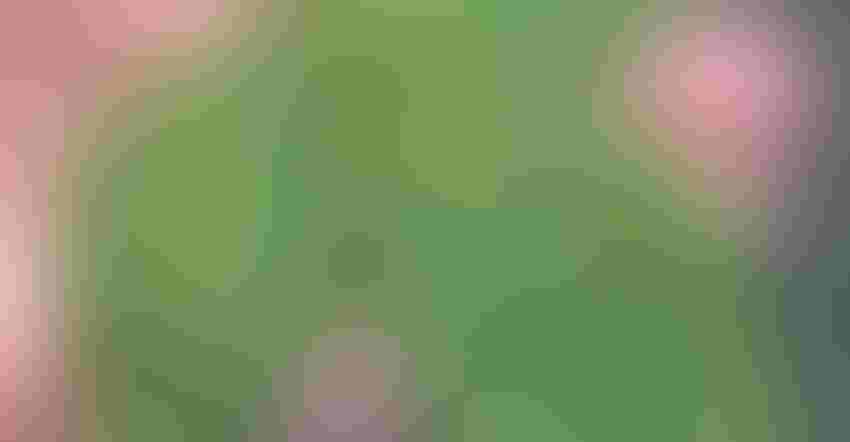 MAKES YOUR SKIN ITCH: Finding this many aphids on soybean leaf undersides may make your skin crawl and surely makes margins thinner.
Purdue University
If you were looking to save a buck by heading off soybean aphids with a neonicotinoid insecticide seed treatment, you might rethink that decision. A two-year joint study by seven Midwest land-grant researchers suggests it may be a waste of money. That's not the whole story, though.
While the thiamethoxam seed treatment is applied to more than 50% of soybeans grown in North America, yields were the same as for using no insecticide to control aphids. The catch is soybean aphid control.
The neonicotinoid provides a maximum of two weeks of protection against aphid feeding. Trouble is, aphids typically don't reach damaging numbers until much later in the season, says Christian Krupke, Purdue University Extension entomologist. When aphid populations reached threshold levels in late July to August, the insecticide levels in tissues of treated soybean foliage were similar to plants grown from seeds without the insecticide.
However, there's a big "however." As Penn State entomologist John Tooker points out, thiamethoxam can be useful for managing early-season pests in targeted, high-risk situations. Examples of such high-risk situations include:
• Fields transitioning to soybean production from pasture, grassland or Conservation Reserve Program land. Such fields tend to have higher populations of long-lived soil pests, such as wireworms or white grubs, which cannot be controlled with foliar insecticides.
• Fields with recently incorporated animal manure, green cover crops or weeds. They tend to be more attractive to seed corn maggots.
• Second (double) crop or specialty (food-grade or seed) soybeans. During soybean aphid outbreaks, aphids may migrate from mature soybean plants to colonize later-planted plants in a double-crop situation. In food-grade or seed soybean, early-season insect pests can vector diseases that affect crop quality. Bean leaf beetle, for instance, transmits bean pod mottle virus.
What about seed corn treatments?
Some 80% of seed corn is also treated with the clothianidin neonicotinoid, according to a Midwest study. After planting, corn plant tissue concentrations declined rapidly and approached zero within 20 days of planting. Less than 5% of what was applied to the seed was recovered from corn plants in the field.
Note: Aphids aren't a target pest in corn. Soilborne insects are — rootworms, cutworms, flea beetles, maggots, grubs and wireworms. That's what the seed protectant is labeled for.
GMOs: A small splice of a big picture
You've no doubt heard about CRISPR genome-editing. It may or may not involve GMO tech, depending on whether a foreign gene is added — by USDA definition. But CRISPR and a host of other gene-editing tools are destined to bring huge changes by deleting or modifying existing genes.
Scientists from all over the world are seeking ways to rewrite DNA with tools such as zinc-finger nucleases, TAL effector nucleases and CRISPR/Cas9. That was the focal point of a recent Harvard University Chan School of Public Health forum.
The panelists noted the theoretical possibilities seem almost limitless: make disease- and pest-proof crops; cure genetic diseases such as sickle cell anemia and cystic fibrosis. Clinical trials using CRISPR on humans with cancer are already underway. HIV has been reportedly eliminated in mice, thanks to the tool.
But these scientists and ethicists worry about the speed that the gene-editing field is moving. They wonder what hurdles must be overcome before such tools can move safely and more widely out of the lab and into fields, farms and hospitals.
Subscribe to receive top agriculture news
Be informed daily with these free e-newsletters
You May Also Like
---