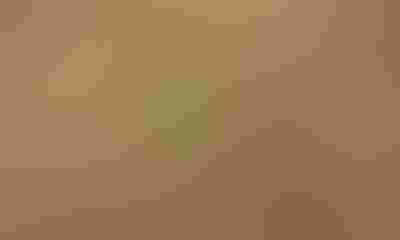 Wet weather continues to plague Missouri farmers struggling to get soybeans in the ground and hay out of the field.
Last week, soybean farmers saw just less than three days suitable for planting. Still growers report 59% of the 2016 crop planted, according to the latest USDA Crop Progress Report.
Average rainfall statewide reached 2.42 inches, 1.32 inches above normal. Counties in northwestern and southeastern Missouri experienced rainfall amounts anywhere from 4 to 6 inches.
Flooding threat

SOYBEANS EMERGE: Soybeans are 37% emerged across the state. Still some growers in west central and southwest Missouri are struggling to get the crop in the ground. These areas are just one-third of the way into the soybean planting season.
Excessive precipitation caused the Missouri River to rise putting pressure on levees. Friday, May 27, the U.S. Army Corps of Engineers declared a flood emergency for the Missouri River. Heavy rain filled tributaries and caused the river water levels to jump rapidly. The rising waters threatened to meet the 2011 flood crest levels. The forecast was one that the Gov. Jay Nixon declared a state of emergency.
However, as of yesterday, the river levels were falling with nearly all river gauge locations below flood stage.
Tough hay season
The rain also created problems for Missouri hay growers. Hay cuttings were put on hold for much of the state as farmers waited out storms.
It will take a few days of dry, sunny weather to get hay harvest back on track. University of Missouri Extension is warning farmers against putting up wet hay. This wet hay could lead to spontaneous combustion causing damage to bale and barn.
Corn update
Most of the corn planting wrapped up with the state 13 points ahead of the 5-year average. Those who do not have corn in the ground are reporting switching to soybeans.
And the corn crop looks good. The USDA Crop Progress Report, farmers say that roughly 74% of the crop is in good or excellent condition. 
About the Author(s) Editor, Missouri Ruralist
Mindy resides on a small farm just outside of Holstein, Mo, about 80 miles southwest of St. Louis.
After graduating from the University of Missouri-Columbia with a bachelor's degree in agricultural journalism, she worked briefly at a public relations firm in Kansas City. Her husband's career led the couple north to Minnesota.
There, she reported on large-scale production of corn, soybeans, sugar beets, and dairy, as well as, biofuels for The Land. After 10 years, the couple returned to Missouri and she began covering agriculture in the Show-Me State.
"In all my 15 years of writing about agriculture, I have found some of the most progressive thinkers are farmers," she says. "They are constantly searching for ways to do more with less, improve their land and leave their legacy to the next generation."
Mindy and her husband, Stacy, together with their daughters, Elisa and Cassidy, operate Showtime Farms in southern Warren County. The family spends a great deal of time caring for and showing Dorset, Oxford and crossbred sheep.
Subscribe to receive top agriculture news
Be informed daily with these free e-newsletters
You May Also Like
---