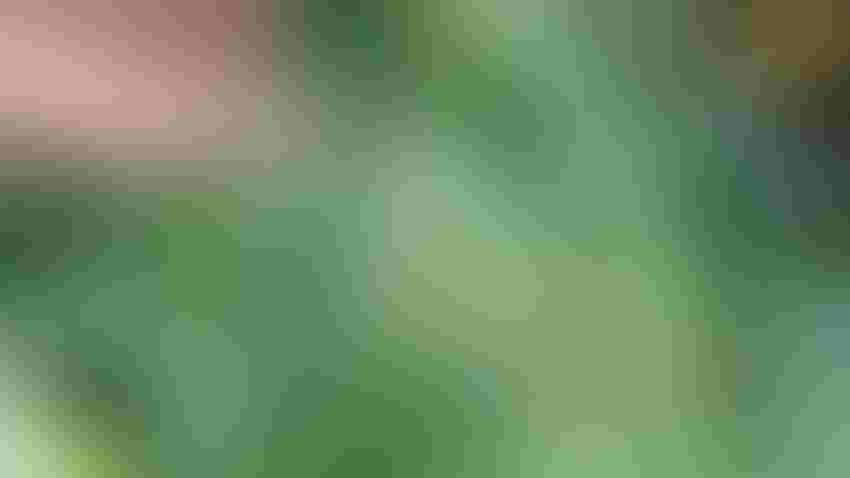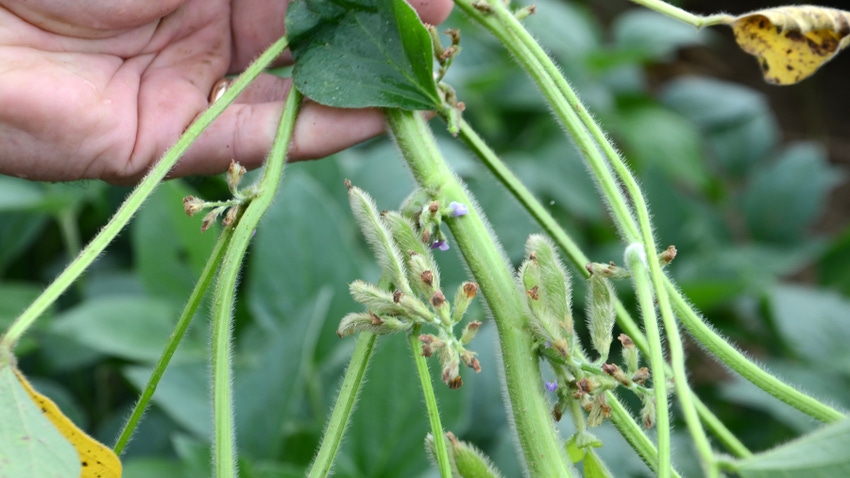 NODES AND PODS: Top soybean yield is about having as many nodes and pods per acre as possible, agronomist Steve Gauck says. Planting soybeans early vs. late usually increases odds for more nodes.
Tom J. Bechman
The Soybean Watch '23 field was planted May 14. That's three full weeks ahead of 2022, when wet soils delayed planting until June 4. The 2022 irrigated field yielded 72 bushels per acre. How will this year's field fare?
Not that long ago, Purdue University recommended May 10 to May 20 as the ideal planting window for soybeans. However, Steve Gauck says farmer experience and trials by companies and universities indicate modern varieties perform better when planted earlier.
"The goal is to plant earlier so you get more total nodes per acre," explains Gauck, a regional agronomy manager for Beck's, sponsor of Soybean Watch '23. "We're finding that the more nodes per acre you have, the more pods per acre you should have. If you're after 80- to 90-bushel-per-acre soybeans, you need as many nodes and pods as possible."
Variation in planting dates
The shift in farmer attitude about planting date for soybeans was obvious this spring when a weather window opened in mid-April. Several people planted soybeans before planting corn. Many realize soybeans tend to handle cooler conditions during germination and emergence better than corn. Cool weather was a big part of April 2023.
"We certainly have plenty of soybeans planted early, and a lot planted during various windows in May as showers hit here and there," Gauck says. "Some chose to hold off planting soybeans until it warmed up. It will be interesting to see how yields shake out this fall."
The Soybean Watch '23 field was planted in 15-inch rows at 140,000 seeds per acre. It's a 69-acre irrigated field. Much of the field is underlain by gravel at 36 to 40 inches deep.
What trials say
Beck's Practical Farm Research trials were one of the first to indicate planting soybeans in mid-April to early May often produced the highest yield potential, Gauck says. "We've got data going back two decades, and the best yields most often come from those mid-April to early-May planting dates," he says. "They begin dropping off in the second half of May, and tail off quickly as you get deeper into June."
That doesn't mean you can't plant soybeans June 4 and harvest 70 bushels per acre, which happened in the Soybean Watch '22. "What we don't know is what that field would have made last year if it could have been planted April 15 or even May 15," Gauck adds. "In the Beck's PFR trials, we compare against various planting dates each year."
In fact, in 2021, the PFR staff prepared a graph showing wins and losses for planting dates in soybeans in the Beck's trial for 15 years at the Indiana PFR location near Atlanta. Based on data, planting from April 1 through April 30 yielded a 73% chance of winning with top yields, with a 20% chance of having the top yield from May 1 to May 15 and only a 7% chance of winning for anything planted May 16 or after.
"The advantage for planting early in these studies is even more pronounced in soybeans than in corn," Gauck says. "It will be interesting to see if the trend holds this year."
Subscribe to receive top agriculture news
Be informed daily with these free e-newsletters
You May Also Like
---