John Story: New technologies complement proven practices
John Story: New technologies complement proven practices
The Story family's Wolf Island Farms is located just south of Charleston, Mo., on the eastern edge of the Bootheel. Fertile soils and prime location near Mississippi River terminal markets have made it a prosperous agricultural venture.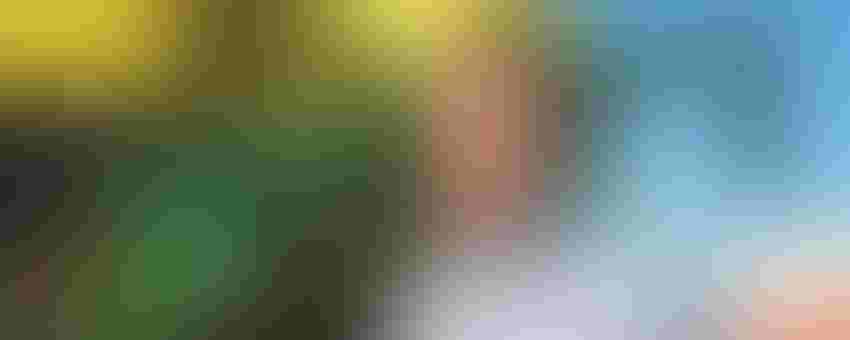 John Story says paying close attention to Palmer amaranth is helping him manage the troublesome weed rather than the other way around.
Photo by Larry Stalcup
Thanks to old-line herbicides, John Story manages to control weeds in corn on his Missouri Bootheel farm. It's soybeans that give his weed control program fits. The culprit is all too common — Palmer amaranth pigweed. And Story's analysis of the problem sounds familiar — "we don't manage pigweeds, they manage us."
That's where detailed management of the large, mostly irrigated farm is essential. The Story family's Wolf Island Farms is located just south of Charleston, Mo., on the eastern edge of the Bootheel. Fertile soils and prime location near Mississippi River terminal markets have made it a prosperous agricultural venture.
"We farm roughly 7,000 crop acres in a corn/wheat/soybeans rotation," Story says, noting that center pivot irrigation helps manage water on about 60 percent of the acres. "The rotation usually consists of two years of corn planted in 30-inch rows, followed by a wheat/bean double-crop program. Wheat is drilled on 7.5-inch rows. Soybeans are planted on 15-inch rows."
On the ground best suited to corn, "we net more dollars per acre with corn compared to soybeans in most years," he adds. "Corn requires more costly inputs, which make it a riskier crop, but usually the risk is rewarded. I have other ground that I wouldn't dare attempt to grow corn on! Those acres are continuous soybeans."
With an often-wet climate, weeds can invade fields regularly. Mother Nature even had some help a few years ago when the U.S. Corps of Engineers purposely breached a nearby levee. The Corps claims it was needed to prevent flooding of a nearby town. However, it also meant flooding almost 200,000 acres of prime farmland, Story points out.
"The flooding brought cockleburs back to the region after we had eradicated them from southeastern Missouri," he says. "Combine that with all the pigweeds, and we have had to resort to much more tillage than we would like."
Main weed species also include marestail, Johnsongrass, morning-glory and velvetleaf. "Fortunately, we don't have a big resistant weed problem in corn," Story says. "Those common weeds are not terribly hard to control in corn because we can still use the 2,4-D family of chemicals. That's one reason why corn usually presents our best opportunity for making a solid crop."
Soybeans are a different story, especially with pigweed. "Even Liberty won't kill pigweed very well anymore in southeast Missouri," Story says. "For beans, there's no such thing as a post-emerge-only herbicide program anymore. The field must start absolutely clean, or it will be nothing but a mess later.
"Every soybean acre we plant gets a pre-emerge herbicide application, followed by a mandatory 21-day post-emerge program, followed by another post-emerge shot later as necessary. Fields still aren't completely clean, but they're not a mess."
New technology is welcome
In early 2016, Monsanto announced commercial launch plans for soybean varieties resistant to dicamba and glyphosate, namely Roundup Ready 2 Xtend varieties. There's hope that the use of this new technology will improve control of pigweed and other troublesome weeds that show resistance to glyphosate and herbicides from other groups.
Story is cautiously optimistic. "It appears dicamba beans will be helpful, but only if pigweed doesn't develop resistance as quickly as it has to glyphosate and glufosinate, and if chemical companies can come up with a dicamba product that isn't so prone to drift," he says. "The days of reduced-rate applications are long gone. We can't afford not kill these weeds upfront — the first time we treat them — any longer."
The need for clean fields is apparent with even the smallest pigweed plants. "Pigweed has learned to produce seed by the time it's 3 inches tall," Story says. "It's like it knows we're on our way there to try to kill them. Now that's a smart weed. That makes new technologies critical to our ability to supply clean, high-quality grains to the elevators."
New, higher-quality hybrids and varieties are helping Story boost his production. "For corn, newer hybrids are proving to be much better able to handle higher plant populations," he says. "For years, we have consistently planted at rates higher than recommended by our seed supplier.
"We've continually inched higher and higher in planting populations without finding the real ceiling. We're up to an average plant population of 35,000, planting more in the sweet spots and less in the corners."
His corn yields are typically in the 200-plus bushel range, while soybeans average about 60 bushels when all goes well. And he normally enjoys a good premium at the river terminal. "You might say I'm still old school and prefer to plant non-GMO corn," Story says. "I've never been convinced the GMO varieties are any better, and I'm one of the few left to supply non-GMO corn to our local elevator.
"While our non-GMO premium program has been drying up over the years, it still pays a small premium for it, about 20 cents per bushel this year. Since they are conventional hybrids, it makes the scouting and insecticide applications even more critical, but we've been successful in controlling pests. It still hasn't been proven to me that there is any yield bonus in GMO varieties, so why would I want to spend so much more for it?"
Better seed treatments, again thanks to improved technology, help him cope with disease pressure that often strikes in the Delta region. And fungicide applications are also proving their worth for in-season treatments.
"These days it has become a given that corn will be treated with a fungicide and insecticide application," he says. "Our fungicide and insecticide options are plenty, and most all of them work well. It's just a scouting and management issue in order to make sure it's done — and done in a properly timed fashion."
Good rotation pays
Despite the continued need to tweak production practices, Story says the two-years corn, one-year wheat/soybeans system pays off. "The better corn ground is all that's rotated on this schedule," he notes, "but it allows for different chemical programs to help keep resistant weeds down.
"It also provides for fertilizer savings, through nitrogen credits after the soybean crop. On highly productive corn ground, this rotation keeps that ground in corn most of the time while allowing it to rest every third year while we throw a different chemical mixture to the weed pressures."
Story sees his program continuing, but admits changes in production may be needed when newer technologies arrive, or an unforeseen force, like a purposely-breached levee, dictate that changes must be made.
"There are no 'right' or 'wrong' ways to farm," Story concludes, "only each individual farmer's way."
Subscribe to receive top agriculture news
Be informed daily with these free e-newsletters
You May Also Like
---