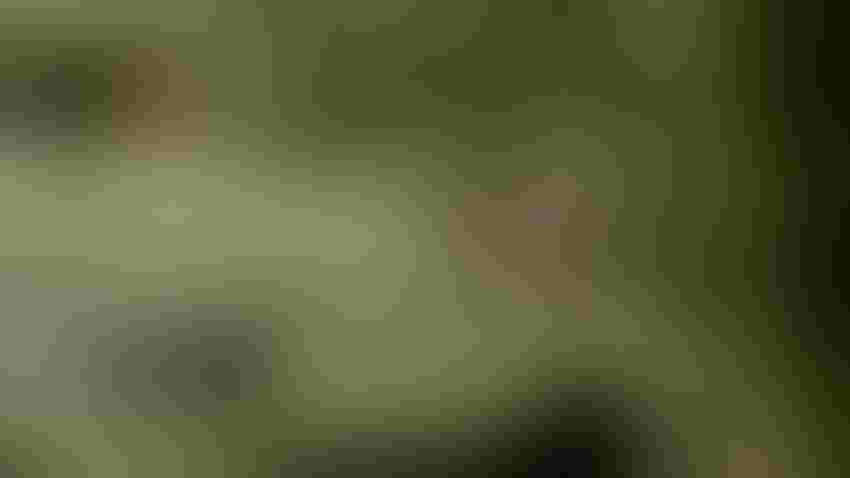 The big pest worry in the Central Coastal Plain is the brown and southern green stink bugs which must be managed.
JJ Gouin / iStock / Getty Images Plus
At a Glance
The most critical time to treat stink bugs in soybeans is at growth stage R3 to R5
North Carolina State University Extension entomologist Dominic Reisig calls the North Carolina Central Coastal Plain the "stink bug belt" due to the heavy level of stink bug pressure in that part of the state.
While other parts of North Carolina may see some threat from stink bugs to corn, cotton or soybeans, it doesn't compare to the stinkbug pressure of the Central Coastal Plain. The big pest worry in the Central Coastal Plain is the brown and southern green stink bugs which Reisig says must be managed.
Reisig says what makes the stink bug such a fearsome foe is that the insect has a hypodermic needle that it can use to feed on soybeans when plants are very young and immature. Stink bugs can even feed on soybeans after they have fully matured.
"They can use that hypodermic needle to inject saliva into a soybean and that saliva will actually liquify that bean when it's very hard. And that makes them extremely difficult to manage. Stink bugs tend to be edge associated. If you have an entire field with seed quality issues, I highly doubt that stink bugs were the major contributing factor because stink bugs just don't spread out evenly over the field," Reisig said at the Central Coastal Plain Regional Grain Production meeting at the Wilson Country Agriculture Center in Wilson Feb. 10.
"Our thresholds are based on sampling. This is the only way you can manage stink bugs. If you go out and spray automatically at R3 or R5 you're going to pick up a proportion that are there, but they can move in behind that spray and still damage your crop. It's very important that you sample them. You can use a sweep net. If you have wider rows, 30 inches or more, you can use a drop cloth," Reisig said.
Reisig said the most critical time to treat stink bugs in soybeans is at growth stage R3 to R5, which he admits is a very long time to manage stink bugs. "We can potentially need to manage stink bugs as early as July, we can potentially need to manage stink bugs as late as October.It's important that you manage stink bugs on a field-to-field level, not just across the farm."
Reisig said R3 to R5 are the most critical times to treat for stink bugs in terms of yield loss, but the pests still need to be managed at R6 and R7. "As you're getting into R7, you're looking more at quality issues. Elevators will dock you for stink bug damage. At R6 they can still cause some yield loss, but we have a tougher time showing consistent yield loss at R6."
When stink bugs are found in soybeans, they can also be found in corn. Reisig notes that stink bugs can cause damage to corn when it is a seedling. He says research conducted in cage studies during 2020 and 2021 confirms this.
"They can kill the plant, cause it not to tiller, maybe not even put out an ear, or perhaps reduce the ear size. But in all these locations across North Carolina we found zero fields that exceeded threshold when corn was at the seedling stage. I think there is a pretty good reason for that. We have seed treatments that are impacting the stink bugs. Every bit of field corn that you plant has a seed treatment on it. I think it's doing a good job of killing the stink bugs," he said.
Reisig says the research confirms that stink bugs are a threat to corn in the Central Coastal Plain at the pre-tassel stage. He points out that no fields hit threshold in the Blacklands of North Carolina in 2020 and 2021, but it was a different story in the Central Coastal Plain.
He explained that five out of 11 fields hit threshold in the Central Coastal Plain in 2021 while three out of 17 hit threshold in 2020. "They are something that needs to be managed. The problem is a little bit less once we get to R1 to R3. Our thresholds are lower and stink bugs tend to move to other things in the system."
In the pre-tassel stage in corn, stinkbugs can cause a banana ear that is the result of the pest feeding on the corn plant pre-tassel. Reisig said this is where stink bugs can cause yield loss in corn because when the corn is about to tassel, it is forming that primary ear.
"On average very few stink bugs are in the field early season, probably because we have insecticidal seed treatments that are working to kill those insects. Our problem is prior to tassel. That's when those stink bug numbers are really peaking in corn. That's when you want to put on your fungicide at tasseling. Why not mix the insecticide? The reason is you're missing the point where there are the most stink bugs in the field and are causing the most damage, so an application for stink bugs needs to be put on prior to tasseling if the threshold is exceeded," Reisig advised.
Subscribe to receive top agriculture news
Be informed daily with these free e-newsletters
You May Also Like
---