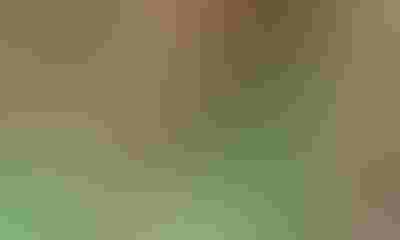 "It seems like I have written an article on stalk rot about every year for the last five or six seasons," says Iowa State University Extension agronomist Clarke McGrath. "Luckily for the most part the last few years it was a 'heads up' about a relatively small amount of fields that were having lodging issues. This year, however, it sure seems like stalk integrity issues are a lot more prevalent across the state than they have been in years."

STALK ROT SYMPTOMS: Anthracnose stalk rot produces shiny, dark black blotches on the outside of infected stalks. Diplodia symptoms include a dark gray discoloration on the stalk. Split the stalks open to see the extent of the disease inside.
So, should you harvest soybeans first or corn? The short version is yes, "we have to get these beans out while the getting is good," says McGrath. "But when we get caught up with soybean harvest and can get into the corn, we should prioritize harvesting the areas of cornfields where the stalks are weak."
It's risky to try to let corn "field dry" in fields with weak stalks
This year, 2016, is one of those growing seasons when it might not be a question of if you'll have stalk rot, but rather where and how much. "While we like to take advantage of as much field drying of corn as possible," he says, "I've been in quite a few fields already this fall, and have had calls on many others, where it would be pretty risky to leave the corn out there in the field very long."
ISU Extension plant pathologist Alison Robertson recommends the following procedure to assess your fields before harvest. If you are scouting for stalk rot, look for lower stalk discoloration, and check stalk firmness by pinching the lower internodes.
Give stalks to "pinch test" now to prioritize fields for harvesting
Simply pinch the stalk between your thumb and fingers. Healthy stalks are firm and won't compress easily; if a node can be "squished" or if it otherwise feels soft, that means stalk rot has set in and risk of lodging goes up. Instead of this "pinch test," some agronomists and farmers prefer using the "push" test, but either way works fine. Check at least 100 plants per field; 20 plants in five spots.
"Better yet, try to test each of your hybrids, with special attention given to any that have low stalk rot or standability scores," says McGrath. "So far I have seen hybrids that varied from maybe 2% to 4% of the stalks being soft to some hybrids that were well over 50% of the stalks being soft. To complicate the issue, often individual hybrids are varying quite a bit across a field."
Be especially cautious about fields that showed stress first
This has McGrath recommending that growers try to sample the different "management areas" they have in a field and assess them separately: various tillage systems, crop rotations, drainage issues and fertility histories.
McGrath is telling farmers: "Prioritize your scouting toward fields that showed stress first, especially if they've had foliar diseases this summer. Also, scout first in areas of fields where there was excess water on and off through the season. If about 10% or greater of the stalks have issues, do your best to get those hybrids harvested first to reduce the risk of significant lodging."
Also, you should scout fields now for corn ear rots
Warm, wet conditions as grain is drying down in the field favors the development of ear rots, and we had that kind of weather this year, notes McGrath. In the eastern Corn Belt, university plant pathologists report that diplodia ear rot is prevalent (read the C.O.R.N. Newsletter; The Bulletin; and the Pest and Crop Newsletter). In Illinois, there are reports of grain being turned away from elevators because of poor quality due to diplodia ear rot. 
It is important to scout fields to determine if ear rots are a problem. If greater than 10% of the ears are moldy, fields should be scheduled for an early harvest to prevent further deterioration of grain. ISU grain quality expert Charlie Hurburgh has some tips for grain handling and storage. Publications and training modules are available for folks who would like to learn more. The Crop Protection Network recently posted publications on corn ear rots and mycotoxins that are available for download. Moreover, the Iowa Grain Quality Initiative has a training module describing mycotoxin development.
Subscribe to receive top agriculture news
Be informed daily with these free e-newsletters
You May Also Like
---