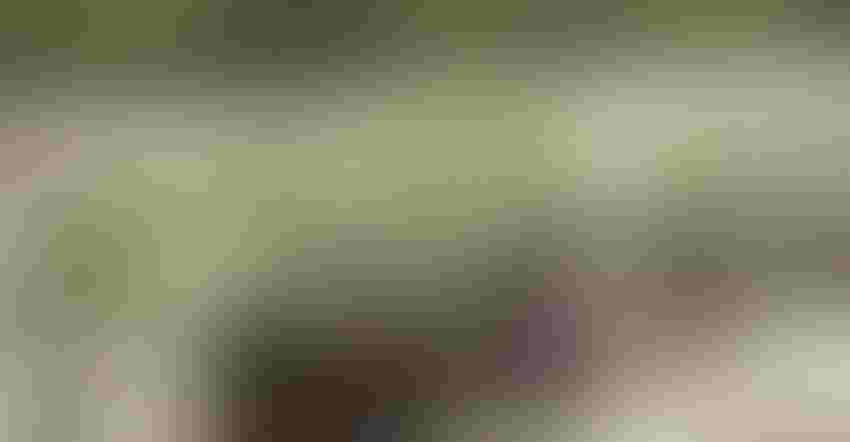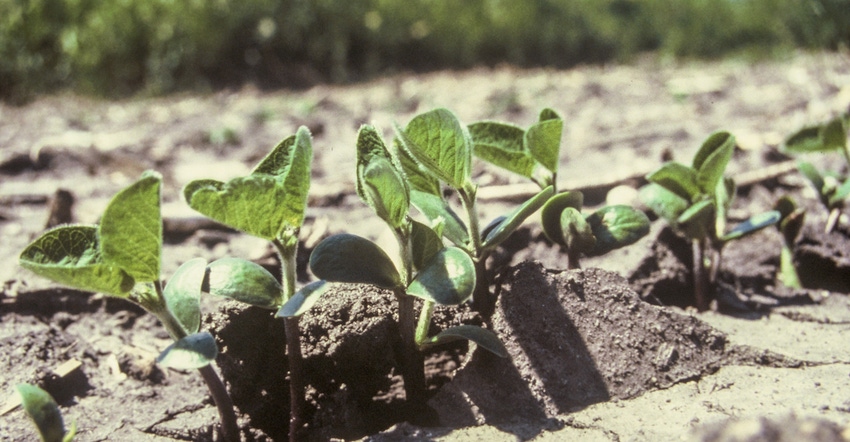 SOYBEAN STRUGGLE: Soybean seedlings push through the soil. Wet conditions makes it more likely that soybean root rot and nematodes will be bigger problems for soybean farmers this spring.
Lon Tonneson
Soybean root rots and nematodes might be more of a problem this year. Both like wet weather, according to Emmanuel Byamukama, South Dakota State University associate professor and Extension plant pathologist.
"Protecting soybeans require taking action before planting since no in-season treatments can be done to control them," he says.
Seed treatments
For fields in low-lying areas with poor drainage or with a history of root rots, a seed treatment may be needed this year, Byamukama says.
Pythium and phytophthora (water mold pathogens) can be managed with three common active ingredients: metalaxyl, mefonoxam, and oxanthiopiprolin. Common nematicides used to manage SCN include Clariva, Ilevo, Poncho Votivo, Avicata complete, Nemastrike, and Aveo EZ.
Other seed and root rot pathogens can be managed with several products available on the market.
See the SDSU Pest Management Guide for more details.
Seed treatments do not compensate for poor seed quality, Byamukama says. Even with seed treatments, cracked, shriveled or poorly stored seed may still not germinate well. Use clean, disease-free seed to reduce inoculum on the seed.
Be sure to follow safety guidelines on the product label. Always use personal protection equipment recommended on the pesticide label and on the treated seed bag tag. Follow the label directions for cleaning up spills or disposing of leftover seed.
Resistant varieties
Resistance to phytophthora and SCN is available in seed. A soybean variety with resistance to SCN may not require nematicide seed treatment, provided the SCN counts in the field are not more than 6,000 eggs per cubic centimeter of soil, Byamukama says.
Rotate varieties with different resistance genes to avoid pathogen resistance from developing. Soybean varieties with PI88788 resistance source should be rotated with Peking and other sources. Phytophthora resistance genes that are more durable are Rps 2, 3a, 3b, 3c, 4, 5, 6 and those with stacked genes.
Planting conditions
Time of planting can influence the level of certain root rots. Planting too early when the soil is cool (below 55 degrees F), wet or slow to warm up increases the chances of seed and root rots caused by pythium and fusarium. Delay planting to when soils are warmer and not too wet to reduce the risk of root rots developing, Byamukama suggests.
Flooding can move soil within and between fields, spreading soil-borne pathogens. Testing the soil for pathogens may help you decide which seed treatments and varieties to use.
Source: SDSU, which is solely responsible for the information provided and is wholly owned by the source. Informa Business Media and all its subsidiaries are not responsible for any of the content contained in this information asset.
Subscribe to receive top agriculture news
Be informed daily with these free e-newsletters
You May Also Like
---