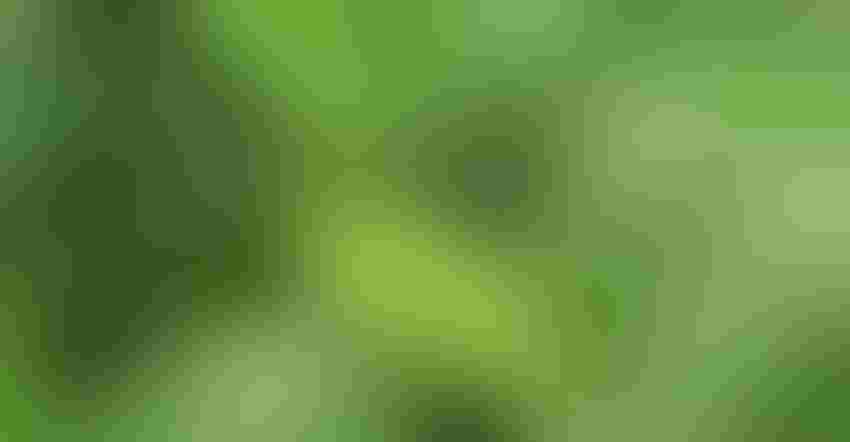 COMPLEX LIFE CYCLE: According to Bob Koch, U-M Extension entomologist, the soybean aphid life cycle is complex. Aphids overwinter as eggs on buckthorn in wooded areas.
Purdue University
University of Minnesota researchers are in the process of reaching out to soybean growers across the state who may be interested in volunteering to participate in a research study on soybean aphid population levels and buckthorn density.
Soybean aphids have become one of the most damaging pests of soybeans in the Great Lakes region, negatively impacting soybean yields and quality. While there are numerous options for managing soybean aphids — from aphid-resistant soybean varieties, to insecticides and predatory insects — these treatments focus solely on the field.
In spring, eggs hatch and several generations of aphids are produced without mating, according to Bob Koch, U-M Extension entomologist . Winged aphids are eventually produced on buckthorn, which then fly to soybean fields. Numerous generations of both winged and wingless aphids are produced on soybean without mating during the summer. In fall, aphids return to buckthorn where they mate and deposit eggs, which subsequently overwinter.
Research to be conducted by Marcella Windmuller-Campione, a U-M forest management specialist, will focus on the soybean aphid-buckthorn connection. Aphids require buckthorn, an invasive shrub common in forests and woodlands, to overwinter. Thus far, there has been little research exploring the relationship between buckthorn density and soybean aphid populations. To jump-start studies in this area, the Minnesota Soybean Research and Promotion Council is funding a project this year.
Windmuller-Campione says the council is interested in working with soybean growers who have 10 or more acres of woodlands or forests that they own and/or are publicly owned and are adjacent to their soybean fields.
"We're looking for at least 30 farmers who will participate," she says. Two field technicians will visit the farms and do all the necessary sampling and data collection in the fields and woodlands. They will set up forest inventory plots in the woodlands to collect information on the forest canopy, regenerating seedlings and saplings, and buckthorn density once during the summer growing season. They plan to share this information with the landowner.
In the soybean fields, the field techs will sample for aphid populations two to three times during the growing season to quantify how soybean aphid levels change. Windmuller-Campione says this information will be used to test the relationships between buckthorn density, buckthorn proximity and soybean aphid populations through the growing season.

FOUND IN OLD HEDGES: The Minnesota Department of Natural Resources says common buckthorn, first brought to the state in the mid-1800s from Europe, may still be found in older neighborhoods. (Photo by MDA)
Plus, the field techs will do some filming so they can produce videos that will help identify buckthorn. These eventually will be uploaded to the internet, Windmuller-Campione adds.
According to the Minnesota Department of Natural Resources, common buckthorn (Rhamnus cathartica) was first brought to Minnesota from Europe in the mid-1800s as a very popular hedging material. Shortly after its introduction here, it was found to be quite invasive in natural areas. The nursery industry stopped selling it in the 1930s. However, many buckthorn hedges may still be found in older neighborhoods throughout Minnesota.

DAMP INVADER: According to the Minnesota Department of Natural Resources, glossy buckthorn aggressively invades wetlands including acidic bogs, fens and sedge meadows. (Photo by MDA)
Glossy buckthorn (Frangula alnus), also from Europe, has been sold by the nursery trade in three different forms. The cultivar "Columnaris" has a narrow and tall form; the cultivars "Aspenifolia" and "Ron Williams" have narrow leaves that give them a fern-like texture. This buckthorn aggressively invades wetlands, including acidic bogs, fens and sedge meadows.
Common and glossy buckthorn are listed as restricted noxious weeds in Minnesota. It is illegal to import, sell or transport buckthorn in the state.
If you are interested and/or would like additional information regarding participating in the study, contact Windmuller-Campione at 612-624-3699 (office); 847-772-5458 (cell); or at [email protected].
Subscribe to receive top agriculture news
Be informed daily with these free e-newsletters
You May Also Like
---